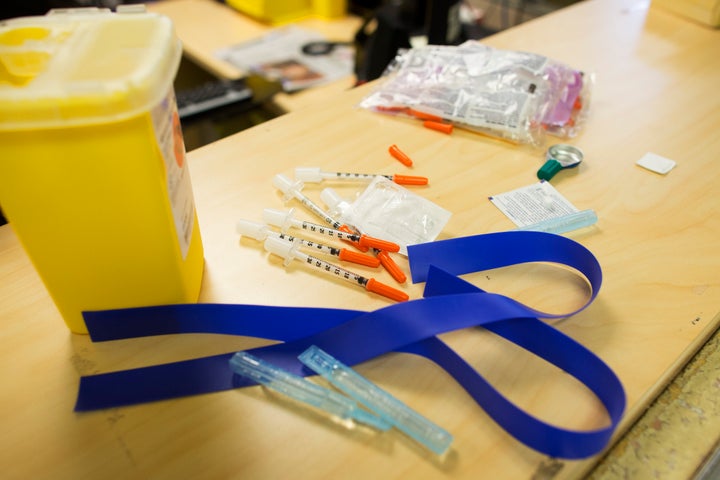 San Francisco is planning to open two safe injection sites this summer, which city health officials say could help get drug users off the streets into enclosed, supervised centers.
Similar facilities already exist in Canada, Australia and several European countries. And Philadelphia officials in January announced their support for a safe injection sites program. But the San Francisco sites, poised to open as soon as July, would become the first of their kind in the United States.
Barbara Garcia, director of San Francisco's Department of Public Health, said two nonprofits already operating needle exchange programs will be selected to open the safe injection sites at their facilities, the San Francisco Chronicle reported Wednesday. Garcia said the sites would likely open close to July 1, the start of the city's fiscal year, and would be privately funded to avoid liability on the city's part.
Intravenous drug use is illegal under state and federal law.
In just one month last year, city officials collected more than 13,000 discarded syringes in the streets, according to The Associated Press. That was up from roughly 2,900 in the same month of the previous year.
It's unclear what led to the spike in discarded syringes, though heroin use has been on the rise in San Francisco and throughout the U.S. in recent years. 
Health officials have warned that the syringes could create a public health crisis, putting passersby at risk of contracting blood-borne diseases like hepatitis and HIV. Other efforts ― including a longstanding needle exchange program and several large kiosks installed by public health officials for needle drops ― have aimed to reduce the waste. But officials say the safe injection sites are the next step in curbing the problem.
"The intent is not to promote or encourage drug use," London Breed, president of the Board of Supervisors and a vocal supporter of the safe injection site plan, told the Chronicle last year. "The intent is to provide a site that's not out on the streets, where people more than likely will just throw their needles on the ground."
Officials say they believe 85 percent of the city's roughly 22,000 intravenous drug users would use the sites, according to the Chronicle.
A majority of San Francisco residents are in favor of the project. A poll conducted for the Chamber of Commerce in January found that 67 percent of voters in the city support the plan to open safe injection sites. 
Still, the sites could face legal obstacles, and legislation to protect the facilities and those associated with them from prosecution has stalled in the state Senate. But Democratic state Sen. Scott Wiener said the plan should move forward regardless.
"I'm fully supportive of the city moving forward, just like we did with needle exchange before it was technically legal," Wiener told the Chronicle. "We need to do everything in our power to keep people healthy, to get people off the streets so they're injecting in a safe space indoors instead of on people's doorsteps or in public parks, and to make sure we can intervene quickly if they overdose."