This Saturday's San Francisco Silent Film Festival is a mixed bag. And that's perfectly okay, because the event's eclectic programming makes for a good point.
The popular perception of movies of the Teens and Twenties being either stagey costume drama, silly slapstick, or something to do with flappers betrays the rich tapestry of film-making during the pre-sound era. Sure, there were plenty of historical romances, damsels in distress, and pie fights -- but there were also the glories of German Expressionism, moving dramas of everyday life (think King Vidor's The Crowd), exciting crime stories, riveting documentaries, and epic war films (including Wings, the first movie to win the Academy Award for best picture).
Still remembered unique personalities like Mary Pickford and Clara Bow and Louise Brooks lit up screens everywhere. And, remarkably, the era was leavened by the simultaneous work of arguably the three greatest comedians, Charlie Chaplin, Buster Keaton, and Harold Lloyd. No wonder audiences were spellbound in darkness.
Now in its 19th year, The San Francisco Silent Film Festival has shifted its annual Winter event to the Fall. "Silent Autumn," as it has been rechristened, takes place Saturday, September 20th at the historic Castro Theater in San Francisco. It's an all day affair featuring five varied programs.
ANOTHER FINE MESS: SILENT LAUREL AND HARDY SHORTS (1928-1929)
(Produced by Hal Roach, total running time approximately 70 minutes)
11:00 AM
Depending on your age, Laurel and Hardy may be something you remember from having seen on television (their Babes in Toyland from 1934 is a holiday classic), or perhaps they were one of your Father's or Grandfather's favorites. Whatever the case, they are one of finest comedy teams in film history. Stan Laurel (the thin Briton with the elastic face) and Oliver Hardy (the rotund American with the baby-face) were each successful comedians early on, but once this odd couple joined together, they were legend.
The opening program includes two of their early shorts, Two Tars (1928) and Big Business (1929), and a promised surprise or two. Live musical accompaniment by Donald Sosin.
THE SON OF THE SHEIK (1926)
(Directed by George Fitzmaurice, 81 minutes)
1:00 PM
The Four Horseman of the Apocalypse (1921), which the Silent Film Festival screened in May, made Rudolph Valentino a star. The Sheik, released the same year, made him a superstar. Handsome, sexy, swarthy--Valentino was the original Latin lover. He was both sex symbol and pop icon, and until then, few had enjoyed such acclaim. Five years later, this Leonardo DiCaprio + Johnny Depp + George Clooney rolled into one was dead at age 31.
Women around the world mourned; there were reported suicides, and an estimated 100,000 people lined the streets of New York City to pay their respects. The Son of the Sheik (1926), released shortly before his death, continues the story of what was the actor's biggest hit, if not his finest film. This desert romance, being presented in a new restoration by Ken Winokur and Jane Gillooly from excellent 35mm negative material, will be introduced by San Francisco resident and leading Valentino authority Donna Hill. Live musical accompaniment by the Alloy Orchestra, who will premiere their new score (heard in the video clip below).
A NIGHT AT THE CINEMA IN 1914 (1914)
(1914, 85 minutes)
3:30 PM
To mark the beginning of World War I, the British Film Institute has put together an eclectic program of comedies, adventure films, travelogues, and newsreels which recreate a typical night at the cinema in 1914. With full length feature films still rare, an evening's entertainment 100 years ago was largely an ever-changing line-up of short films with live musical accompaniment.
Among the highlights of this special program is an episode of the sensational American serial The Perils of Pauline, scenes of suffragettes protesting at Buckingham Palace, footage of early aviation, a quirky piece about a face-pulling competition, and Allied troops celebrating Christmas at the Front. There is also an animated anti-German short, and an early appearance by one of the above-mentioned three greatest comedians. Live musical accompaniment by Donald Sosin.
THE GENERAL (1926)
(Directed by Clyde Bruckman and Buster Keaton, 75 minutes)
7:00 PM
What motion picture did Orson Welles call "the greatest comedy ever made, the greatest Civil War film ever made, and perhaps the greatest film ever made"? The answer is Buster Keaton's The General (1926), a film largely unsung in its day but heaped with critical acclaim since. In the film, Keaton plays Johnnie Gray, whose two loves are his fiancée Annabelle Lee and his locomotive, named "The General." The General is a tour-de-force and one of the most expensive films of its time, and as Roger Ebert described it, "an epic of silent comedy."
The film will be introduced by Bay Area resident and leading Keaton authority John Bengtson. Live musical accompaniment by Alloy Orchestra.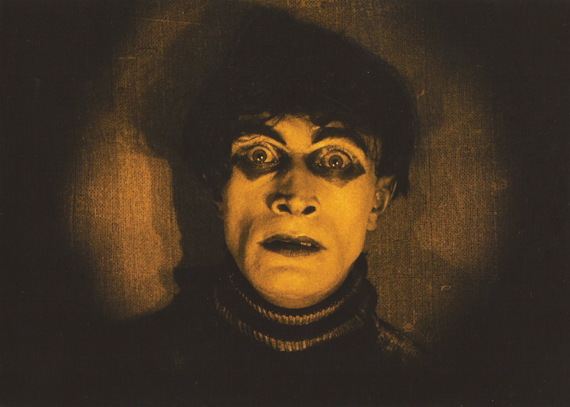 Conrad Veidt as Cesare (the sonambulist)
Image courtesy of San Francisco Silent Film Festival
THE CABINET OF DR. CALIGARI (1920)
(Directed by Robert Wiene, 75 minutes)
9:00 PM
When the German Expressionist film The Cabinet of Dr. Caligari (1920) first played in the United States, it overturned the applecart of American cinema. No one had seen anything like it. In fact, both the film world and the general public didn't know what to make of its bizarre story of Dr. Caligari, a hypnotist, and his somnambulist Césare. The movie, which some have deemed a horror film, employed stylized sets, with jagged shadows painted on unrealistic buildings which make up an unreal city. To add to the strange visual style, the actors used expressive movements and gestures. In fact, some even thought the film so weird as to be necessarily immoral.
In 1922, writer Upton Sinclair penned They Call Me Carpenter, a novel in which a crowd of people try to keep Americans from seeing Caligari because it's story of a madman didn't serve the purpose of art. Saturday's Silent Film Festival presentation marks the United States premiere of the restoration of this Expressionist masterpiece--restored using the original camera negative resulting in a print quality worthy of its classic status. Not to be missed, with live musical accompaniment by Donald Sosin.
Thomas Gladysz is an arts journalist, silent film enthusiast, and the founding director of the Louise Brooks Society, an online archive and international fan club devoted to the film star. Gladysz has curated exhibits, contributed to books, appeared on television, and introduced the actress's films around the world.
REAL LIFE. REAL NEWS. REAL VOICES.
Help us tell more of the stories that matter from voices that too often remain unheard.