With its many festivals devoted to so many different aspects of film, festivals goers in San Francisco are especially fortunate in their opportunity to take in movies others may have only heard or read about.
Take, for example, the upcoming San Francisco Silent Film Festival "Day of Silents" on December 5th. The event features a rare thriller starring the legendary escape artist Harry Houdini, a more than century old travelogue from China, a silent era pirate film in Technicolor, and more--including the not-to-be-missed masterpiece starring the sublime Anna May Wong.
And what's more, each film features live musical accompaniment in the confines of the historic Castro Theatre. For complete details, visit silentfilm.org
THE BLACK PIRATE - 11:00 am
The day starts with The Black Pirate (1926), starring Douglas Fairbanks and featuring the lovely Billie Dove. The film's many feats of derring-do include swordplay and underwater scenes--all in dazzling two-color Technicolor (one of its earliest uses). In this classic, Fairbanks plays a nobleman who takes the identity of a pirate to infiltrate and take revenge on the cutthroats responsible for his father's death. Fairbanks biographer Jeffrey Vance writes, "Fairbanks is resplendent as the bold buccaneer and buoyed by a production brimming with rip-roaring adventure and spiced with exceptional stunts and swordplay, including the celebrated 'sliding down the sails' sequence." Author and Fairbanks expert Tracey Goessel will introduce the film; live musical accompaniment by the Alloy Orchestra. The Black Pirate is co-presented by the 826 Valencia Pirate Supply Store!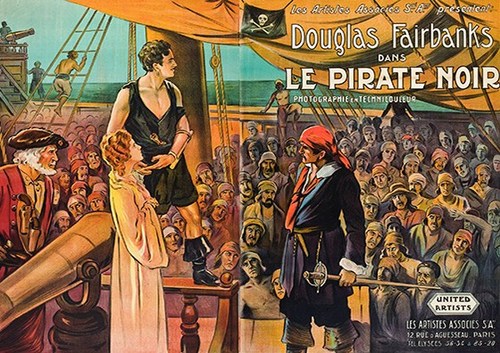 AROUND CHINA WITH A MOVIE CAMERA - 1:00 pm
This compilation program takes viewers back to the days of the late Qing dynasty in Imperial China with a program of rarely-seen short films including travelogues and newsreels. See bustling and cosmopolitan Shanghai in 1900, visit Imperial Beijing in 1910, and cruise the picturesque canals of Hangzhou in 1925. Recently compiled from the collections of the BFI National Archive, the footage was shot by a diverse group of British and French filmmakers--some professionals, but mostly amateurs, including tourists, expatriates, and missionaries. Live musical accompaniment by Donald Sosin.
The Grim Game (1919) is the second of master escape artist and magician Harry Houdini's five silent films, and the first of two he made for Paramount. It has long been unavailable, as the studio retained only one five-minute sequence featuring the film's famous mid-air plane collision. However, thanks to a print held by a longtime Houdini fan, audiences can now see a restoration of the complete film. The Grim Game casts Houdini as a newspaper reporter who fakes his uncle's murder so he can be convicted of it, only to have villains kill the man and kidnap the reporter's fiancée. Of course, it's all a pretext for a series of daredevil escapes, from Houdini's breaking out of prison to his getting out of a straitjacket suspended from the top of a skyscraper. The Grim Game restorer Rick Schmidlin will introduce the film; live musical accompaniment by Donald Sosin.
Famous singer Claire Lescot (played by soprano Georgette Leblanc) is the "inhuman woman" of the title of Marcel L'Herbier's elaborate 1924 fantasy. Lescot lives on the outskirts of Paris, where she draws men to her like moths to a flame. She is aloof, always. When it seems that Lescot is the cause of a suicide, her fans desert her. The filming of a concert where she's raucously booed is a bit of cinema history: among the attendees were Pablo Picasso, Man Ray, Erik Satie, James Joyce, and Ezra Pound! The director's conception for the film's sets were no less ambitious. Painter Fernand Léger and filmmakers Alberto Cavalcanti and Claude Autant-Lara had parts in the design. The film was recently restored by Lobster Films, who commissioned a new score to be performed by Alloy Orchestra.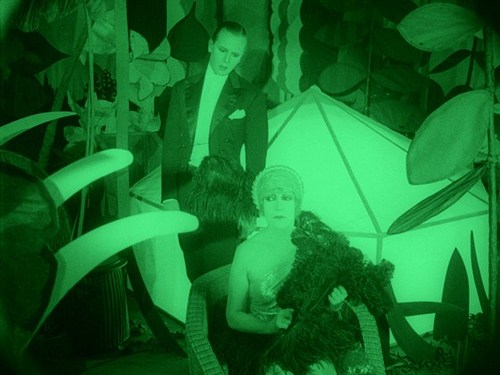 After years of being typecast in Hollywood, Anna May Wong left for Europe in search of better roles. In British director E.A. Dupont's Piccadilly (1929), Wong is mesmerizing as Shosho, a scullery maid who becomes a dance sensation and an object of desire for all who see her. In Piccadilly, Wong displays the cold ambition and manipulative sexuality of the classic femme fatale, while revealing--occasionally--the vulnerability of a young woman. This is hot stuff for 1929, especially the film's inter-racial romance: American censors cut a kiss. Gilda Gray and Charles Laughton round out the cast of the film, some of whose scenes were filmed inside London's famous Cafe de Paris. Live musical accompaniment by Donald Sosin.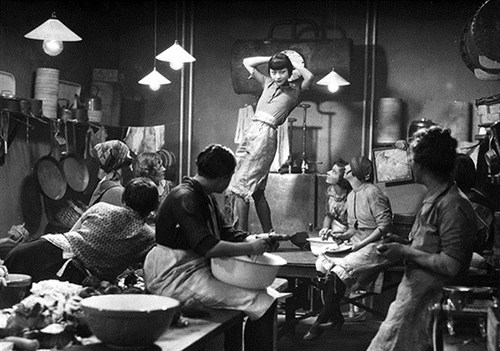 Besides the special guests on hand to introduce films, a handful of authors will also be on hand to sign books between screenings. They include Tracey Goessel (The First King of Hollywood: The Life of Douglas Fairbanks), Karie Bible (Hollywood Celebrates the Holidays: 1920-1970), and Thomas Gladysz (the "Louise Brooks edition" of Diary of a Lost Girl, and the new DVD / Blu-ray of Diary of a Lost Girl).

The San Francisco Silent Film Festival "Day of Silents" will take place at the Castro Theatre on Saturday, December 5. For more information and to purchase tickets and passes, visit silentfilm.org.
Thomas Gladysz is a San Francisco arts and entertainment writer. He is also the founding director of the Louise Brooks Society, an online archive and international fan club online since 1995. Most recently, he contributed the audio commentary to the just released Kino Lorber DVD & Blu-ray of Diary of a Lost Girl.
Popular in the Community