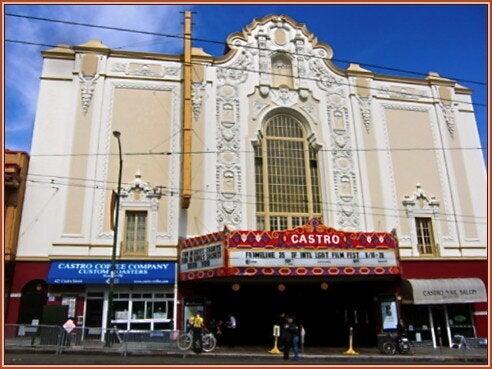 This month marks the 90th anniversary of the Castro Theatre, San Francisco's last fully functioning movie palace. With its towering and pulsating neon sign, the theatre is in the heart of one of the easiest recognized and most visited neighborhoods in the world. To honor the occasion, film progammer Keith Arnold has scheduled an incredible line-up of popular favorites that have kept audiences lined around the corner of 18th and Castro since the doors first opened. The selected features and double-bills also reflect the theatre's multiple projection capabilities -- ranging from 35mm and 70mm to the increasingly prevalent Digital Cinema Package. The DCP is here to stay. The Castro Theatre has screened every change in filmmaking and outlived every piece of projection and sound equipment since 1922 and it's Opening Night presentation of Across the Continent starring popular leading man, Wallace Reid.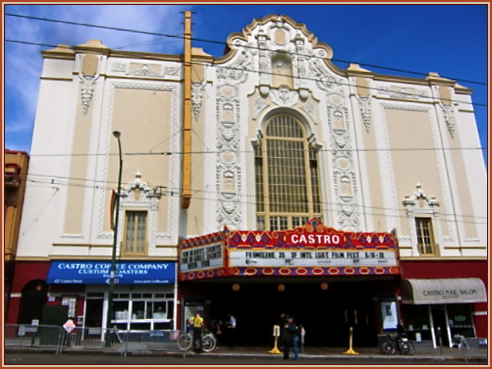 THE CASTRO THEATRE. Photo, Sean Martinfield
Ironically, the latest and most persuasive demonstration of the DCP came this past June with one of the Castro's most popular annual events, the San Francisco Silent Film Festival and its Opening Night feature, WINGS -- the 1927 Paramount epic starring Charles "Buddy" Rogers, Richard Arlen, and Clara Bow. The studio celebrated its 100th anniversary by restoring the Academy Award winning film frame by frame, adding a special sound effects track created by Oscar-winning sound designer Ben Burtt (Indiana Jones and the Last Crusade, E.T., Star Wars: A New Hope, Raiders of the Lost Ark), re-recording the original score, and packaging the results in both DVD and Blu-ray formats. The screening at the Castro Theatre was accompanied by The Mont Alto Motion Picture Orchestra and Mr. Burtt was there to produce his sound effects. In the opulent surroundings of an authentic period theatre, the event was as close as any audience will ever get to the excitement of a 1927 Hollywood premier. Everything old is shiny and new again!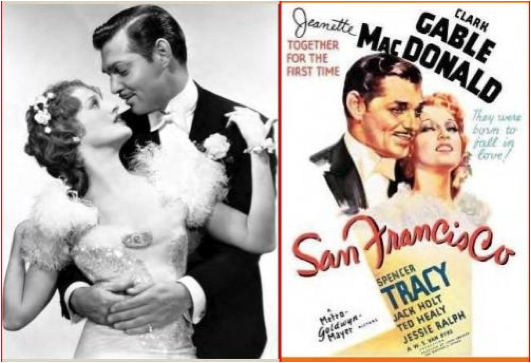 SAN FRANCISCO (1936). Collection of Sean Martinfield
The Castro Theatre's Anniversary roster of films features some of Hollywood's greatest Leading Ladies, particularly those who are in the canon of Gay Icons. [Click here for the complete Schedule.] Highest on this list of must-sees -- especially if you've never seen it in a theatre and, specifically, the Castro -- is San Francisco starring Jeanette MacDonald, Clark Gable and Spencer Tracy. The film features the city's "official song" and what is still regarded as being among the most effective special effects ever created -- the 1906 Earthquake and Fire. Its sharp witted screenwriter Anita Loos had already created fiery successes for Jean Harlow -- Red-Headed Woman, The Girl from Missouri, Riffraff -- and would go on to fashion more box office hits including The Women, Susan and God, Blossoms in the Dust, and Gentlemen Prefer Blondes. Clark Gable was at first disinterested in the project. Soprano Jeanette MacDonald, a real red-headed woman, went to work on him. Even though she was considered one of the most beautiful stars in the film industry, Gable probably agreed to sign because of the literary flare of Anita Loos and his tailor-made role of "Blackie Norton" -- also, director W.S. ("one take Woodie") Van Dyke would encourage his newly grown moustache. Young Spencer Tracy received his first Academy Award nomination for playing a priest and Douglas Shearer (brother of Norma) took his third Oscar for Sound. And the title song, "San Francisco," written for Jeanette MacDonald by Bronislau Kaper, would secure her immortality by forever linking her to the city, aka, "Baghdad by the Bay."
The story begins at midnight, New Years Day 1906. As the crowds head toward Market Street and Lotta's Fountain for free champagne, flames are consuming a rooming house, a known firetrap over on Dupont Street and the latest casualty of the city's weak fire laws. Wannabe opera singer Mary Blake (Jeanette MacDonald), a parson's daughter from Benson, Colorado, had been staying there since her mother shelled out $16.80 for the train fare. Since her arrival, she's been hanging out in the lobby of the Tivoli Opera House hoping for an audition. Now, with nowhere to go and bags in hand, she wanders down to the notorious Barbary Coast district where, if she gets lucky, might land a proper singing job before dawn.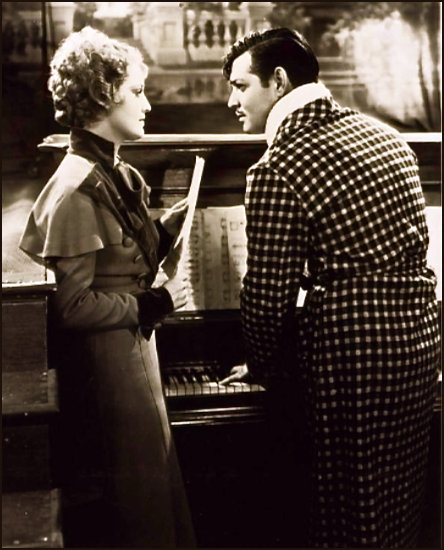 JEANETTE MacDONALD and CLARK GABLE.Collection of Sean Martinfield
"Let's see your legs," says Paradise Music Hall owner Blackie Norton.
"I said I'm a singer!" replies Mary, very much affronted by the swarthy rapscallion.
"C'mon, c'mon," he barks, "let's see 'em."
Mary raises her long skirt to mid-calf and her skeptical eye-brow to high noon. Blackie leans down and smirks. "A little thin for down here. What would you say to seventy-five a week?"
All at once Mary realizes her days in the choir stalls are over. She's about to hit it big as a Saloon singer, in a joint with a dealer and a pool table, where the swells from Nob Hill come slumming, and just a couple of blocks over is the Red Light District. She crashes to the floor.
"I guess she fainted," says Blackie to Mat, a not-so-fetching, in-between-the-girlie-acts crooner.
"Yeah," he replies. "Give me seventy-five bucks a week and I'll drop dead!" [Fade-out:]
Early the next morning, Mary is at the Paradise rehearsing the song, "San Francisco." The conductor is wallowing in Mary's lilting soprano and graceful phrasing as he conducts the violins in a slow ballad tempo. Blackie interrupts.
"Whaddya think I'm running here? A funeral parlor? Heat it up. This is about San Francisco!"
Stunned, Mary concedes. The tempo is juiced. Segue to opening night of the new show featuring the club's latest find. Decked out in a mass of feathers and ruffles and a sequined skirt damn-near up to her knees, Mary belts out the song that will get her mind off of Puccini and make her "Queen of the Coast." Smitten by his latest nightingale, Blackie plans to have 5,000 posters of her plastered all over town, and ten thousand little ones "for ash cans and the front of trolley cars." Eventually, he proposes.
"Have you gone out of your mind?" observes Father Tim. "You can't take a woman in marriage and then sell her immortal soul!"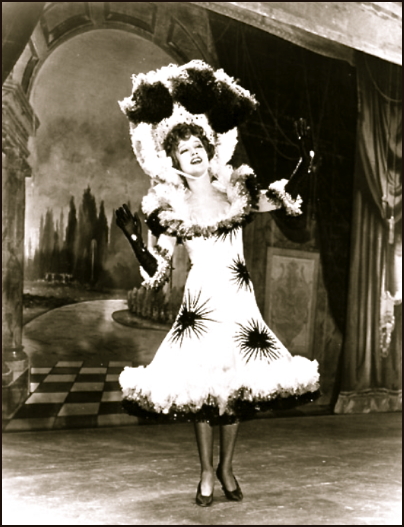 JEANETTE MacDONALD - as "Mary Blake". Collection of Sean Martinfield
It's a shame that Jeanette did not record "San Francisco" at the time the film was released. Her voice was in fantastic shape and the arrangement would have replicated the vitality she displayed in the film. As it turned out, and in spite of her objections, she recorded the song for RCA in 1950 and then tried to have it suppressed. The version included the jazzier section featured in the film, just prior to the quake. Miss MacDonald hated the end results. The recording was re-released in 1967 as a 45 rpm and is now included in a wide variety of CD complications. Thanks to the Turner Classic Movie Channel the film remains a popular favorite and is available on DVD and is included in the Clark Gable Signature Collection.
In May 1984, just prior to the Democratic National Convention held at Moscone Center, Quentin Kopp, a member of the City's Board of Supervisors, proposed an ordinance to have the 1936 composition established as the city's "Official Song" -- replacing "I Left My Heart In San Francisco" -- arguing that it was mushy and outdated. A lively challenge followed. Then-Mayor Diane Feinstein was on a campaign to have the cable cars refurbished in time for the Convention and was determined that she and singer Tony Bennett would enjoy a unique photo-op as the first car rolled onto the tracks. The Board of Supervisors let the public decide. At their regular Tuesday meeting, broadcast on the radio, the rival factions assembled various musicians to perform the separate songs as the public (including me!) phoned in their votes. Bronisalu Kaper's "San Francisco" was the overwhelming favorite. Turns out, Blackie Norton was right -- "This is about San Francisco!" Nevertheless, Mr. Kopp offered a happy compromise. "San Francisco" was declared the Official Song and that other tune named Official Ballad. (Note: This year, during an affectionate Valentine's Day salute to Tony Bennett under the dome at City Hall, the 86-year-old crooner remained mute on the subject and refrained from singing.)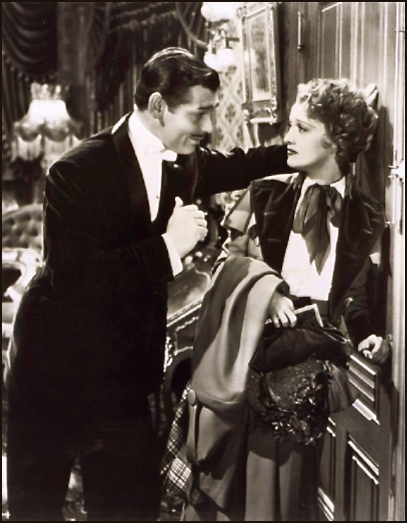 CLARK GABLE (Blackie Norton) and JEANETTE MacDONALD (Mary Blake)Collection of Sean Martinfield
SAN FRANCISCO screens at the Castro Theatre on Saturday afternoon, August 11th at 1:00. It will be first on a double-bill with Earthquake (1974) starring Charlton Heston, Ava Gardner and George Kennedy which follows at 3:15.
M.G.M.'s San Francisco will survive the Test of Time, and is destined to be adapted to every format ever imagined. Like The City itself, Jeanette MacDonald remains a gorgeous and temperamental Diva. She will always be the "First Lady of San Francisco".
Related
Popular in the Community