As augmented-reality and virtual-reality technology continues to advance at a rapid pace, one San Francisco startup hopes to make its mark on this landscape. Taylor Freeman and Will Mason, the founders of UploadVR, are on a mission to improve the industry by providing enthusiasts with a space tailored specifically toward VR development.
UploadVR acquired a venue in February and officially opened in April in downtown San Francisco, right next to Twitter's offices. The space is equipped with sliding doors and rooms designed for the various types of VR technology. The company has adopted a Google-inspired open culture.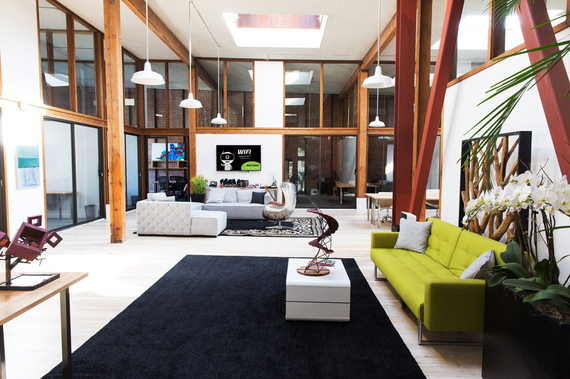 According to its founders, what started as a meet-up community snowballed. "I started this meet-up group, and I just saw all these incredibly passionate people coming to these events and being so inspired and sharing their knowledge. So every three weeks, we would throw bigger and bigger events and it was our goal to continue expanding," said Freeman.
Added co-founder Mason: "Along the way, the whole mission of the company has been to support the ecosystem and VR and to inspire virtual reality."
Their target audience is people who are already working in the VR space or who are considering entering it. "We do make a big push and effort to try and bring new consumers into the space and expose them to the technology," said the duo.
They said that they continued to follow trends and write about what they saw. As they scaled their events to showcase VR to more people, they recognized that there was a real need in the market. The collective offers "a shared workspace with shared resources for professionals in the space." They also hope to support developers who want to get in but are lacking an entry point.
Freeman and Mason met at a block party in the Mission District, and bonded over a shared belief that the virtual-reality space was the next big depot for technological development.
There are a lot of startups and a lot of VR startups in San Francisco, so adequate space was difficult to find. "Coworking spaces are available in San Francisco, but the infrastructure around them isn't really suited for VR. We need big open spaces. We need the ability to sort of have that room-scale experience. We want to develop for that. And that is not just something you see... And so, you know, we found this space. It's really big," said Mason.

According to the founders, another problem is that there are not enough developers in the VR space. However, they believe they have found a solution. "We partnered with Make School now to create a development program for VR, which is starting its pilot program soon. It will be an eight-week intensive program. It takes developers... and it helps place them into jobs," they said.
At first, they financed the operation by generating money from events, but later on, they sought additional funding. "We took in some angel funding from Joe Kraus from Google Ventures, from my dad, from a couple other folks. Then we got a $1.25 million dollar check from Shanda Group for a seed round," said Freeman.
Freeman and Mason believe that in three to five years, people will look at screens and be amazed that we confined our use of technology to a tiny little window instead of having it all around us in AR and VR. It is possible that AR and VR will completely jump over laptops and desktops in a lot of developing countries. In first-world nations, people will eventually completely replace their mobile devices with immersive headsets capable of AR and VR.
"I believe as it goes on it will have major disruptions for education, the medical industry, for communication, and just general productivity and consumption of data. I think people will be shocked by the fact that we are interacting with our data in two dimensions and not even be able to understand how we did that," Freeman said.
Related
Popular in the Community