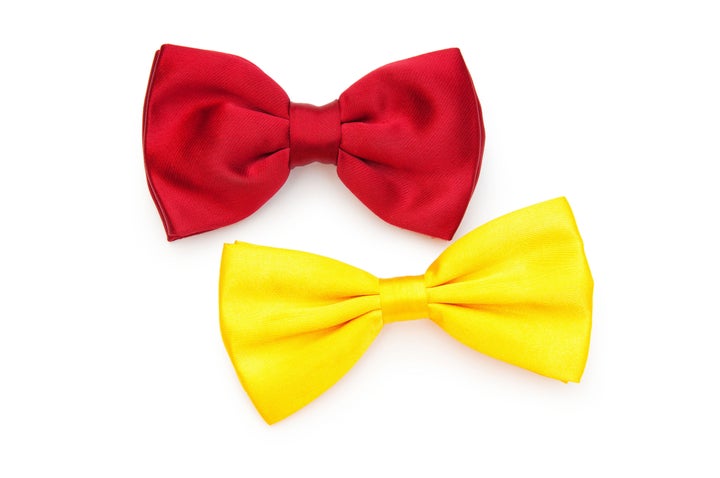 "It's like Bruce Wayne and his scalloped cape," says Jen Hartford, designer and cofounder of Tasty Ties, a local bespoke bowtie company that launched last week. "When my boyfriend [cofounder Kevin Long] puts on a bowtie, it's like he suddenly he's wearing a Batsuit."
There is an element of alchemy with Tasty Ties. Hartford only set out to make one bowtie, but soon realized her creations were in great demand. The accomplished graphic designer started making custom bowties for friends and family in her spare time and then San Francisco took notice and her bowties took off.
Being the startup heartland it is, San Francisco is the perfect locale for an innovative fashion business. "The bowtie disrupts the tie," said a guy who's looking forward to incorporating a bowtie into his wardrobe.
PHOTO GALLERY
Tasty Ties Launches its San Francisco Collection
To pay homage to the city where it all began, Tasty Ties created the San Francisco Collection. Each bowtie in the collection celebrates one of San Francisco's iconic neighborhoods and micro-hoods. There's a seersucker bowtie for the Marina and a leather studded one for Folsom. From elegant floral silk for Chinatown to vintage and gingham for The Mission, each carefully designed bowtie celebrates the multifaceted city.
Friends, family, and fashion scenesters crammed into the backroom of The Homestead on Folsom for an exclusive showing of the new San Francisco Collection last Friday. Amongst buckets of peanuts and handcrafted cocktails, guests purchased, donned, and talked bowties.
"It's like Movember," said one bowtie-wearing guest. "It's something that guys can do that girls can't do." This isn't entirely true -- not because some girls could grow mustaches -- but because I've seen Harford rock one her bowties and she looked great. Still, the sentiment remains. For years men's fashion has taken a backseat and now it's finally having a reawakening. It's cool for guys to care about style.
That's just it with bowties: No one accidentally puts on a bowtie. But when a guy puts one on, he suddenly gains confidence and grace.
Tasty Ties make it easy to add this piece de resistance to your repertoire.
Calling all HuffPost superfans!
Sign up for membership to become a founding member and help shape HuffPost's next chapter