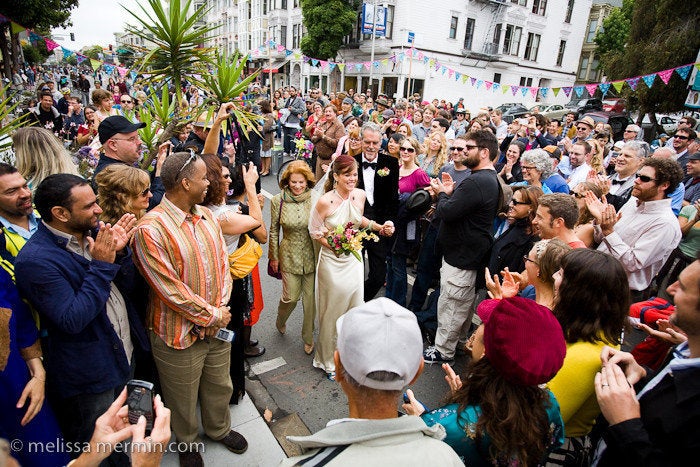 We've seen some San Francisco weddings. But this one takes the cake.
San Franciscans Amandeep Jawa and Kimberly Conley were married this weekend during the Mission District Sunday Streets festival in one of the city's parklets--a tiny park created from converted parking spots. Other weekend wedding festivities included a flash mob dance party and a wedding party bike parade.
Because Jawa and Conley's wedding coincided with the Mission Sunday Streets festival, guests (and passers-by) were able to enjoy the ceremony from the middle of Valencia Street without any traffic.
"We are very fortunate. Fortunate to be surrounded by a tremendous set of people in our lives. […] Fortunate to live in a wonderful city we love and its best neighborhood (in our opinion). Fortunate to live lives that make us truly happy. For our wedding, we want to celebrate how incredibly grateful we are, and give you all a small window into our world. […] We're incorporating our city, our lives, our values, and even the randomness of San Francisco into our wedding. We hope you like it (a lot)."
As the editors of HuffPost SF, we might be a little biased. But we like it. A lot.
Check out photos of Jawa and Conley's San Francisco wedding, courtesy of photographer Melissa Mermin, as well as the couple's friends, in the slideshow below.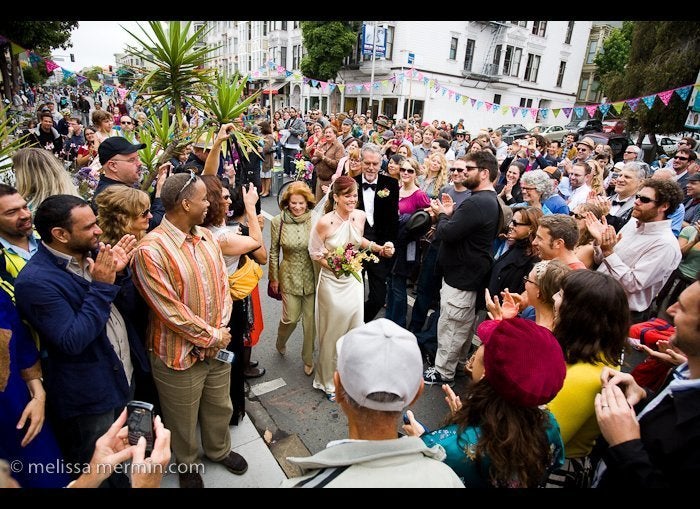 San Francisco Parklet Wedding
Popular in the Community