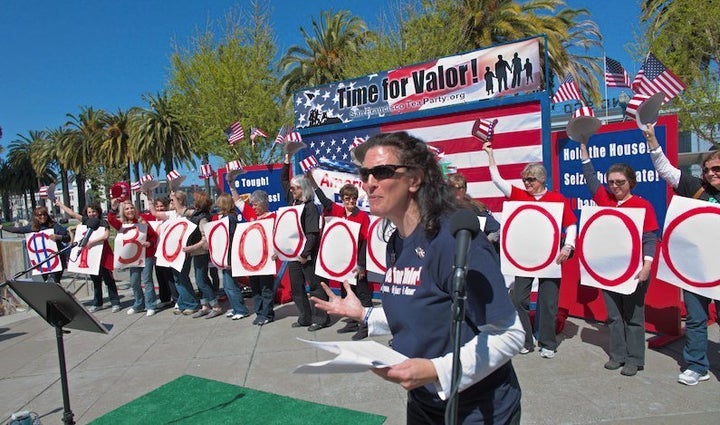 SAN FRANCISCO -- On Saturday, disgruntled activists crowded Justin Herman Plaza carrying signs, chanting slogans and protesting allegedly unfair taxation. But this time it wasn't the Occupiers -- it was the Tea Party.
The crowd of about 600 gathered for the fourth annual San Francisco Tea Party Tax Day demonstration at Justin Herman Plaza. In true Tea Party fashion, the group even notified the SFPD in advance, paid for the amplified sound permit and had a ranger in attendance to monitor the sound levels.
"We're very focused on the upcoming election," said San Francisco Tea Party Organizer Sally Zelikovsky to The Huffington Post. "Legislation like Obamacare and cap-and-trade -- those are things that are motivating people. But the driving force is the economy and jobs: decreasing regulation and allowing the economy to actually grow."
Protesters held signs reading "Obama: our Titanic," "Redistribution of wealth is government-sanctioned theft," "We cannot afford Obama's debt" and (a personal favorite) "Don't tax me, bro!" One man wore a sign that read "I voted for Obama" around his neck and a dunce cap on his head.
The event included speakers, musicians, a tribute to the troops, the Sons of Liberty motorcycle ride and a dance group, The Deficiettes, who held up a dozen oversized zeros to symbolize the nation's $15.6 trillion debt.
While many Romney stickers were present, Zwlikovsky was quick to point out that the San Francisco Tea Party, which boasts upwards of 1,800 members, doesn't endorse candidates and encompasses nearly every political affiliation.
"We have Democrats, former Democrats, plenty of decline-to-states, Libertarians, Republicans and frustrated Republicans," she said to HuffPost. "And we always have."
But the slogan of the day -- "Hold the House, Seize the Senate, Nobama 2012" -- took no pains to hide the group's conservatism.
Some of the signs present at the rally didn't suggest affiliation, rather a general disappointment in President Obama. One man held a small sign with a 2007 quote from Obama reading, "We are not a nation that locks people up without charging them" –- a nod to president's signing of the $662 billion 2012 National Defense Authorization Act that allows the military to detain American citizens indefinitely without criminal charge. Another read "Dump Mr. Hopey Changey 2012."
San Francisco's rally was one of many across the nation this weekend. A Tea Party tax day protest in Boston turned ugly when the group clashed with LGBT counter-protesters, leading a speaker to reportedly say, "we will not be silenced by faggots" over a loudspeaker. The San Francisco protest, however, remained peaceful.
UPDATE -- 4/24:
Reports of video from the event have surfaced that show speaker Scott Lively telling the crowd, "We will not be silenced by fascists." It is unclear whether Lively is the same speaker referenced in initial reports, or whether this is the remark that was initially reported above. (See the video here.)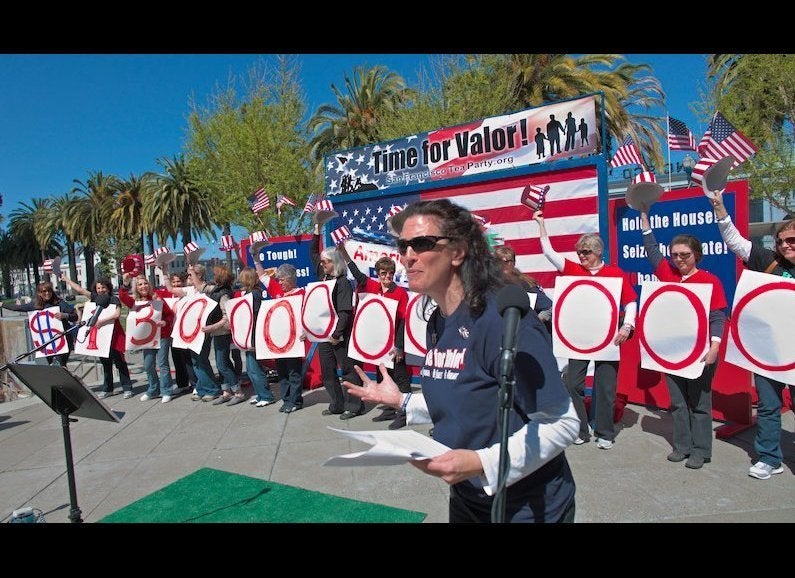 Related
Popular in the Community