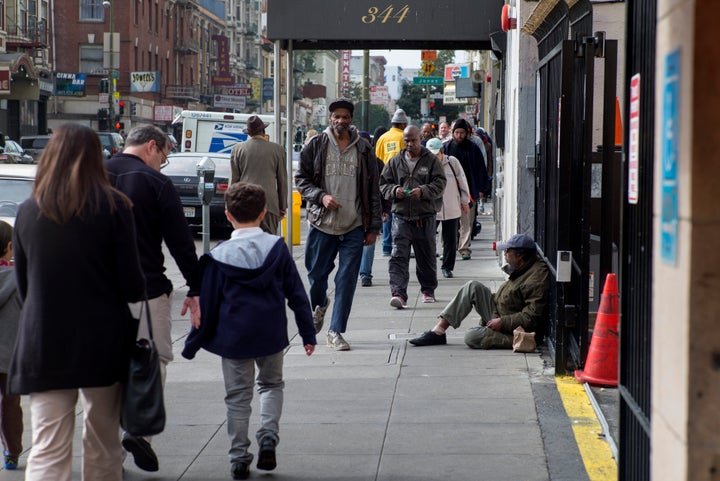 The San Francisco tech boom has left many residents in the dust. Rents are soaring, fueled by the influx of highly paid tech talent into the city, and the affordable housing market is shrinking. Homeless people camp out on street corners while employees at firms like Google and Facebook get free lunch and private buses to the office.
Now, legislators in San Francisco are demanding that tech giants pay for some of the problems they helped create.
Eric Mar, who sits on the city's Board of Supervisors, has proposed levying a 1.5 percent payroll tax on tech companies to help mitigate the severe housing and homelessness crises facing the city.
Tech firms haven't been "paying their fair share," Mar told The New York Times.
The tax would raise around $140 million, to be allotted to homelessness programs and affordable housing projects.
San Francisco has steadily climbed past New York in recent years to become the country's most expensive city. The median rent for a one-bedroom apartment is more than $3,500, according to recent data from real estate site Zumper.
Meanwhile, there's an estimated 6,700 homeless individuals in the city every day, according to the San Francisco Chronicle. The paper placed its editorial condemning the city's homelessness as a "civic disgrace" on its front page this week. It's part of a major effort by San Francisco media outlets to highlight the issue and find ways to reduce homelessness.
"You cannot live in San Francisco without coming into daily contact with a person that lives on the street," Audrey Cooper, editor of The Chronicle, told NPR.
The tax is seen as a counter to earlier deals that benefitted tech companies at the expense of low-income residents. Five years ago, San Francisco offered tax breaks to companies, including Twitter, that invested and set up offices in the rougher Tenderloin and Mid-Market neighborhoods. Those have cost the city around $40 million, according to the Wall Street Journal.
Critics of the proposed tax argue that it would not bring down housing prices or the number of homeless people.
"What it will do is chase away good-paying jobs and erode our tax base," Scott Wiener, also a member of the Board of Supervisors, told The Times.
The tax is far from becoming a reality. Six of the 11 members of the Board of Supervisors must approve the proposal first, and it must then gain the support of two-thirds of voters.
Popular in the Community