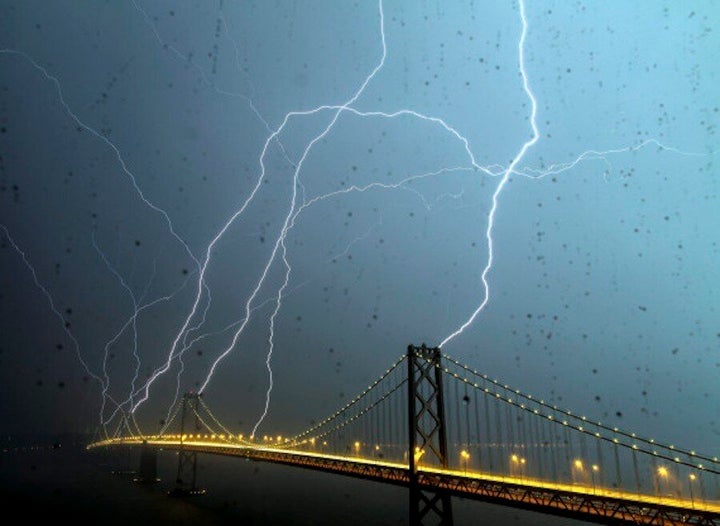 It's no secret: San Francisco has been having a less-than-dry spring.
"I haven't seen rain like this in years!" residents across town exclaim excitedly each time the pitter-patters start up again.
But Thursday night's deluge may have won the prize for the most epic April shower yet. The skies opened up and let it all leak out. Thunder rattled walls and rooftops from the Excelsior to North Beach. Our siblings over at Pacifica Patch saw quarter-inch hail. And according to the National Weather Service, lightning struck a whopping 750 times throughout the Bay Area.
Rachel Maddow was in the middle of a charming appearance at the Castro Theatre when a behemoth thunderclap interrupted her spiel about the CIA's role in military operations. The audience fell silent. "I've always wanted to do that," she joked.
Across town, photographer Phil McGrew captured a stunning image of lightning striking the Bay Bridge not one, not two, but nine times. "I wasn't brave enough to go outside, plus my camera would have been soaking wet, so I just set it up next to the window and watched," he told The Daily Mail. "We've never seen anything like it."
A lightning bolt also struck a United Airlines plane en route from SFO to London shortly after takeoff, forcing the vessel to return to San Francisco.
Meanwhile, a certain two HuffPost SF editors, headed to Carmel to cover the Pebble Beach Food & Wine Festival, ran out of gas driving down the 101-South on that shoulderless stretch of freeway right before the Willow Pass Road Exit. It hadn't stopped raining yet.
At least it will be nice to finally see some green on our hills!
Take a look at some crazy shots of Thursday night's storm (and a few from downpours past) below. Have your own tale of getting caught in the rain? Be sure to share in the comments.
Calling all HuffPost superfans!
Sign up for membership to become a founding member and help shape HuffPost's next chapter