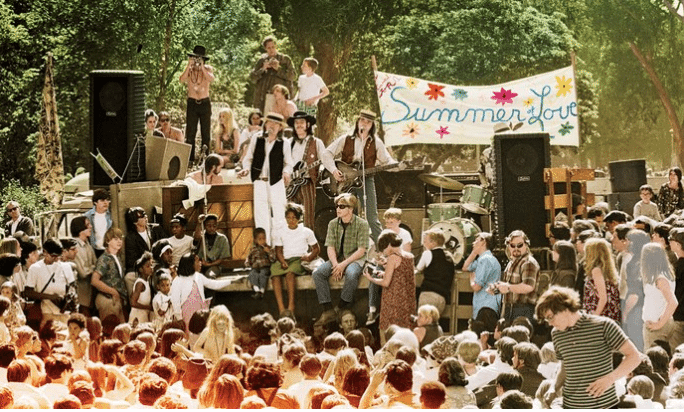 The iconic city of San Francisco has long been a destination on the cutting edge, and known for taking up prolific causes that change the world.
In 1967 the eclectic flower children created a movement for social change largely fueled by protesting the Vietnam war. Young people dressed in hippie clothing came to San Francisco from throughout the world for peaceful protests, spiritual retreats, music revivals, and the noted beatniks who called San Francisco's North Beach home.
San Francisco Travel Association commentated the 50th anniversary of the Summer of Love throughout the year and was recently named the 2017 winner of U.S. Travel's Destinations Council Destiny Award for their campaign promoting the 50th anniversary of the Summer of Love.
San Francisco Travel won in the category of Branding and Integrated Marketing Campaign: Destinations with Marketing Budgets of $5 Million to $10 Million. The award was presented at U.S. Travel's 2017 ESTO Conference in Minneapolis, MN.
The Destinations Council Destiny Award program recognizes U.S. Travel destination members for excellence and creative accomplishment in destination marketing and promotion at the local and regional level and fosters the development of imaginative and innovative destination marketing promotion programs and activities. A diverse panel of judges evaluated the entries based on strategy, creativity and innovation, and results.
In 2017, San Francisco marked the 50th anniversary of the Summer of Love with more than 60 citywide events, including concerts, exhibitions and festivals.
"We are absolutely thrilled to receive this prestigious award," said San Francisco Travel President and CEO Joe D'Alessandro. "This campaign brought together partners from throughout the region and gave us the opportunity to celebrate San Francisco's core values such as diversity, creativity and welcoming. It must be the right message for the time because it was embraced enthusiastically by our customers, the media and everyone involved."
Praise from the judges included this summation: "The way San Francisco draws on historical documents, archival footage and photographs, married to graphics based on art of the era, was a great strategy. The campaign makes good use of available resources from other institutions and departments. Key partners of the program are very well defined and nicely integrated into the campaign. The vision, strategy and objectives are clearly defined, and the execution was well thought out and quite effective. The results are quantifiable across many channels and the numbers are impressive."
San Francisco Travel partnered with the California Historical Society, headquartered in San Francisco, which developed an integrated public history framework by creating a dynamic project website, an insightful exhibition and critical context on a pivotal time for the city which had an international impact.
"Working with San Francisco Travel was a perfect opportunity to blend their marketing expertise with our historical depth and to work collaboratively with our cultural partners and the City of San Francisco. This was an extremely rewarding and successful partnership that can serve as a nation model for other cities," said Anthea Hartig, executive director and CEO of the California Historical Society.
To encourage visitors to travel to San Francisco during this celebration, San Francisco Travel, the official destination marketing organization, launched a prolonged, strategic marketing campaign focused on the once-in-a-lifetime value of experiencing San Francisco at this specific moment.
The organization leveraged its long-standing partnerships with city institutions like the California Historical Society and San Francisco International Airport to expand the reach of the campaign both locally and globally. Attractions and venues large and small got involved, including the de Young Museum and PIER 39.
The Summer of Love campaign targeted all markets: consumer, business, trade and media. It was composed of fresh, innovative digital and real-world assets, as well as historic images from well-known photographers.
Teak, a San Francisco-based branding and content studio, worked with San Francisco Travel and the California Historical Society to develop a series of original, signature illustrations that brought the campaign to life. The images translated well into posters, buttons, stadium blankets, lip balm tins, notebooks and other promotional items.
In October of 2016, San Francisco Travel launched the campaign with a Summer of Love microsite, sftravel/summer-love-2017, where visitors could find original content, including historic information, trip ideas, events and booking opportunities. San Francisco Travel also themed its Spring/Summer digital visitor guide with the Summer of Love and created both B2C and B2B national paid media campaigns.
San Francisco Travel hosted a number of events in 2017 that embraced the Summer of Love theme. From media dinners and sales missions to the association's 107th Annual Luncheon, the Summer of Love fingerprint was present across every department's efforts including internationally, with the main office in San Francisco coordinating with representatives in the United Kingdom, Europe and Australia
The largest such event was held at San Francisco International Airport on May 13, 2017, celebrating the release of the famous song "San Francisco (Wear Flowers in Your Hair)." Working with the airport, United Airlines, the San Francisco Gay Men's Chorus, Madame Tussauds, the California Cut Flowers Commission and other partners, Terminal 3 East was transformed into a hippie happening, complete with live music, activities, and flowers to greet arriving passengers. International journalists were hosted that weekend on a Summer of Love tour that garnered millions of media impressions. The event was covered nationally by NBC News affiliates.
San Francisco Travel took bold, new steps at involving both its partners and the public in the campaign. They encouraged partner businesses to get creative with their offerings to visitors, offering guidelines on how to create special hotel packages or themed experiences.
The campaign included a national paid media push targeting key B2C and B2B audiences. It highlighted the unique values, experiences, and communities that visitors can experience only in San Francisco.
Visitors could also tune in to San Francisco Travel's social media channels to learn simple, actionable ways that they could "Share The Love" and spread the San Francisco spirit in their own communities. The San Francisco Travel team did their part, partnering with the San Francisco Recreation and Parks Department on a cleanup of Golden Gate Park, the site of so many legendary moments during the summer of 1967.
The campaign was evaluated on a number of criteria, with a focus on economic impact as measured through website visitation, partner participation and earned media. Other key performance indicators included social media reach and engagement, booked room nights, and attraction bookings.
Campaign achievements, as of June 28, 2017, included:
130,000 unique web visits contributing $4.4MM in economic impact (2015 Destination Analysts Web Economic Impact study values each unique visit at $34.20 in economic impact)
6.9 million Facebook impressions with over 200,000 engagements
105,000 total engagements and over 500,000 views attributed to original video of the Conservatory of Flowers's Summer of Love themed light art installation
68,000 views on Facebook of original Flowers In Your Hair Day video content
67,000 Instagram impressions in first week of Share Your Love story series
REAL LIFE. REAL NEWS. REAL VOICES.
Help us tell more of the stories that matter from voices that too often remain unheard.
This post was published on the now-closed HuffPost Contributor platform. Contributors control their own work and posted freely to our site. If you need to flag this entry as abusive,
send us an email
.