Contrary to what commercials once told Americans, Rice-A-Roni (which was introduced to consumers by the Golden Grain Macaroni Company in 1958) is not the only San Francisco "treat." When I think of some of San Francisco's unique attractions, I tend to consider local arts organizations that create original work (as opposed to primarily restaging works that have already found their place in the dramatic literature).
Quite often, when people refer to community theatre they do so in a condescending tone, as if to imply that even though a community theatre group might stage Broadway musicals, their production values aren't up to the standards of "real" Broadway productions. Such criticisms fail to take into account that it is often the smaller black box and community theatres that encourage the creation of new work by local playwrights, directors, actors, and choreographers.
Since its founding in 2010, the SFOlympians Festival (playwright-director-impresario Stuart Bousel's annual challenge to aspiring dramatists to create new works based on the characters and events in Greek mythology) has showcased the work of 78 writers, 57 directors, 290 actors, and 34 graphic artists. In 2015, the festival featured readings of 30 new plays by 31 Bay area writers. As much as I enjoy Bousel's annual SFOlympians Festival, scheduling conflicts meant that this fall I was only able to attend one performance. I was, however, delighted to see clips of Allison Page performing some of her "Waterlogues."
Thankfully, October offered me a chance to attend back-to-back productions by two favorite Bay area community theatre groups. One is a relatively young group; the other was celebrating its 30th anniversary. Both companies offered audiences a whopping good time.
In recent years, the folks at the Left Coast Theatre Company have structured their evenings as anthologies of six shorts play built around an LGBT-related theme. Many of these plays have been written by company regulars.
Down at the Phoenix Theatre, Left Coast Theatre offered its latest anthology: a seasonal treat for horror-hungry Halloween celebrants entitled Screaming Queens (Horror Shorts With An LGBT-Bite). Several new playwrights contributed to the program, accompanied by some new faces on stage. Acting as a rhyming "Hostess With The Mostess" was the bearded Terry Maloney Haley in full drag with a dead raven (instead of a tiara) perched atop his wig.
Terry Maloney Haley as Mistress of Ceremonies in
Screaming Queens (Photo by: Aaron Levy-Wolins)
One of the Left Coast's strongest new actors is Neil Higgins (who appeared last spring in Motherly Advice). A gifted playwright with a great laugh who has written some impressive short plays for the SFOlympians Festival in past years (2012's Iapetus and 2014's Echidna), Higgins starred in the evening's opener, Meet Cute. Written by Evan Boughfman and directed by Don Hardwick, Meet Cute focuses on Glenn, a fan of rom-com films who frequents his local movie theatre in the hope of finding a date -- perhaps a handsome gay man who would like to share some of his popcorn.
There's just one problem. Glenn is shy, lacks social skills, and is so desperately hungry for affection that he quickly scares off any stranger who could become a potential date. The first to turn him down is Derek (Rowan Rivers), who doesn't hesitate to accuse Glenn of creeping him out.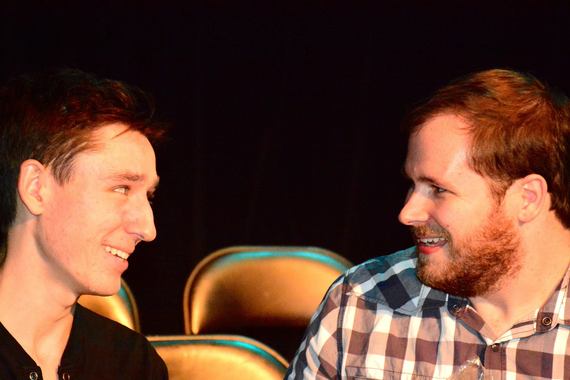 Pete (Ryan Engstrom) and Glenn (Neil Higgins) in a scene
from Meet Cute (Photo by: Aaron Levy-Wolins)
Next up is the extremely hunky Pete (Ryan Engstrom), who confesses that the reason he sat down next to Glenn is because Glenn bought the concession's last box of his favorite candy. Would he be willing to sell his box of Sour Patch Kids to Pete? Glenn adamantly refuses.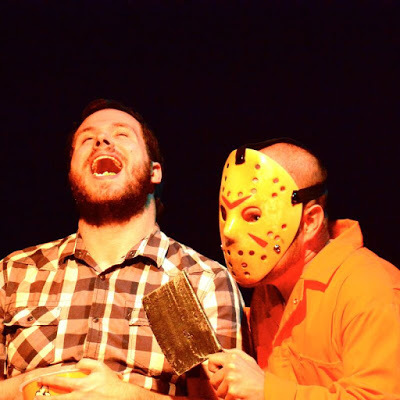 Neil Higgins (Glenn) and Joel Canon (Mason)
in Meet Cute (Photo by: Aaron Levy-Wolins)
When Glenn returns to his seat, he is visited by the bloodthirsty Mason (Joel Canon), his meat cleaver-bearing alter ego who suggests that Pete may have to meet a grisly fate. But when Glenn starts choking on a piece of popcorn, it is the good-hearted Pete who comes to his rescue by applying the Heimlich maneuver. After Glenn explains that he has given names to each of the Sour Patch Kids in his box of candy, he offers to share them with Pete. This could be a match for Glenn. Or a match made in hell.
Higgins also stars in The Screens as Allen, who the audience could easily assume to be a delusional and embittered mental patient talking to his psychiatrist. Written by Erik Champney and directed by Richard S. Sargent, this intense psychodrama comes with an evil twist at the end. As Allen struggles to differentiate between the facts and fictions that cloud his memory, the mysterious man (Richard S. Sargent) who keeps gently interrogating him turns out to be named Damien.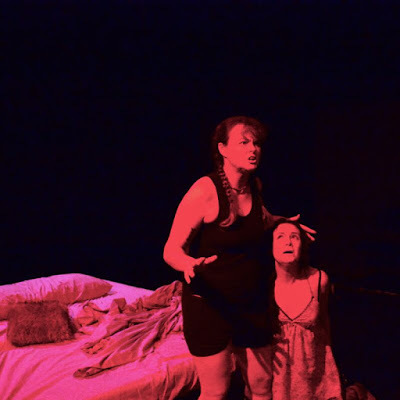 Sabrina De Mio and Isabel Siragusa in Presence
(Photo by: Aaron Levy-Wolins)
Paranoia is a reliable source of terror and, in Thomas J. Misuraca's play, Presence, two newly-coupled lesbians have trouble getting to sleep in their new home. Judy (Isabel Siragusa) and Brenda (Sabrina De Mio) have hardly finished unloading the U-Haul -- and still have numerous cartons to unpack -- when Judy starts showing signs of skittishness. Convinced that the strange sounds she keeps hearing are coming from an intruder, she insists that Brenda go downstairs to get rid of the threat. Brenda, on the other hand, is convinced that Judy's erratic behavior is a sign that she doesn't really want Brenda to stay. When Judy finally drifts off to sleep, Brenda rises and stands behind the bed with body language that could be interpreted as protective ... or perhaps predatory.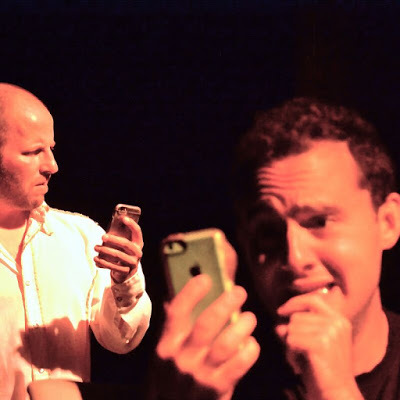 Joel Canon (Gary) and Richard S. Sargent (Tyler) in Gaybola
(Photo by: Aaron Levy-Wolins)
Two short plays deal with the paranoia that quickly spreads when a new disease rears its ugly head. In James A. Martin's Gaybola, young, hot twinks are panicking as word spreads across social media (Grindr, Scruff, etc.) of a new gay plague that is a quick and merciless killer. Directed with wicked glee by Chris Maltby, the action is frequently interrupted by hunky newscaster, Anderson Lemon (Ryan Engstrom), whose only clothing is a pair of bulge-enhancing briefs like those designed and marketed by Andrew Christian.
The action focuses on Tyler (Richard S. Sargent), an easily-terrified young queer who has just broken up with Gary (Joel Cannon), a horny sex-hound who remains emotionally unavailable. Upon learning that their mutual friend, Don Cooper (Rowan Rivers) has succumbed to Gaybola, Gary insists on dropping by Tyler's apartment. Keenly aware that as soon as Gary walks in the door, he'll insist on fucking, Tyler wrestles with the decision of whether or not to answer the doorbell. Faced with a choice between celibacy or a gloriously hypersexual death, Gaybola is like a 21st-century gay man's version of Frank R. Stockton's classic short story, The Lady, or The Tiger?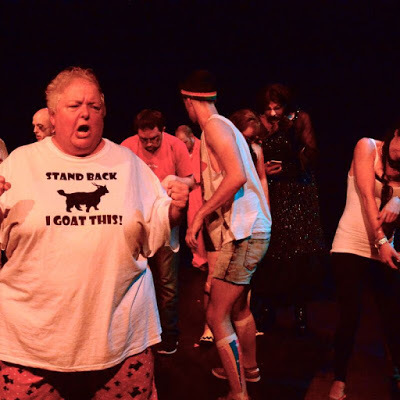 AJ Davenport stars as Deedee in Dawn of the DeadZone
(Photo by: Aaron Levy-Wolins)
The evening's finale was Rita Long's riotously funny Dawn of the Deadzone in which Deedee, an older, rounder, and robust rural lesbian (AJ Davenport) who raises goats, is visited by two panicky urban Millennials: Katy (Isabel Siragusa) and Twink (Connor Fatch) who desperately seek protection from a frightening new disease. Described as a "virus-stained, brain-eating technology that takes over the heart," this new killer can only thrive within a smartphone's range of connectivity.
As Deedee (an avowed Luddite) listens to Katy and Twink's frantic cries for help, they spot an approaching Zombie (Aaron Tworek), whose eyes are riveted on his smartphone. Directed with a grand sense of humor by Kris Neely, Deedee and her goats manage to save the day.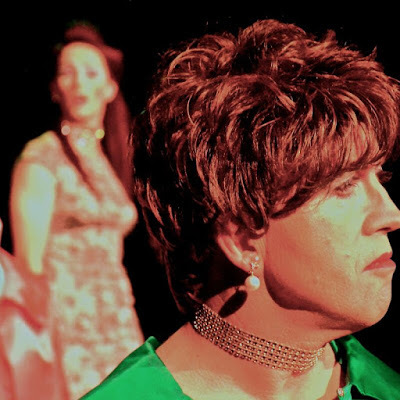 Connor Fatch and Chris Maltby in The Fierce
(Photo by: Aaron Levy-Wolins)
Although nowhere as funny as Gaybola or Dawn of the Deadzone, the play with the greatest depth was Terry Maloney Haley's The Fierce, in which two drag queens battle for possession of a pair of magic heels. With a bitter confrontation between the older Charles (Chris Maltby) and the younger Toby (Connor Fatch), The Fierce probed the need for a younger generation of drag queens to respect their elders, with a few references to The Wizard of Oz thrown in for laughs.
Screaming Queens was a better program than some of Left Coast Theatre's previous productions. The writing was more solid and there were some welcome new faces onstage. The company's progress in its three short years of existence is quite notable.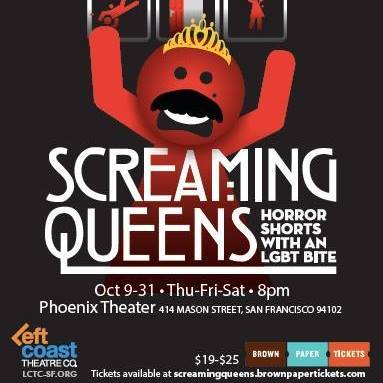 Poster art for Screaming Queens
To celebrate the 30th anniversary of Na Lei Hulu I Ka Wekiu, the halau's beloved Kumu Hula, Patrick Makuakane, hosted its annual show (aptly entitled Kanakolu: 30 Years of Hula) at the Palace of Fine Arts. Among the guest performers were vocalist Hannah Viernes, dancer Sayali Goswami, Kumu Hula Shawna Alapa'i, and drag diva Matthew Martin along with musicians Kris Lee, Lihau Paik & Kellen Paik (who flew in from Hawaii for the festivities).
In the three decades that Na Lei Hulu I Ka Wekiu has been a presence in the Bay area, its dancers have appeared at numerous events around San Francisco, traveled to perform at Lincoln Center and the John F. Kennedy Center for the Performing Arts, made regular visits to Hawaii, and become goodwill ambassadors spreading the spirit of Aloha through Makuakane's unique talent for creating contemporary hulas that can be danced on the same program as more traditional (kahiko) hulas. His hula mua ("hula that evolves") can be seen during the group's "Hit and Run Hula" performances in the city's parks and at beloved tourist attractions. Few, however, have had the chance to enjoy a hula flash mob performed at 38,000 aboard a Hawaiian Airlines 767 en route to Honolulu.
In addition to the halau's formal performances, two of the most impressive aspects of Na Lei Hulu I Ka Wekiu's full-blown stage productions are the visions of San Francisco and Hawaii projected on a huge screen behind the dancers and Makuakane's eclectic choice of musical selections.
Over the years, a hula set to Roberta Flack's recording of "The First Time Ever I Saw Your Face" has become an audience favorite, while a hula entitled "Daughters of Haumea" (performed to "I Am Stretched On Your Grave") pays tribute to the way Hawaiian women have ritually mourned their loved ones. Makuakane's description of trying to swim out into the waves while carrying an urn containing his mother's ashes added a poignant and humorous touch to the proceedings.
Among the hulas performed to honor San Francisco were "He Mele Papahi" (a Hawaiian tribute to crabs) and Makuakane's Krishna Hula (sung to "Bow Down Mister"), which celebrates the day his halau crossed paths with a group of Hare Krishnas in Golden Gate Park.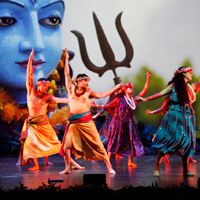 Dancers from Na Lei Hulu I Ka Wekiu performing the Krishna Hula
In addition to using some of the music from Louis Armstrong and Andy Iona's classic "Jazz Goes Hawaiian" album, the group performed its Kalapu Jazz Hula using George Gershwin's 1930 hit song "I Got Rhythm," "The Beauty Hula, "If I Could Be With You One Hour Tonight," and the Hawaiian war chant ("TA-HU-WA-HU-WA-I") which is familiar to most people as the finale to Walt Disney's Enchanted Tiki Room attraction.
In addition to Makuakane's tribute to Hula's Bar & Lei Stand in Waikiki, the company performed selections from Ka Leo Kanaka (The Voice of the People), a program celebrating its volunteer-driven project that resulted in a cultural resurrection similar to what Aaron Lansky (the author of Outwitting History) achieved for Yiddish literature once digital technology became available to the staff of the Yiddish Book Center.
As Nina Wu wrote in The Honolulu Star-Advertiser:
"The inspiration for Ka Leo Kanaka (Voice of the People) came from a project called Ike Ku'o ko'a, a global initiative that enlisted thousands of volunteers to transcribe Hawaiian-language newspapers dating from 1834 to 1948. More than 100 Hawaiian-language newspapers were published throughout the [Hawaiian] islands during that time period, resulting in more than a million typescript pages of text, which Ike Ku'o ko'a ('liberating knowledge') describes as 'the largest native-language cache in the Western world.' Over eight months in 2012, Makuakane and his halau transcribed nearly 1,200 pages, making them the largest contributor to the effort. That effort, in turn, proved rewarding for the halau, which received a competitive $50,000 choreographer's commission grant from the Gerbode Foundation of San Francisco for the production."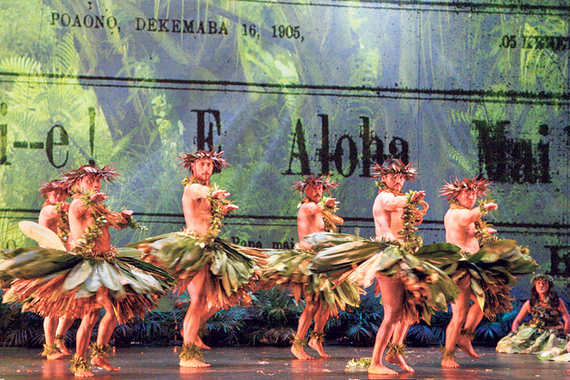 Dancers from Na Lei Hulu i ka Wekiu
performing in Honolulu (Photo by: Lin Cariffe)
REAL LIFE. REAL NEWS. REAL VOICES.
Help us tell more of the stories that matter from voices that too often remain unheard.