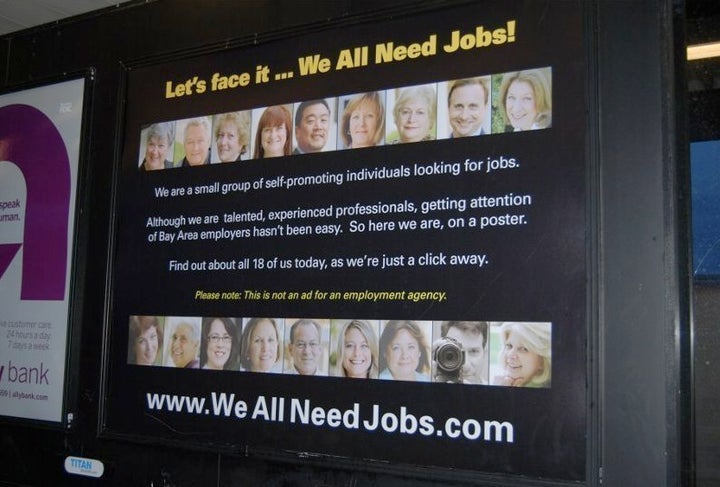 Tired of getting nowhere in their search for work, 18 unemployed Californians are advertising themselves on billboards throughout the San Francisco area's public transit system.
"Let's face it," the advertisements say. "We All Need Jobs!"
Howard Friedenberg, the leader of the group, said he got the idea for a campaign after seeing what he considered a badly-designed billboard for a lawyer or real estate agent. Friedenberg, who lost his job as a computer company's communications specialist in November 2009, said he thought he could do better, and he recruited acquaintances he'd made while networking with other unemployed people.
"We are a small group of self-promoting individuals looking for jobs," the billboards explain. "Although we are talented, experienced professionals, getting attention of Bay Area employers hasn't been easy. So here we are, on a poster."
Friedenberg said the initial goal was to receive media attention -- and since the billboards went up in February, pretty much every TV station the area has run a story.
The campaign directs the curious to the group's website, where employers can browse profiles of each of the 18 jobless individuals. Two of them have actually found work since its inception, according to the site. The word "LANDED!" is superimposed on their portraits.
Do the billboards deserve credit for the hires? Not quite. But, Friedenberg said, they didn't hurt.
"I think what it did was it gave all of us a little more confidence," he said. "We're not embarrassed."
Friedenberg said the group has paid for for another eight weeks of ad space.
REAL LIFE. REAL NEWS. REAL VOICES.
Help us tell more of the stories that matter from voices that too often remain unheard.