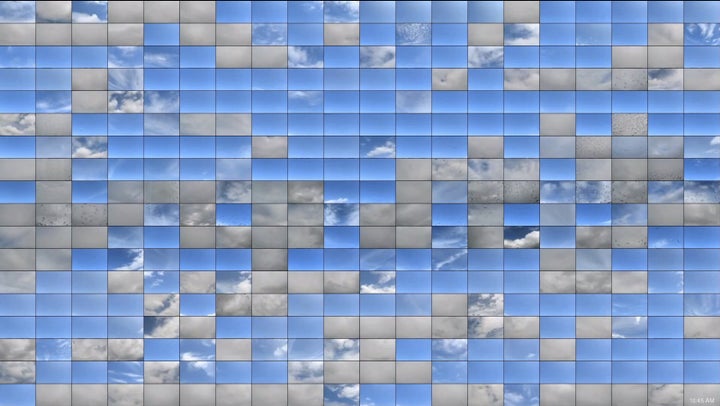 If you love the weather, then you'll love Ken Murphy's video that depicts a year-long (technically, 360 days) time-lapse study of the sky in San Francisco.
The video shows 360 separate time-lapse videos (shots were taken every 10 seconds) on one screen, arranged chronologically and synchronized by time of day. The videos all begin at sunrise and last until after sunset.
The result is a truly unique look at the sky above the Exploratorium museum in San Francisco. Every city would have a much different depiction of a year's worth of weather.
As someone who forecast the weather for California, including San Francisco, for many years, the video displays a number of interesting weather features:
The middle of the screen in the winter, when the days are the shortest, so it's the last to show light and the first to become dark.
San Francisco, of course, is known for its low clouds followed by sunshine, so not surprisingly, the screen is at its brightest during the afternoon hours since, from a climatological perspective, that's the sunniest time of the day. In other parts of the nation, where the sun leads to an abundance of building afternoon cumulus clouds, this would not be the case.
The videos with the most blue and the brightest blue skies were on the top half of the screen, which includes the late summer and fall. This is when the coverage and duration of morning low clouds and fog is at a minimum. With the lack of haze and moisture in the air, the blues are brighter. In some parts of the nation, the opposite would be seen since fall is when stagnant air is more likely to result in haze and fog.
The lower part of the screen shows spring and early summer, when fog, low clouds, and haze are much more widespread. The days with sunshine are much hazier.
A few days show water on the lens from falling rain; however, this is not necessarily an indication that these are the only days when it rained since the camera might have been protected from rain when the wind was from certain directions. Most of the days that indicate falling rain were mainly in the middle part of the screen, which makes sense since most of San Francisco's rain falls during the winter.
The night images that were not completely black are most likely nights in which the clouds were so low (perhaps dense fog) that the light from the city was being reflected back toward the camera. While cloudy nights might be the darkest in the country, they are not necessarily the darkest in the city.
REAL LIFE. REAL NEWS. REAL VOICES.
Help us tell more of the stories that matter from voices that too often remain unheard.