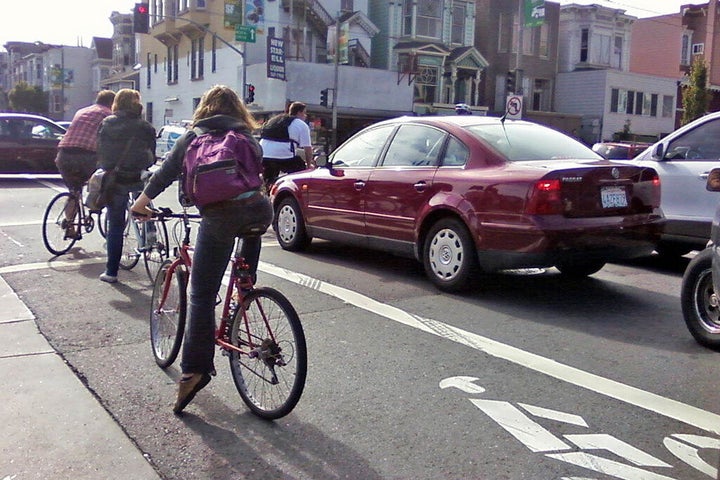 Nevius spoke to Police Captain John Feeney, who recently amped up citations against cyclists riding the Wiggle, the bike path that connects the Lower and Upper Haights by avoiding the steep hills. According to Nevius, when Feeney began cracking down, "cyclists went ballistic." Feeney told Nevius that while he's not out to write tickets, speed and safety is certainly a concern along the route, and he's made an effort to reach out to area bike groups to further discuss the issue.
But bike advocates aren't convinced. "Captain Feeney hasn't 'made it a point' to reach out to us, so I'm not sure which bike groups he's talking to," Morgan Fitzgibbons, co-founder of The Wigg Party, a bike-friendly community organization dedicated to promoting sustainability along the Wiggle, told The Huffington Post.
Fitzgibbons added that he felt Nevius' portrayal of the situation mischaracterized the biking habits of the majority of Wiggle riders. "The reality is that at least 90 percent of the riders on the Wiggle are really considerate and respectful," he said. "Nevius once again shades the conversation to suggest that there are speed racers and texters and, oh yeah, a few people who are good riders. This is an example of the regular prejudice that is directed unchecked at the bicycling community."
According to Fitzgibbons, many of the folks who receive citations along the Wiggle are targeted unfairly. "I do know people who have gotten tickets and I witnessed strangers who have gotten tickets. None of them are of the 'speed racer' type--they were merely in the wrong place at the wrong time and got busted in this ludicrous sting operation," he said, adding that "the Wigg Party wholly welcomes tickets for riders who are actually riding recklessly."
A recent analysis by the Bay Citizen's Bike Accident Tracker found that speeding is the most common cause of bike-related collisions in which the cyclist is at fault. The same tool revealed two accident "hot spots" along the Wiggle, at the intersections of Masonic Avenue and Fell Street and Oak and Scott Streets.
Feeney told Nevius that the police will soon launch a program that targets drivers who are reckless with regards to Wiggle riders, too.
In the mean time, Nevius should continue to ride with caution -- at the end of the day, he remains one of the Wiggle's biggest fans.
Popular in the Community