Little by little I could begin to enjoy the unprecedented colors and plays of shapes that persisted behind my closed eyes. Kaleidoscopic, fantastic images surged in on me, alternating, variegated, opening and then closing themselves in circles and spirals, exploding in colored fountains, rearranging and hybridizing themselves in constant flux.
These are the words of Swiss chemist Albert Hofmann after accidentally going on the world's first acid trip. In 1938, Hofmann began investigating the chemical and pharmacological properties of ergot, a rye fungus. He was searching for an analeptic compound which is a drug that stimulates the central nervous system, like caffeine. Analeptics are often used for the treatment of headaches or respiratory problems. Early animal testing showed insignificant results and the LSD sat untouched and unnoticed for five years. Then, one sunny afternoon on April 16, 1943, he felt compelled to revisit the mysterious substance. As fate would have it, his fortuitous impulse would change the world.
After accidentally absorbing a small dose through his fingertips, he quickly experienced "a remarkable but not unpleasant state of intoxication...characterized by an intense stimulation of the imagination and an altered state of awareness of the world" (excerpt from Acid Dreams by Martin A. Lee and Bruce Shlain). On April 19, 1943, Hofmann decided to perform a self-induced experiment on himself by ingesting 250 micrograms of his new creation. He asked his lab assistant to escort him home and because of wartime restrictions on cars, they rode their bicycles. Thus, Bicycle Day was born as Albert Hofmann intrepidly peddled into the world with 250 micograms of LSD traversing through his mind.
Now an unofficial holiday amongst psychonauts celebrated worldwide, one of the biggest Bicycle Day parties takes place in San Francisco. Presented by Euphonic Conceptions, Challenger and Goldenvoice SF, San Francisco's Bicycle Day Celebration is not only a concert, but a petri dish of creativity, inspiration, and sensory stimulation. World renowned visionary artists Alex and Allyson Grey have played a large role in this annual celebration, integrating their philosophies, live painting, and personal stories into the event. Their presence not only fills the room with a tangible energy, but also creates the aesthetic of this celebration. Urban fusion artist, Sam Flores, will also be live painting and showcasing his work.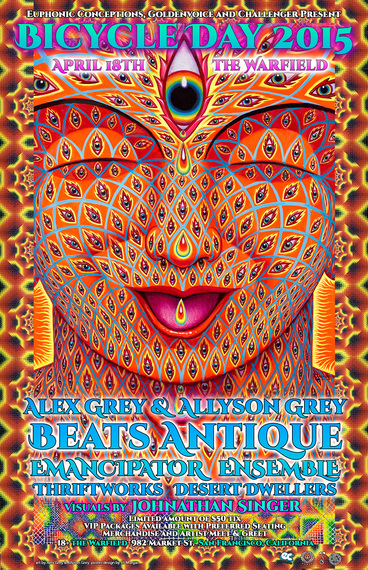 Bicycle Day 2015 will be held on April 18th at the historic Warfield on Market Street in San Francisco. Headlined by The Bay Area's very own Beats Antique, the stage will be populated with live instrumentation, world-electronica music, and theatrical performances that are incomparable to any other musical act in the scene. Not just a live performance, but a full sensory experience, Beats Antique is one of the most captivating sights for the third eye to behold.
Ambient electronic duo Emancipator, are expanding their ethereal musical act. Performing with a live band, The Emancipator Ensemble will be fusing elements of jazz, hip hop, and electronica to create a truly unique sound that transcends and tantalizes. For those who need some drippy, sticky bass music in their lives, Thriftworks will be showcasing his hip hop-infused experimental music, drenching his fans in liquid sound. Desert Dwellers will also be serving up a healthy portion of temple step, earthy percussion, raw sounds and of course, that gut-throbbing, mind-melting, can't-live-without-it, bass music.
Bicycle Day 2015 would not be complete without the visual stylings of Johnathan Singer. It is hard to imagine any transformational event without a kaleidoscopic array of 3D mapping visuals, swirling and fractalizing, like a Technicolor nebula surrounding the musical acts on stage. Exhibiting the art of synesthesia, Bicycle Day is a celebration of the senses. The wafting scents of sage and Palo Santo stimulate your mind; the prismatic visuals tickle your taste buds; soundwaves appear in rays of color. Albert Hofmann made an accidental discovery that changed the way humanity views itself and the world. Living until the age of 102, he also changed public opinion on the physical health risks of LSD when taken responsibly. He opened a door of perception that can never be closed, but only lead to more doors. Even those who have not and will not partake in lysergic acid diethylamide have benefitted from its creation. Hofmann's discovery lead to some of history's most sacred and adored art, literature and philosophies. So thank you, Albert Hoffman, for biking our way into a more colorful and profound future.