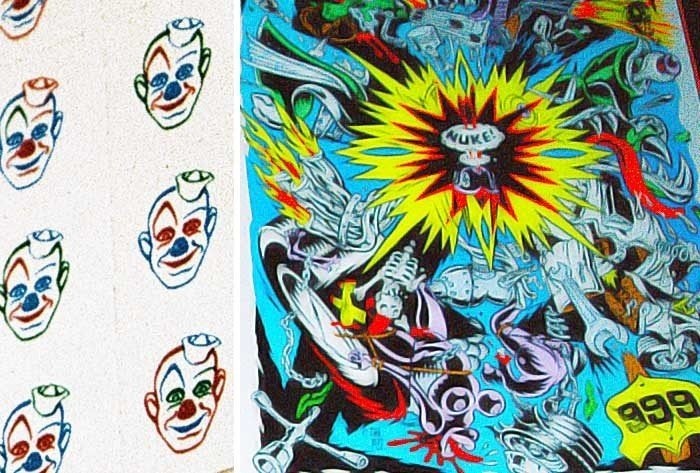 My doors of perception were opened about six years ago through a borrowed and then lost paperback of Tom Wolfe's The Electric Kool-Aid Acid Test. From there I got into the '60s bands who used psychoactive drugs to expand their minds. I became intrigued by the belief that the magical substances these artists and musicians talked about would yield experiences that'd unlock the brain and help people discover their "true" selves.
It was a similar yearning for understanding that led me to the Institute of Illegal Images, located in a nondescript white two-story house on 20th Street between Mission and Capp. I first heard rumblings of a massive acid art collection from Ron Tuner at Last Gasp, and knew I had to see this place for myself.
When I arrived, I was surprised to find that the exterior of what Ron and other artists have referred to as the "LSD museum" offered few traces of the early-era psychedelia guests encounter inside. If you looked hard you could start to unlock a secret, though, noticing placards with strange slogans like "Everybody for President" and peace signs that had been covered up with white paint, hinting that you'd unwittingly climbed through the looking glass.
I opened the front door for my scheduled appointment with owner Mark McCloud and encountered a wall of fuzz – loud, blaring rock 'n' roll rattled down a sun-drenched stairwell. Mark appeared first as a silhouette, then as an apparition towering over me with a beaming smile as he introduced himself.
He introduced me to the main parlor, where a massive collection of framed blotter paper hung. (Mark has over 33,000 sheets in his possession). Around the house, rock 'n' roll ephemera, psychedelic literature, and art have become part of hallways, kitchen, bathrooms, and bedrooms. This in part due to the grand assortment of artists that have passed through the house. More than showcasing any particular artist, though, Mark's displays have become massive psychedelic installations.
Blotter paper lined the walls and blended into the rock posters, paintings, and random Art Deco relics. Mark explained that each framed blotter paper was meticulously numbered by the FBI a decade ago during a misinformed raid. The acid on the paper is no longer active, as the chemical is sensitive to oxygen and ultraviolet light, knowledge I gained as Mark shined a UV light onto the blotters.
Mark told me he first moved to San Francisco in 1971, and lived for a while at Francis Ford Coppola's Zoetrope studios. They met while working in the same art scene. A National Endowment for the Arts grant from Jimmy Carter allowed Mark to pursue his creative desires, so his art flourished as his collection grew. Another NEA grant, under Ronald Reagan, enabled Mark to purchase the 20th Street house in 1983, and it's slowly evolved over the years into the psychedelic library and art house it is now.
I had come with the specific intention of photographing Mark's ultraviolet art, and as we toured the house, Day-Glo hues caught my eye as we neared the kitchen. Under the black light, a forest of mythical creatures appeared in a rendering of San Francisco. Mark explained that over the years, the house's inhabitants have been overtaken by visions that have caused them to use the walls as canvases.
As I took photos, Mark brought out a book that explained how the fruit Eve supposedly ate wasn't really an apple but a psychedelic mushroom known as Amanita muscaria. Our discussion quickly digressed into the spiritual realm of sacred fruits throughout time, notably within the Huichol culture. Mark told me these Native Americans used peyote cactus in religious ceremonies, the plant being one of their principal deities. He then showed me elaborate yarn weavings made by the tribe, displayed most intricately in psychedelic colors and shapes.
Back in the main parlor, we returned to the history of the LSD Museum. Sky Saxon of the Seeds, a mid-'60s proto-punk garage band, had once sought refuge here. Mark added that Saxon had come his way through being close with Source Family commune, which birthed the highly experimental psych-rock band Ya Ho Wa 13 of which Saxon was a member. Rock 'n' roll history is buried deep into the foundation of this house.
Throughout the museum are artifacts referencing or paying tribute to the father of LSD, Albert Hofmann. A Swiss scientist born in 1906, Hofmann was the original tripper. He worked for the pharmaceutical company Sandozwhile experimenting with and synthesizing various chemical constituents. In 1943, while resynthesizing LSD from an earlier experiment, Hofmann accidentally absorbed a small amount through his fingertips. Throughout the house, portraits of Albert Hoffman serve as a motif; blotter papers in the entryway are emblazoned with his depiction and the phrase "The father of LSD."
Mark talked about the litany of characters involved with LSD, including Timothy Leary, Charles Manson, and Roky Erickson. He also pointed out the abstract renderings of a melting Humpty Dumpty (in the bathroom) and a larger-than-life blotter paper Barbie poster. We agreed that people like Ron Turner of Last Gasp and places like City Lights Bookstorehelp further the culture of psychedelic exploration championed at the LSD Museum.
From the upstairs library to the themed rooms that blend together in a haze of tie-dye and leopard print, the house is a sensational journey that would jar even the most sober of minds. I saw so many displays I'd never find anywhere else – including a collection of tools that were used to press blotter papers and Mark's blue ribbons from state fairs for his folk-art acid prints – all of which added to my understanding of psychedelic history.
I exited into the unpleasant glare of normal daylight with newfound knowledge and a different interpretation of my existence. Even a moderately tripped out and in tune person can still have their world shaken upside down, that's probably the highest thrill of the ride, heading fearlessly into the unexpected and finding it. As I started walking away from the LSD Museum, I remembered something Mark had mentioned earlier – an old acid-head proverb that seemed both the root of the LSD movement and a core tenet of San Francisco subculture:
"To fathom hell or soar angelic just take a pinch of psychedelic."
To find out more about the history of LSD and the psychedelic movement, I recommend The Electric Kool-Aid Acid Test by Tom Wolfe, Hell's Angels by Hunter S. Thompson, The Haight-Ashbury: A History by Charles Perry, The Sacred Mushroom and the Cross by John M. Allegro (also recommended by Mark McCloud), and LSD: My Problem Child by Albert Hofmann.
The LSD Museum has irregular hours. You can schedule a trip by emailing Mark at mark@blotterbarn.com. No cost; serious inquiries only.
Take a look at images from the Institute below:
REAL LIFE. REAL NEWS. REAL VOICES.
Help us tell more of the stories that matter from voices that too often remain unheard.