In Silicon Valley, you hear a lot about "hacking". From growth hacking to everyday life hacks, hacking essentially means finding unique and clever ways to solve a meaningful problem. And while hacking goes a long way in the world of tech, Silicon Valley's tech community is now focused on hacking an even larger problem -- cancer.
Rather than taking the typical approach of creating a new app or machine learning algorithm to cure cancer, HackCancer chooses to "hack cancer" through fundraising efforts. Founded in 2013 by a small group of Bay Area entrepreneurs, HackCancer was created to raise awareness and funds for organizations combating cancer.
Over the past three and a half years, HackCancer has grown to become a group of philanthropic, young professionals in San Francisco who host fun events to help fund research efforts in fighting cancer and support for those currently battling cancer. The organization does this by partnering with non-profits such as the Leukemia and Lymphoma Society (LLS), Make-A-Wish Foundation, Family House, Asian American Donor Program, Hospice, and many others. HackCancer has helped raise over $600,000 for these local non-profits.
"We created HackCancer to bring together our community of friends to support great causes. What initially started out as a modest 10-week fundraising campaign for the Leukemia and Lymphoma Society has evolved into something beyond what we ever imagined. We're excited to see how many more causes and lives we can help make a positive impact on under Co-Founder Anjou Ahlborn and our board's leadership going forward. With more friends joining HackCancer and providing their energy, knowledge, passion and resources, we hope to one day take a big part in helping eradicate cancer," said Steve Chen, Founder of HackCancer.
Cancer Superheroes Do Exist
HackCancer's most recent gathering was the 4th Annual MR|MS Silicon Valley Pitch Competition and Benefit Gala, which attracted over 800 attendees and raised over $50,000 for the Leukemia and Lymphoma Society Greater Bay Area Chapter.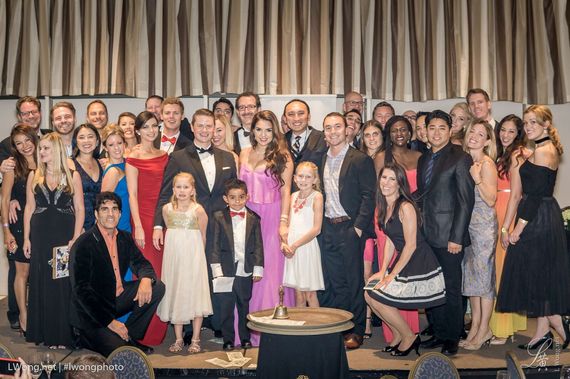 Hack Cancer 4th Annual MR|MS Silicon Valley Pitch Competition and Benefit Gala; Photo Credit: Larry Wong
It was during this particular event that I learned that "Cancer Superheroes" really do exist. Cancer Superheroes are not men and women in tight, brightly colored suits with super powers capable of curing the 12.7 million people diagnosed with cancer each year. Rather, Cancer Superheroes are the incredibly brave children, women and men who have proved that overcoming cancer is indeed possible.
A little boy dressed in a suit and tie approached the stage during HackCancer's gala dinner. He introduced himself as Roman Soto and explained how he was diagnosed with Acute Lymphoblastic Leukemia at the age of 16 months. Roman completed his treatment when he was four and a half years old.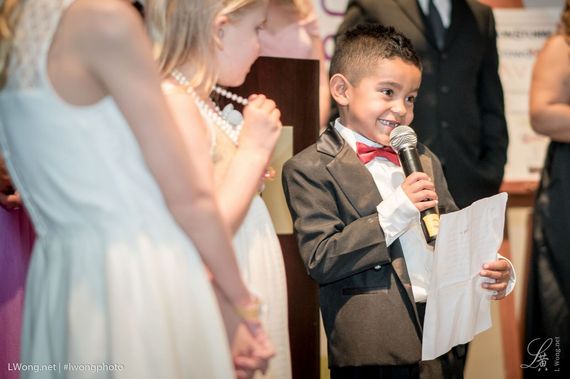 Roman Soto giving his speech; Photo Credit: Larry Wong
Following Roman's speech, a beautiful little girl named Aubrey Weed took center stage. Dressed in a darling white dress with golden blonde hair, I never would have guessed that this child was diagnosed with T-cell Acute Lymphoblastic Leukemia just a few months after celebrating her 3rd birthday.
Being a Cancer Superhero, however, Aubrey bravely fought through chemotherapy, blood transfusions, lumbar punctures, bone marrow biopsies and cranial radiation. After completing 860 days of treatment in November 2014, Aubrey remains in remission.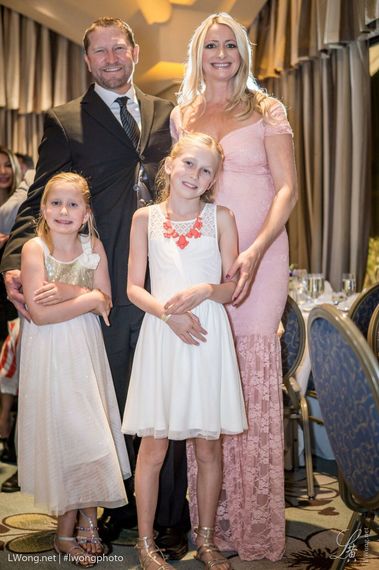 Aubrey Weed and her family; Photo Credit: Larry Wong
Fundraising for a Good Cause
Stories such as the ones told by Roman and Aubrey prove that fundraising goes a long way. Fortunately, HackCancer has opened a whole new door for Silicon Valley's tech community, allowing entrepreneurs, venture capitalists and young professionals to get involved with the fight against cancer.
For instance, the 4th Annual MR|MS Silicon Valley Pitch Competition and Benefit Gala also included a startup pitch competition aimed to encourage the tech community's participation. During the competition, sixteen Bay Area founders presented their startups to a panel of five notable judges from the venture/startup community. Some of the participants even explained how cancer has impacted their lives and the importance of raising funds to help combat this life-threatening disease.
"I accepted the nomination to HackCancer because of what the event stands for. I lost my father to esophageal cancer. He was an entrepreneur who believed that no challenge is insurmountable or impossible. However, when you hear about cancer you often times envision just the opposite. The HackCancer Mr|Ms Silicon Valley event was full of bright young minds who believe that change and innovation are always possible. They believe that a cure can be found. My Father would have wanted my company, Pied Parker, to be a part of an event like that," said Gianni Maxemin, CEO and Founder of Pied Parker and A Family Friend Group.
Cancer and Tech Heroes Unite
HackCancer's startup pitch competition demonstrates the organization's unique ability (and true hack) to bring the tech community and those battling cancer together.
"There's a perception that Silicon Valley only cares about its own community, but I think that the Mr|Ms Silicon Valley event shows that there's more to it than that. Not only does our pitch competition showcase great up and coming startups, but it does so with a philanthropic focus on raising funds for cancer research -- a distinction seen throughout the pitch competition and gala. Our candidates are all entrepreneurs with incredible innovations but many also have a personal connection to the fight against cancer. Some of the companies specifically address cancer or its impacts on the loved ones like the winner this year, Jean Truelson, whose application Flower provides a platform for people to give and receive help and support. Knowing that all of the proceeds and donations from the event are going towards the support of a meaningful cause like hacking cancer is what makes this event so unique to our attendees and why we were able to raise over $50,000 for the Leukemia, Lymphoma Society in one evening," said Jimmy Ku, HackCancer's Board of Directors and Co-Founder and COO of Loup.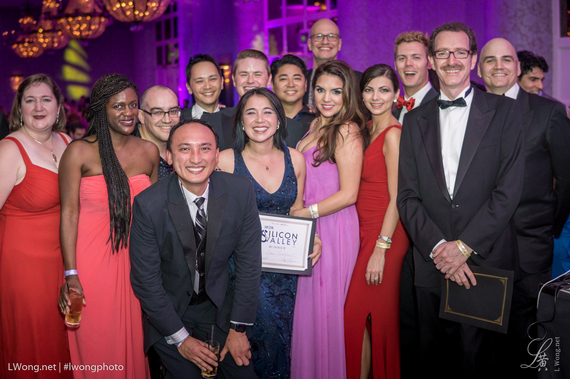 Startup competition winners; Photo Credit: Larry Wong
This year's startup competition winners included: Jean Truelson, Founder of Flower; Victor Chapela, Founder of Suggestic; Karim Galil, Founder of Mendel Health; and Shelley Janes, Founder of Sidedoor. Alongside these winners stood "cancer superheroes," Roman and Aubrey. It's clear that HackCancer has created a truly unique and meaningful way for combating cancer by uniting Silicon Valley's tech community with those who have been impacted.
Related
Popular in the Community