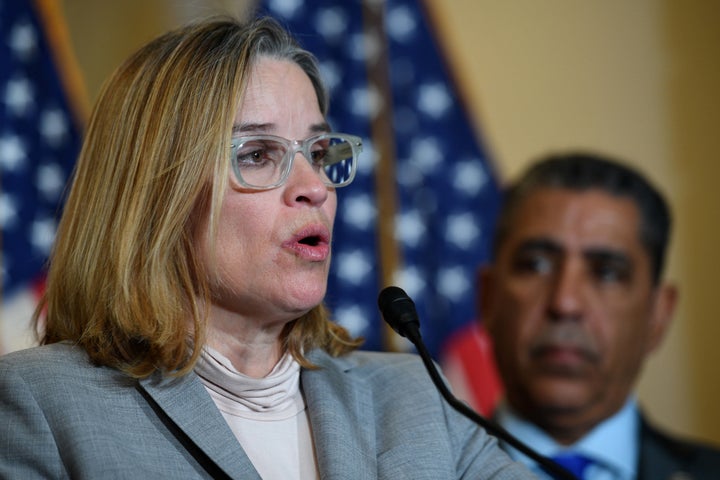 San Juan Mayor Carmen Yulín Cruz remains one of the most vocal critics of the federal government's response to Hurricane Maria's devastation in Puerto Rico.
In an interview with Time magazine, published Thursday, Cruz addressed the Trump administration's "lack of role" in recovery efforts after the storm devastated the U.S. territory in September.
"The federal government didn't do things right from the beginning," the mayor told the magazine. "President Trump insulted the Puerto Rican people over and over and over. You know that Carly Simon song, 'You're so vain, you probably think this song is about you'? He probably thought that Maria was about him."
"But it wasn't about him, it wasn't about politics; it was about saving lives," she continued. "FEMA [Federal Emergency Management Agency] was asking Puerto Ricans to go online and register for support. For heaven's sake, we have no electricity. FEMA kept asking for memos, as if this were the first disaster that they had ever encountered. I finally lost my patience and stopped being politically correct. And I just shouted out an SOS to the world: 'We're dying here!' That didn't make me a lot of friends in the federal government, but that's my duty."
In the weeks following the storm's landfall in Puerto Rico, Cruz publicly asked FEMA to prioritize lives over bureaucracy. The decision to call out the Trump administration sparked a headline-grabbing Twitter feud with the president, who said she was "nasty" and that the people of Puerto Rico wanted "everything to be done for them when it should be a community effort."
In October, the mayor told HuffPost she felt it was "unthinkable" the federal government could not bring enough supplies to meet the needs of hurricane survivors.
"It may be easy to try to disregard us," Cruz said. "It may be easy because we're a U.S. territory and a colony of the United States. But we are people, dammit, and I don't care what the political status is."
Cruz Soto also slammed Trump's October visit to Puerto Rico, nearly two weeks after the hurricane made landfall. She criticized the president for tossing paper towels to storm survivors in need of supplies, after the storm left millions of Puerto Ricans without power and limited access to drinking water. 
During the visit, Trump also downplayed the island's devastation during a press conference, saying it was not a "real catastrophe like Katrina" in reference to the death toll at the time, 16. Since then, the figure has quadrupled, amid reports from media outlets who've looked into the accuracy of the official death count and found that the number dead as a result of the storm is likely more than 1,000.
Calling all HuffPost superfans!
Sign up for membership to become a founding member and help shape HuffPost's next chapter
BEFORE YOU GO