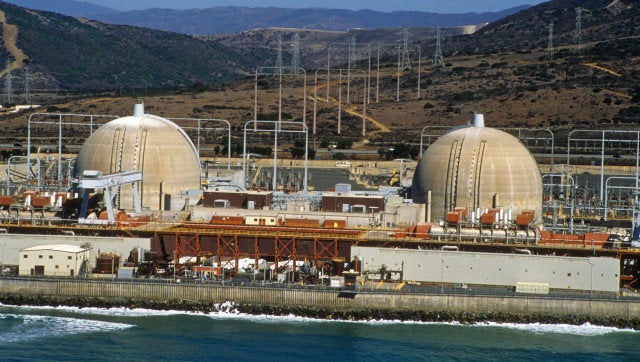 SAN FRANCISCO, Aug 21 (Reuters) - The owner of the troubled San Onofre nuclear power plant in Southern California will lay off 730 employees during the fourth quarter of this year to cut costs, which the company said are well above the industry average for a facility of its size.
The San Onofre nuclear power plant, or SONGS, has not produced electricity since Jan. 31, when a radiation leak was discovered in one of the plant's two units.
Even without the shutdown, Edison International's Southern California Edison (SCE) utility would be announcing the layoffs, which will reduce the plant workforce to 1,500 employees, a spokeswoman said.
"SCE has concluded that SONGS' staffing and costs are significantly higher than other similar dual unit, non-fleet nuclear power plants," the company said in a statement.
But the shutdown, stemming from premature wear to the plant's steam generators, didn't help, the company said.
"The steam generator issues at SONGS also require that SCE be prudent with its future spending while SCE and regulators review the long-term viability of the nuclear plant," it said.
"The reality is that the Unit 3 reactor will not be operating for some time," it said, referring to the unit where the leak was discovered earlier this year.
The company is in the process of drafting a response to questions from the U.S. Nuclear Regulatory Commission (NRC) related to the other closed unit, Unit 2, the spokeswoman told Reuters - a critical step if the company hopes to restart that part of the facility sometime next year.
The company has not begun work on a letter to the NRC regarding Unit 3, and the process of reopening the unit is running on a separate track, the spokeswoman said.
The closure of the 2,150-megawatt SONGS, which typically supplies the state with about 8 percent of its electricity, has at times strained the power grid during the warmer-than-usual California summer.
Grid operators have fired up some vintage natural gas-powered facilities and asked Californians to conserve electricity during peak hours to prevent rolling blackouts.
So far, good planning and an impressive response from consumers to public pleas for conservation has kept the juice flowing uninterrupted in the state this summer.

Related
Popular in the Community