It's not exactly the opening day experience of Yankee Stadium, but for some of the inmates at San Quentin State Prison, baseball games have come to carry just as much weight.
That's right. Baseball, in prison.
LeDuff reported that most games actually consist of free men, who come into the prison to play the inmates. However, for opening day, it's a face off between San Quentin's two teams: the A's and the Giants. Each team, decked out in two of the state's teams' major league colors, take to the prison's "Field of Dreams." Inmates at San Quentin have been playing baseball since the 1920s, with try outs held every year.
The impact that the prison's baseball games -- entirely funded by donations -- have on participants is most remarkable. LeDuff reported that 98 percent of the men who played baseball at San Quentin do not return once paroled.
In another short film made by Heist production company in 2014, men incarcerated at San Quentin explained how the game had changed their lives. "Baseball it means relief, it means a day where my decision make a difference," said one man.
"Baseball's not going to get you out of prison," said another. "Baseball is a way for you to learn and live in prison, maybe find camaraderie and some diversity in your life, so you can maybe change in other ways."
Yet another put it simply: "For me, when I'm on that field, I'm not locked up."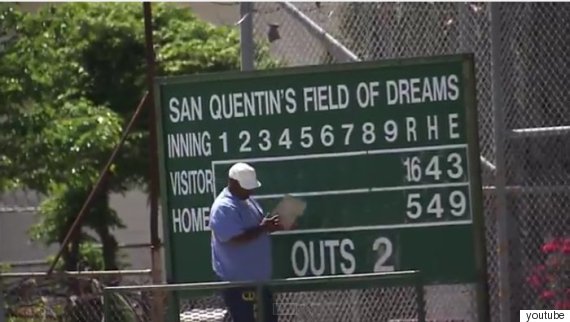 (Source: YouTube)
Calling all HuffPost superfans!
Sign up for membership to become a founding member and help shape HuffPost's next chapter