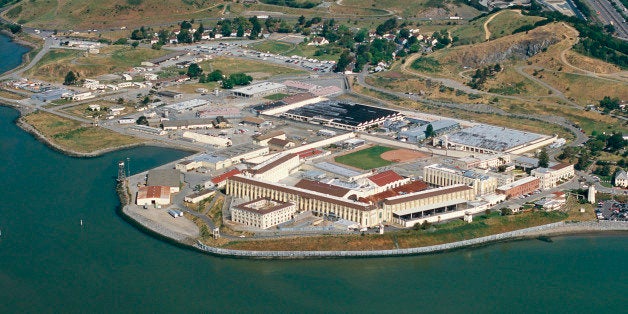 The note with a subject line "The Q - Summer Prison Baseball" came out of, shall we say, left field, right after New Year's.
Each year we play a doubleheader at The Q and I'm organizing the trip this year.
We usually fly in Friday night, play a doubleheader of real baseball on Saturday and head home Sunday morning.
You must pass an FBI background check to enter the prison. We've had guys late on child support, DUIs, etc., and the warden denied their entrance to play ball.
It's an experience you'll never forget. Let me know.
Ron is a distant cousin of mine from L.A. with whom I had recently become acquainted. It turns out we share a love of baseball, and when he was in Boulder recently I invited him to play a game on my fast-pitch softball team. Little did I know that when Ron and I executed a perfect 8-6-2 (centerfield to shortstop to catcher) relay play to nail a runner at the plate that evening, I had laid the groundwork for one of the most profound experiences of my life. As Ron predicted, it was, indeed, unforgettable.
"The Q" is code for California's notorious San Quentin State Prison. Located just north of the Golden Gate Bridge in Marin County, San Quentin is the oldest prison in California, having opened in 1852. The inmate population of more than 4,000 includes all of California's 700-some death row convicts, making it the largest death row facility in the United States.
San Quentin has the dubious distinction of being the location of all prison executions of men in California, and more than 400 executions have taken place there over the years by hanging, asphyxiation (gas chamber) and, most recently, by lethal injection. Current notable inmates include David Carpenter (the "Trailside Killer") and Scott Peterson (convicted of killing his pregnant wife, Laci, and their unborn child, Conner, in 2002), and among former prisoners are such recognizable names as Neal Cassady, Eldridge Cleaver, Henry Cowell, Merle Haggard, Sirhan Sirhan and Charles Manson.
During recent years, San Quentin has also become known for its unique and controversial baseball program. Inmates have been allowed to play baseball at the prison since the 1920s, and an aerial view of the facility shows just how prominent a feature the ball field is. For the past 20 years, teams from the outside have been invited to enter the prison and play semipro-quality baseball games against the two prison teams, the San Quentin Giants and the San Quentin A's. The two prison teams are comprised of first-rate ballplayers who must meet eligibility requirements and try out for one of the teams. Inmates who make the teams are outfitted in genuine Giants or A's uniforms, donated by the major league teams, and play two games a week during the four-month season against teams who are willing to spend an afternoon sharing a baseball diamond with convicted felons, about half of whom are serving life sentences for serious crimes, often murder.
During the interminable six-month lead-up to our July 20 date at The Q, the 15 players who comprised our team engaged in a steady stream of email correspondence that ranged from purely logistical to deeply existential. Throughout it all was an undercurrent of one-liners that suggested the need to diminish anxiety through the use of humor.
Given that our opponents would be donning Giants and A's uniforms, and out of deference to the fact that most of our team was from the L.A. area, we would be the Dodgers, replete with Dodger caps and gray jerseys and pants to distinguish ourselves as the visiting team.
"We will wear our Dodger grays because if you wear your whites, you might stay the night for eggs on Sunday," quipped our leader, Ron.
Adding to my anxiety were the frequent allusions to the issue of race, which plays a very significant role on the other side of the ubiquitous barbed wire-topped dingy white walls that surround San Quentin. We would learn during our time in the prison yard that inmates stick to one of four groups: White, Black, Hispanic or Asian. Indeed, it was reported to us by one of the numerous friendly prisoners we freely conversed with that day that a white pitcher we faced had gotten into a heap of trouble by choosing an Asian lover. He was consequently "pressured" to switch teams from the Giants to the A's.
"I suggest you get yourself a Dodger jersey with no name on the back or an old one on clearance," advised Coach Levine. "It's creepy when they call you by name, considering there are plenty that don't like us for simply being Jewish."
The next day I went online and ordered a Dodger gray jersey with the name "Gonzalez" on the back.
After the initial slew of anxiety reducing emails had ended, the first existential thread began with a note from our shortstop, Ricardo (Rico) Rodriguez. Rico grew up in one of the worst neighborhoods of East L.A. -- The Maravilla Projects -- and, although he never joined a gang, many of his friends were gang members, and he twice witnessed a friend being killed by a gang-directed bullet. Despite the odds that were stacked against him, Rico managed to escape from the projects and go to college, ultimately becoming an architect and starting his own architectural firm. One of his accomplishments as an architect was to develop innovative designs to make the projects of his youth more livable and less subject to crime. Against that backdrop, Rico was having second thoughts about playing ball at The Q, which speak to the central controversy surrounding the San Quentin baseball program:
"I've participated in tournaments where we go out of state and help out kids and the less fortunate by providing a clinic and playing against other teams, but for the first time I am playing with convicted criminals who have killed innocent families and destroyed people's lives. Why would I give them the pleasure of something that is so dear to me [as] playing the game of baseball? They are in prison for doing something so very wrong and have been cut off from the world and deserve to be where they are at with no outside benefits. So why are we doing this?"
Rico received a number of thoughtful replies, ranging from selfish to altruistic in nature:
"It's an opportunity to play real ball in a unique setting that will spark every emotion you have from excitement to fear."
"Between the lines it's competitive baseball and you'll forget where you are until the siren goes off and you have to go to the ground or risk getting shot from the guard tower."
"It will be a part of your baseball resume that most people can't fathom. I tell the 'Q Story' at client meetings, family dinners, airports, etc., and it's an amazing icebreaker."
"I had a heated debate in the office and at home about this trip and baseball won out."
"My sister is a victim's advocate in Orange [County] and she's all for the baseball adventure because of what I get out of it."
"It is an unparalleled opportunity that we all have to broaden our perspectives and to enjoy the benefits that will inevitably accompany such a unique experience. And when all's said and done you have a day that will prove to be not only memorable and transformative but that we can all feel really proud to have been a part of."
"I do not believe we are committing an error by providing an enjoyable diversion for them on a single Saturday afternoon. Rather, we are engaging in an act of charity, much like rolling down our car window and handing a five-dollar bill to someone who is homeless and hungry, or like holding the door for someone in a wheelchair who is struggling to get around."
"I know at least one person who I have helped put in that prison. My heart does not bleed for any of those guys. Do I believe that some of the men at San Quentin have found redemption? That they are sorry for the crimes they committed? Yes, I do. My hope would always be that those who commit a crime would be rehabilitated by the system."
"If I help bring joy to a criminal for a few moments, I can live with that. If I bring joy to a guy that made a mistake, snapped, lost it for the first time, and has admitted his sins, I'm glad."
After receiving this input from his teammates, Rico decided to play.
"After reading all your emails, two words come to mind: empathy and compassion. Thanks to you, these words can be my guides. I love this sport; it has taught me a lot of life's lessons and I don't want to cheat myself."
Anyone who has lived in the San Francisco Bay area knows that "summer" has a different definition there, and the morning of July 20 was a classic example. As "Gonzalez" and the rest of the team gathered in the lower parking lot just outside San Quentin State Prison, we were greeted with a chilly wind rolling off a foggy San Francisco Bay, which, combined with the widespread feeling of nervousness, caused a shiver beneath our Dodger grays.
We had all passed FBI background checks and were instructed to bring nothing into the prison with us, except our gloves, baseballs, batting helmets, four wood bats, water and our drivers licenses, which were shown repeatedly to the guards at the checkpoints leading in and out of the prison. Finally, the heavy metal gate slammed behind us and we found ourselves walking down a ramp and into the prison yard, arriving at the ball field where the home team was already engaged in their warm-ups.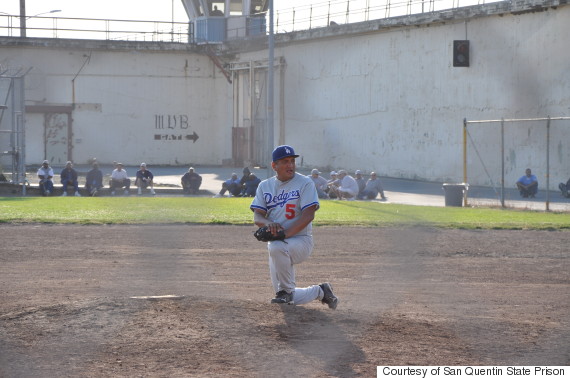 But this was no ordinary ball field, and this was no ordinary home team. We were meeting convicted felons -- some rapists and murderers -- to play ball on a field immediately adjacent to the blocks of 6-foot by 8-foot cells where many of them will live for the rest of their lives! A wave of conflicting emotions washed over me. The same feelings of empathy and compassion that enabled Rico to be our shortstop that day were doing battle inside of me with the sense of outrage at what these men masquerading as ball players had done to be living out their lives, day by day in this, this place.
How was a guy like me -- a guy who had flown here from Colorado, stayed in a $250-a-night hotel and driven to the prison in a rented Kia Soul that was waiting for me safely outside the metal gates and barbed wire -- to focus on playing a game of baseball?
Suddenly, the game seemed inconsequential. I had some big questions to answer. And yet, over the course of the hours to come, a prison baseball field would become a "Petri dish" in which the conflicting thoughts and emotions would grow and reach a resolution that can only occur when we remove ourselves from the dream we live in during our daily lives and place ourselves in a position to taste, to really taste, the way life can be for those who have not been similarly blessed.
Despite the emotional trappings, my Dodger teammates and I are pretty damn comfortable on a baseball field, even this baseball field, and as we went through our own warm-up drills -- stretching, running, playing catch, infield practice -- the differences between this ball field and every other ball field I have ever played on during my five-decade "career" as a ballplayer began to melt away. There were two dugouts, two foul lines, a diamond with bases 90 feet apart surrounded by a grassy outfield, and a mound on which a pitcher stands in the role of the instigator of the ultimate one-on-one confrontation in all of sports. There was no fundamental difference between this ball field and the one I first played on at the age of 7 when the ball was placed on a rubber stand, a "tee," and a strike was assessed if the bat struck the tee instead of the ball.
But the biggest question lingered throughout the day and took both games of our doubleheader to answer: Is there a fundamental difference between the guys in the drab Dodger grays and the guys in the colorful Giants home uniforms? Or, put another way: If the 15 of us had been born into and lived the life circumstances of the 15 of them, would we (any of us) be the ones living in a prison, and would they (any of them) be the ones driving off in their rented cars to have beers and burgers at the Marin Brewing Co. at the end of the day?
This question was answered gradually but unquestionably as we got to know some of the inmates during the course of what turned out to be as much a day-long visit to The Q's prison yard as a doubleheader of baseball. We sat, side-by-side with convicted criminals, heard their stories and shared philosophies in a way that none of us had ever experienced in a baseball context before. I spoke at length to a man who had served 17 years of a life sentence for being part of a robbery gone bad that left a victim murdered (he wasn't the one who pulled the trigger). He will be eligible for parole in six years and dreams of the day when he has paid the price for his mistake and is a free man again. Another prisoner who is doing time for identity theft shared with me that he had enrolled in an online Shakespeare course and planned to become an actor upon his release. Listening to the deep, rich tones of his voice, I could better imagine him on stage in a Shakespearean role than tucked away for the night in his tiny cell.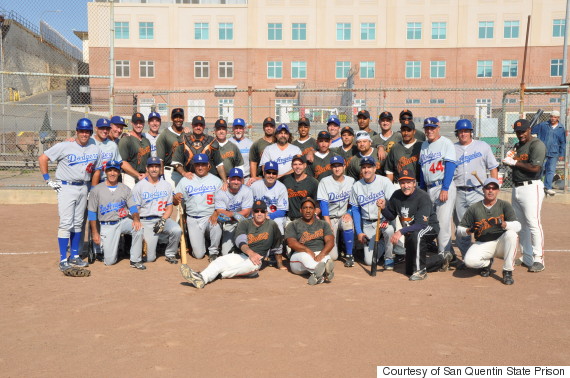 Among all of the inmates I spoke to that day, there wasn't one who failed to impress me with the humanity we shared. There wasn't one who failed to express a sense of remorse for the mistakes he has made in his life, just as I do. And that was really the turning point for me. Because who among us has not erred? Who has not spoken angrily to his children, failed to inform the cashier that too much change was given, stolen a place in line when nobody was looking, lied to an employer about being sick to get a day off work, looked the other way while witnessing an injustice?
If there was any remaining doubt in my mind that there is no fundamental difference between the players, the men, that comprised the teams that played baseball at San Quentin State Prison that day, it was erased when the Dodgers and the Giants met on the mound once the game had ended (which, by the way, the Giants won 5-4 in the bottom of the ninth). There were hugs all around and a general sense of camaraderie among all of us that was inescapably heartwarming and deeply emotional (I literally cried behind my sunglasses as the two teams gathered to take photos). "We understand that you all traveled long distances to play ball with us today, and we want you to know how much we appreciate it," offered a member of the Giants.
Those that commit crimes are not "evil people." Rather, they are people who have had such a rough go in this life that they did "evil things." At their core they are human beings that are, on an essential level, no different than the rest of us. Now, let me quickly add that I believe that people who do bad things are responsible for their actions and should experience the consequences, even consequences as horrible as those being endured by the inmates we faced on the San Quentin baseball diamond. Still, I do not believe we committed an error by providing an enjoyable diversion for these men on a single Saturday afternoon. Rather, we engaged in an exercise that models well the way that we habitually engage in "us and them" thinking and can, indeed must, transform that thinking if we are to discover the truth of the human experience. Whether it be differences in religion, gender, race, color, political party, sexual preference or whether the kinds of mistakes we have made in our lives are considered serious enough to get us locked up for a while, we are all fundamentally the same.
Playing baseball for a day at The Q was a profoundly unifying experience that shed a bright light on the common ground we all share. The visiting Dodgers were fortunate to have an experience that few have had. But unifying fields of dreams can be found in every walk of life, and one never knows when such an opportunity might present itself. We all need to commit to search for our own "baseball" and our personal "San Quentin," so that we can escape from the prison of judgment that we all live in. For whether we realize it or not, we are all imprisoned to one degree or another, individually and collectively, by shackles just as binding as the ones that hold my fellow ballplayers at San Quentin.
Author's note: The fictional name of Ron Levine was used in this piece out of deference to the desire for anonymity.
This piece was first published in Boulder Weekly and won a First Place SPJ (Society of Professional Journalists) award in the Rocky Mountain Region in the category of "Sports Enterprise."
Calling all HuffPost superfans!
Sign up for membership to become a founding member and help shape HuffPost's next chapter