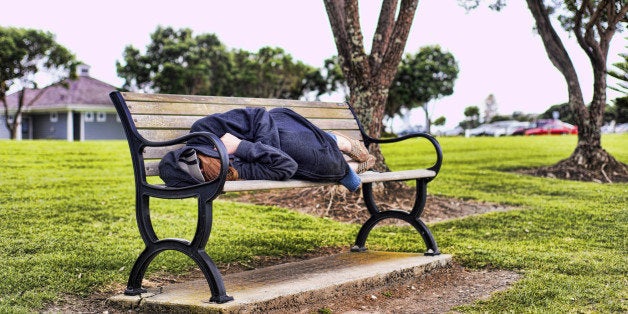 A California mayor has closed a city park in an effort to rid the area of homeless residents.
Although the city does not mention homelessness as a factor regarding the park's closure -- specifying concerns over littering, vandalism and the presence of abandoned drugs instead -- Mayor Gary Phillips had no reservations zeroing in on whom he believes to be the culprits.
"[The homeless people] sit [in the park], have their methamphetamine and go get a meal at St. Vincent de Paul," Phillips said, according to Marin News, noting he wants to return the park to a "family-friendly" one.
But the homeless people in Boyd Park have claimed the closure is unfair, and that enjoying the space with families hasn't been an issue.
Bill Lima, a homeless man who has stayed at the park, told Marin News that most homeless people congregating in the public space were law-abiding citizens.
Marquita Robinson, who has been living without stable shelter for about 10 years, agreed with that sentiment, telling the outlet that police wait for "a catastrophe to happen," and then go after the homeless people they recognize.
An uptick in homeless residents in San Rafael has caused tension in the middle class community in recent years. The San Francisco Chronicle reported in 2013 that the area was an increasingly popular spot for transient homeless people along the west coast.
The news source noted about 900 people were homeless in Marin County, which encompasses San Rafael.
"We have a small downtown -- we can't absorb it," Carol Thompson, director of the city's downtown business association, had told the San Francisco Chronicle. She noted that 70 percent of the area's merchants claimed their business had been affected by the increase in homelessness. "People say they don't want to come to downtown San Rafael because they're afraid of the homeless. It's very frustrating because there's very little we can do about it."
Eric Lloyd, a homeless person who'd been living in San Rafael, told the San Francisco Chronicle that he wasn't there to start trouble -- he just wanted to be part of the community like everyone else.
Calling all HuffPost superfans!
Sign up for membership to become a founding member and help shape HuffPost's next chapter
BEFORE YOU GO