Japanese architects Kazuyo Sejima and Ryue Nishizawa (SANAA) have won the 2014 Daylight Award for the design of the Rolex Learning Center EPFL in Lausanne (Switzerland). With CHF 100,000 prize money the award is the highest architectural prize in Switzerland. It promotes buildings with an innovative use of daylight. In the run-up to the award presentation, VernissageTV had a closer look at the Center in Lausanne and met with Kazuyo Sejima and Ryue Nishizawa in Paris, to learn more about the concept of the building. In this interview, Kazuyo Sejima and Ryue Nishizawa talk about the ideas behind the building, the challenges they were facing, the importance of natural light in their work, and how their building is received by the users of the building.
The Daylight Award (Tageslicht-Award) is presented already for the fourth time by the Velux Stiftung in close collaboration with the Department of Architecture of ETH Zurich and the Swiss Council of Architecture. Previous laureates (winners and honorary awardees) are Annette Gigon and Mike Guyer, Peter Märkli, Peter Zumthor, James Turrell, Isa Stürm + Urs Wolf, Bob Gysin + Partner Architects BGP, Bearth & Deplazes Architects, Gramazio & Kohler Architects, Cruz & Ortiz, and Giraudi & Wettstein.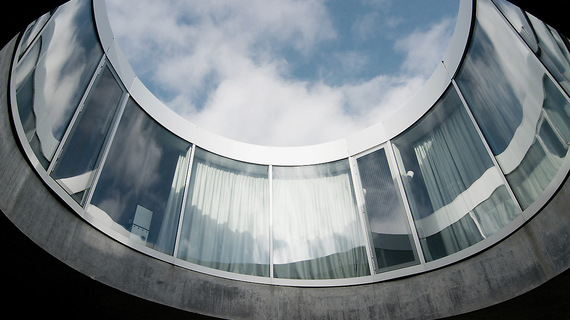 The Rolex Learning Center EPFL in Lausanne, Switzerland, is an extraordinary building in many ways, not least in regard to the use of natural light. Designed by Kazuyo Sejima + Ryue Nishizawa (SANAA), the building is conceived as one single space with openness and extensive use of natural light in mind. It houses a multimedia library, student workspaces, a multipurpose hall, a food court, a bookshop, a parking, among other facilities. It opened on February 22nd, 2010.
SANAA was founded in 1995 by Kazuyo Sejima (born 1956) and Ryue Nishizawa (born 1966). In 2004 they won the Golden Lion of the Venice Architecture Biennale for the most significant work, and in 2010, Sejima and Nishizawa were awarded the Pritzker Prize. Examples of SANAA's work include the Rolex Learning Center in Lausanne; the Toledo Museum of Art's Glass Pavilion in Toledo, Ohio; the Serpentine Pavilion in London; the Christian Dior Building in Omotesando in Tokyo; the 21st Century Museum of Contemporary Art in Kanazawa; the New Museum in New York City; and the Louvre-Lens Museum in France.
For more videos covering contemporary art and architecture go to VernissageTV.
REAL LIFE. REAL NEWS. REAL VOICES.
Help us tell more of the stories that matter from voices that too often remain unheard.