WASHINGTON ― After months of bluster about taking away federal law enforcement grants from jurisdictions that don't fully cooperate with deportation efforts, the U.S. Department of Justice acknowledged on Monday what legal experts have said for months: In most cases, the department can't do that.
Attorney General Jeff Sessions released a memo explaining how the department will carry out President Donald Trump's executive order meant to crack down on so-called "sanctuary cities," defining them more narrowly than before.
"Sanctuary city" is a broad term, but is most often applied to jurisdictions that don't comply with all of Immigration and Customs Enforcement's "detainer" requests to hold individuals who would otherwise be released. Yet instead of going after any city or county that doesn't comply with ICE's requests, the executive order will target jurisdictions that specifically don't comply with a law to share information with the federal government for immigration purposes.
It's an important distinction ― nearly all jurisdictions, even those labeled sanctuary cities, say they do comply with the law to provide information. If that's the case, Trump's anti-sanctuary cities order is largely toothless.
For all of the president's rhetoric, the Trump administration is now admitting it can only take away funding under narrow circumstances, and not just because jurisdictions are declining to do what ICE asks.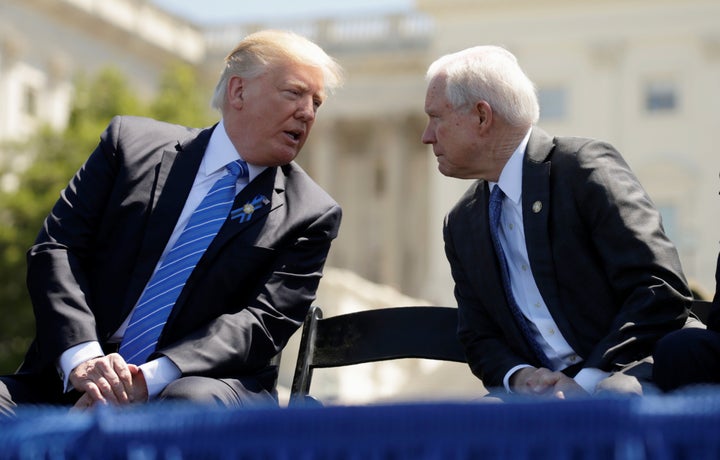 In a memo released on Monday, Sessions wrote that the term "sanctuary jurisdictions" used in the executive order refers only to jurisdictions that "willfully refuse" to comply with 8 U.S.C. 1373 ― which simply says that jurisdictions "may not prohibit, or in any way restrict, any government entity or official from sending to, or receiving from, the Immigration and Naturalization Service information regarding the citizenship or immigration status, lawful or unlawful, of any individual."
The law does not require jurisdictions to proactively disclose immigration information or to hold immigrants on ICE's behalf. 
The memo isn't a shift, exactly. In court and statements to press, the Justice Department has said that it's not illegal for jurisdictions to decline detainers. But coming from Sessions, it's significant: The attorney general has repeatedly suggested it is illegal and promised a crackdown.
Although jurisdictions might not lose federal grants for immigration policies the Trump administration doesn't like, they'll still face pressure to change course. Sessions wrote in his memo that the administration will continue to pressure those jurisdictions into compliance in other ways.
"While the Executive Order's definition of 'sanctuary jurisdiction' is narrow, nothing in the Executive Order limits the Department's ability to point out ways that state and local jurisdictions are undermining our lawful system of immigration or to take enforcement action where state or local practices violate federal laws, regulations, or grant conditions," Sessions wrote.
Sessions also seemingly suggested that the Justice Department could create future grants designed specifically to encourage jurisdictions to work proactively with federal authorities, or perhaps prioritize grants for jurisdictions that go above and beyond what the law requires.
"Separate and apart from the Executive Order, statutes may authorize the Department to tailor grants or to impose additional conditions on grantees to advance the Department's law enforcement priorities. Consistent with this authority, over the years, the Department has tailored grants to focus on, among other things, homeland security, violent crime (including drug and gang activity), and domestic violence," Sessions wrote. "Going forward, the Department, where authorized, may seek to tailor grants to promote a lawful system of immigration."
For James Williams, county counsel for Santa Clara County, California, one of several localities fighting Trump's sanctuary cities executive order in federal court, Sessions' new memorandum doesn't fix the deeper problems with his department's directives.
"This memo from Attorney General Jeff Sessions does nothing to address the constitutional infirmities at the heart of this Executive Order," said Williams, whose legal team won a national injunction against the executive order last month. "To the contrary, it shows that the Department of Justice continues to scramble to find a way to save an Executive Order that is unconstitutional on its face and cannot be lawfully implemented."
Read the full memo below.
Cristian Farias contributed reporting.
Calling all HuffPost superfans!
Sign up for membership to become a founding member and help shape HuffPost's next chapter