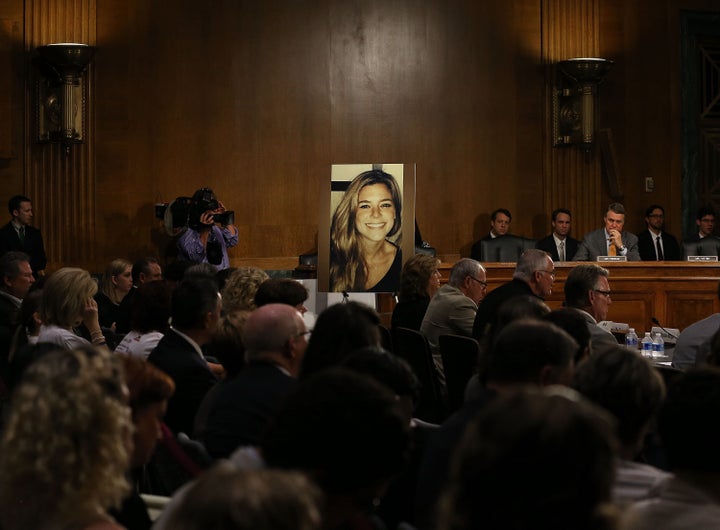 WASHINGTON -- Sheriff Richard Stanek of Hennepin County, Minnesota, is a Republican with a long career in law enforcement. He has no problem cooperating with the Immigration and Customs Enforcement agency and allowing immigration agents to pick up criminals from his jails.
He is also one of many local law enforcement officials whose access to federal grants could be threatened under new bills targeting so-called sanctuary cities in the wake of the fatal shooting of Kathryn Steinle in San Francisco -- even though those officials argue they're not operating sanctuary cities at all.
"The term 'sanctuary' is grossly outdated," said Stanek, who contends that his county has been wrongly placed on sanctuary lists. "Everybody's got a different definition."
Federal lawmakers are rushing to propose bills condemning sanctuary cities, and Stanek is right: There's no agreed-upon definition of the term. Some bills, such as one from Rep. Duncan Hunter (R-Calif.) that will likely get a House vote on Thursday, define "sanctuary cities" as jurisdictions with policies against law enforcement gathering information about immigration status. Other bills target municipalities that do not fully cooperate with ICE or, more specifically, do not hold individuals for extra time at the agency's request without a warrant or judicial order, like Hennepin County.
If any of those bills become law, they could have consequences far beyond San Francisco, where a fatal shooting on July 1, allegedly by an undocumented immigrant, prompted all this congressional fury. Legislation being proposed could threaten federal law enforcement grants for more than 300 jurisdictions.
"I do not consider Dayton a 'sanctuary city,'" Dayton, Ohio, Police Chief Richard Biehl wrote in prepared testimony for an upcoming House Judiciary Committee hearing on Thursday. "Nor have I heard any of our elected officials call Dayton a 'sanctuary city.' Yet, some of the current federal legislative proposals would include Dayton in their one-size-fits-all solution. I am concerned that a poorly conceived response of compelling states and localities to carry out certain immigration policies will undermine trust between law enforcement and immigrant communities."
In Dayton, police are not supposed to stop, arrest or investigate people solely for immigration purposes, according to Biehl's testimony. The police department does notify ICE if it is holding an individual who is suspected of a violent felony or drug trafficking offense, or if the individual is deemed a risk to national security.
The concern for many police chiefs is that when immigrants see their officers as immigration agents, they may be less willing to come forward as witnesses to or victims of crime.
Much of the recent controversy has been over whether jurisdictions should hold people solely for immigration purposes on ICE requests. Local officials are opposed to doing that for a number of reasons -- including the cost -- but one of the biggest is its questionable constitutionality. A federal judge in Oregon ruled last year that a county had violated the Fourth Amendment by holding a woman at ICE's request without probable cause.
ICE officials announced last year that they would shift away from issuing detainer requests in many instances and instead ask law enforcement officials to notify immigration agents before someone is released, under a new policy called the Priority Enforcement Program.
Many of the same jurisdictions that refuse ICE detainer requests are participating in PEP. ICE has already brought on board 33 of the 49 jurisdictions considered top priority, according to agency officials. The Hennepin County Sheriff's Office has participated in PEP since July 2, Stanek told HuffPost.
"We're not asking local law enforcement to do our job ... all we're asking is that they notify us when a serious foreign-national criminal offender is being released to the street so we can arrange to take custody," ICE spokeswoman Gillian Christensen said. "We hope that jurisdictions across the country will engage with us in some way so we can come together with the common sense goal of protecting public safety."
Some of the latest bills specifically mention detainer requests, which raises the question of what would happen to jurisdictions that comply with PEP and notify ICE before releasing individuals, but do not hold them for extra time. Would they be deemed cooperative enough to receive law enforcement grants, or would refusal on detainers threaten that funding?
Threatening funding for law enforcement is not the right solution, said Montgomery County, Maryland, Police Chief J. Thomas Manger at a Senate Judiciary Committee hearing on Tuesday.
"It is right to call upon us for actions to protect the public from crime and violence, but it is wrong to demand that we engage in matters related solely to immigration enforcement by withholding federal funds to coerce performance of federal duties by local police," said Manger, who is also president of the Major Cities Chiefs Association. "This is not why these programs were established."