At issue is a proposed executive order that would give preference for government contracts to companies that uphold good labor standards.

The Sanders campaign loves the idea. The Clinton campaign wants to see the language of the executive order. 

Workers' rights groups see this as an elusive goal and want a firm commitment from the candidates.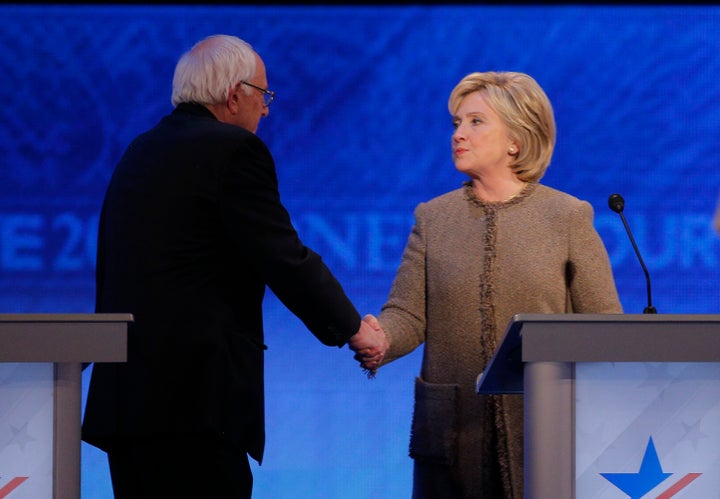 A small labor policy divide has emerged between Sen. Bernie Sanders (I-Vt.) and former Secretary of State Hillary Clinton, with the former supporting an executive order that would steer government contracts toward companies that uphold strong workplace standards, and the latter pledging to work on the idea without fully embracing it.
At issue is a proposal called the "Model Employer Executive Order," which has been an elusive target of progressive groups during the latter years of the Obama administration. If put into effect, it would give preference for government contracts to companies that provide good wages and benefits and remain neutral in unionizing campaigns.
The Congressional Progressive Caucus' leadership PAC, the Progressive Action PAC, sent a letter on Tuesday to both the Sanders and Clinton campaigns calling for them to commit to passing the "Model Employer Executive Order" as well as to promise to create a "White House Office of Good Jobs" should they win the presidency. The Sanders campaign quickly responded in the affirmative.
"Yes, Senator Sanders is proud to commit to this," emailed Sanders spokesman Warren Gunnels, who noted that the senator was one of 19 who in May 2015 had called for President Barack Obama to issue the order. "As president, Sen. Sanders looks forward to working with the Progressive Caucus to make this executive order a reality."
Pressed on the same issue, the Clinton campaign took a more wait-and-see approach with respect to the actual language of the order.
"Hillary Clinton strongly shares the goal of using the tools the federal government has to encourage employers to take the high road -- paying good wages, offering good benefits, and sharing profits with their workers," said Ian Sams, a Clinton spokesperson. "She has put forward a range of policies in this campaign, from strengthening overtime rules to raising the minimum wage to tax relief for profit sharing, that would do so. She will work closely with leaders of the Congressional Progressive Caucus -- who have fought alongside President Obama to protect American workers -- to move forward on ideas like these as President."
The gulf between Sanders and Clinton, while not particularly vast, could further the perception among labor groups that the former Secretary of State is cautious on the policies that form the basis of their advocacy work. Already, there's concern that Clinton has not matched Sanders in calling for a national $15-per-hour minimum wage (her position is for a federally mandated $12-an-hour wage, which states could then choose to raise). Clinton is also dogged by criticism that she is too deferential to private industry, either because of her philosophical disposition or her fundraising history.
Good Jobs Nation, a union-backed group that's been pressing for the executive order, said the order would "end Uncle Sam's role as America's leading low wage job creator." 
"If the next president leads on providing living wages and collective bargaining rights for U.S. contract workers, America's political and business leaders will follow his or her example," Paco Fabian, a spokesman for Good Jobs Nation, told The Huffington Post. 
Clinton has pushed for a number of labor-backed reforms. She has voiced support for a number of the labor policies put forth by Obama, who has made progress on some fronts but not gone as far as advocates want elsewhere.
In 2014, the president signed an executive order establishing a $10.10 minimum wage for federal contractors, and another order that would bar contractors who had a history of labor violations from securing new contracts. Such executive actions are inherently limited -- they can apply only to companies with government contracts, as opposed to the economy at large. But there's a long history of presidents using the government's contracting power to send a message to the entire private sector. In announcing the new rules, the White House has said it wants to set higher standards for all U.S. workers.
But many progressives and labor groups want the president to go a step further. The "Model Employer Executive Order" would essentially reward good actors, by giving contracting preference to firms that pay well and don't try to bust unions. The White House has not moved on such an order, despite urging from the Change to Win labor federation, liberals in Congress and faith groups. Using the 2016 election as leverage, the CPC is now trying to get explicit commitments from the candidates to support both that order and the "White House Office of Good Jobs," which would promote those better labor practices when the government interacts (whether through expenditures, loans or grants) with the private sector.
"By harnessing the purchasing power of the federal government, we can ensure that taxpayer dollars are being used to underwrite good jobs," the letter reads. "When a worker's take home pay covers the needs of his or her family, we see increased economic growth, increased tax receipts, and reduced spending on social safety net programs. Private sector contractors also benefit from these policies through productivity gains and reduced employee turnover."
The signatories on the CPC's letter are members of its executive committee. They include supporters of each campaign. Reps. Keith Ellison and Raul Grijalva, who are CPC co-chairs, both back Sanders. Reps. Barbara Lee (CPC Whip) and Mark Pocan (CPC First Vice-Chair) are neutral. And Reps. Jan Schakowsky, Mike Honda and Ruben Gallego, who are CPC vice chairs, back Clinton.
REAL LIFE. REAL NEWS. REAL VOICES.
Help us tell more of the stories that matter from voices that too often remain unheard.