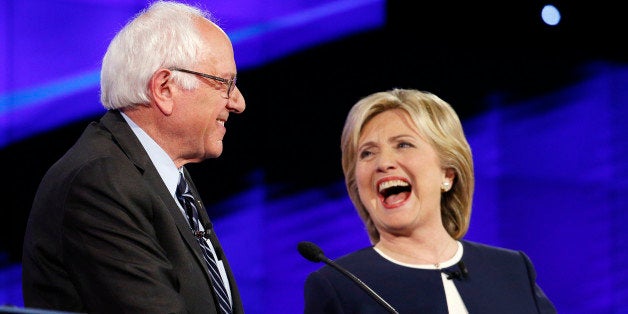 Compared to the last two Republican presidential candidate debates, the first Democratic debate was not necessarily eventful. The candidates rarely insulted one another, and none of them came close to making half of the facial expressions Donald Trump made during the entire Republican debate just one month earlier.
But there was one moment that can inarguably be considered the highlight of the debate. Yes, I'm talking about the part where CNN's Anderson Cooper brought up emailgate. Hillary Clinton admitted the use of a private email server, during her time as U.S. Secretary of State, was a "mistake." She then went on to say that the House committee investigating the issue is an "arm of the Republican National Committee."
Yet it wasn't her response that stood out during that discussion, but rather her opponent Sen. Bernie Sanders' (I-Vt.) remark. Sanders chimed into the conversation by stating that what he was about to say, "may not be great politics" but "the American people are sick and tired of hearing about your damn emails." The audience erupted into loud applause and Clinton even turned to shake Sanders' hand.
Sanders' response quickly took over Twitter and was hailed the standout moment of the night.
You can hear the frustration and conviction in Sanders' voice as he delivered the line outright. And although the unexpected lifeline Sanders threw Clinton shocked many, that memorable moment was most likely anything but improvised. Just as Democratic VP nominee Lloyd Bentsen had prepared his 1988 iconic "Jack Kennedy was a friend of mine. Senator, you're no Jack Kennedy" zinger in advance, Sanders was just waiting for Cooper to ask about Clinton's emails.
Democratic operative Ron Klain, the man behind Bentsen's devastating line, once said "All candidates are creatures of habit. You can use that to your advantage: 90% of what your opponent will say in the debate will have come out of his mouth in the week before the debate." In the case of emailgate, it was a matter of when, not if, it would be brought up during the debate. And when it was Sanders was ready.
After the debate, the Sanders campaign immediately sent out a fundraising email centered on that "damn emails" moment, even attaching a YouTube video of the clip. That kind of memorable sound bite (a short remark excerpted from a speech) was what every candidate on the stage, Tuesday, set out to deliver. Because the best one-liners are probably all the audience will remember about the entire 2-hour event. It is also the clips we'll see played again and again, over the next coming weeks, on various media outlets as they recap the first Democratic presidential candidate debate. Unfortunately, the majority of the candidates missed their mark.
Calling all HuffPost superfans!
Sign up for membership to become a founding member and help shape HuffPost's next chapter