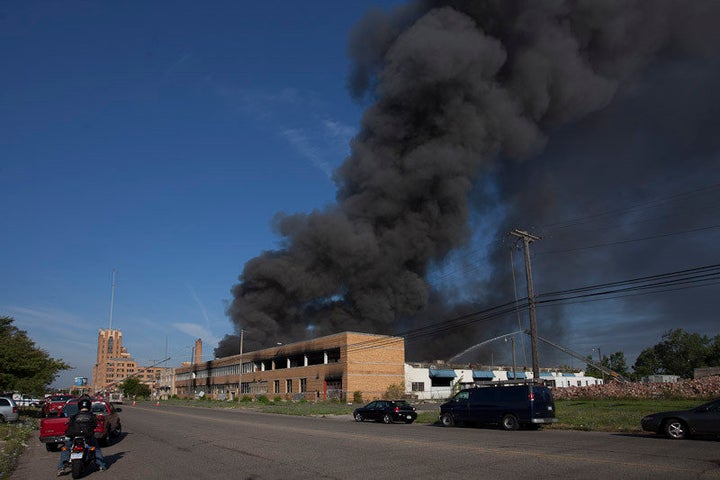 The makers of Sanders Candy, a Michigan brand with a 137-year-old legacy, left behind their headquarters in Highland Park in 1994.
But a fire this weekend that engulfed the building has still devastated employees and fans of the Mitten State chocolatier.
While Sanders Candy, a Michigan brand with a 137-year legacy, left their former Highland Park headquarters in 1994, the blaze that engulfed the historic building this weekend still struck employees and fans of the chocolatiers.
On Monday morning, the fire, which was reported early Saturday morning, was out except for a few hot spots, with firefighters on the scene to keep the building cool, according to a firefighter at the station. Arson is suspected, according to the Detroit Free Press, as there was currently no power at the vacant building.
(SCROLL DOWN FOR PHOTOS)

Sanders, whose products are now made by Morley Candy in Clinton Township, made everything from the regionally famous hot fudge to sandwiches at the Highland Park plant from 1941 to 1994.
"That was a tremendous building," said Diane Lynch, Sanders' sales and marketing manager, who worked at the plant for six years. "In the end I was … the only person who stayed in the building until we turned the keys to the new owner. Whatever hat there was, I wore it."
"No one made the variety of chocolates and styles of candy Sanders did, plus have a bakery," Lynch said. "When it was first open it actually had a commissary where all the soups, sandwiches and fillings [served] were made in that building."
In earlier times, she added, cows kept in the adjacent "Cow Palace," provided fresh milk for the confectioner's treats, though the practice stopped when city ordinances changed.
"It was a little self-contained community," she said.
In its heyday, about 300 of the company's 1,000-employee workforce clocked in at the Highland Park plant. Lynch said Sanders decided to move, in part, because of logistical reasons -- the new factory equipment wouldn't clear the ceilings. They sold 100 Oakman to a company who warehoused automobile engines within its walls until about 2003.
Sanders has tried to weather the changing industrial landscape. The chocolate company offered home delivery in the 1950s and recently partnered with the Detroit Brewing Company to make a chocolate stoutBut Sanders currently employs 200 workers.
While the Sanders fire evoked strong feelings for some, it wasn't this weekend's only dangerous blaze. A firefighter was treated for smoke inhalation after working at a three-alarm fire at a former pest control business on the east side Sunday morning. It's the second time in a week firefighters have been called to the scene, according to WXYZ.
For more photos of the Sanders factory fire, see Detroit Urbex. Do you have any Sanders memories? Share them in the comments.
PHOTO GALLERY
Former Sanders Candy Factory Fire Sparks Memories
Calling all HuffPost superfans!
Sign up for membership to become a founding member and help shape HuffPost's next chapter
BEFORE YOU GO