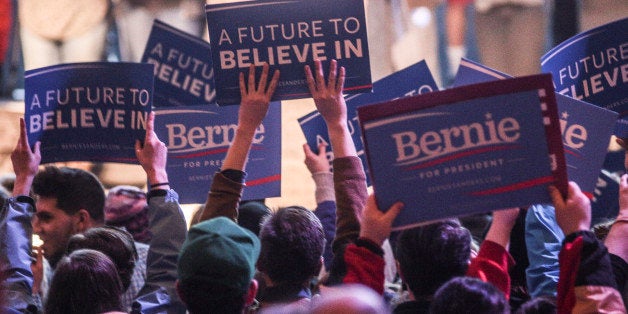 Watching cable news since the South Carolina primary, you'd think Bernie's already lost. "The math's too difficult," the "wisdom" goes. "Clinton has too many delegates."
That argument is so misleading.
Sure, Secretary Clinton currently has 1,052 delegates to Bernie's 427. But 457 of Clinton's "delegates" are actually superdelegates -- i.e., party insiders like Bubba who support whoever they want. When you count the number of "pledged delegates" (allocated through a silly concept called "representative democracy"), Clinton and Bernie are running a fairly close race.
How close? As of this writing, post-Super Tuesday, Clinton has 595 pledged delegates to Bernie's 405!
Combine that with the fact that upcoming contests look favorable for Sanders, and we confront an intractable reality: Bernie's still in this thing. Indeed, if he wins the "pledged delegates," he'll likely clinch the nomination -- superdelegates notwithstanding. For as Jeff Stein points out, superdelegates are politicians. Spurning the people's nominee would rightly obliterate their re-election chances.
I won't ask you to ignore the superdelegate count. But I will request that as you process cable news, full of pundits exalting Clinton's inevitability, you remember a crucial fact: Pledged delegates matter more than superdelegates. If Bernie clinches more pledged votes than Clinton, superdelegates will peel away from the "inevitable nominee," and the media will be forced to acknowledge once again that this is a competitive election. Just ask the Barack Obama of 2008.
This election's far from over, folks.
Calling all HuffPost superfans!
Sign up for membership to become a founding member and help shape HuffPost's next chapter