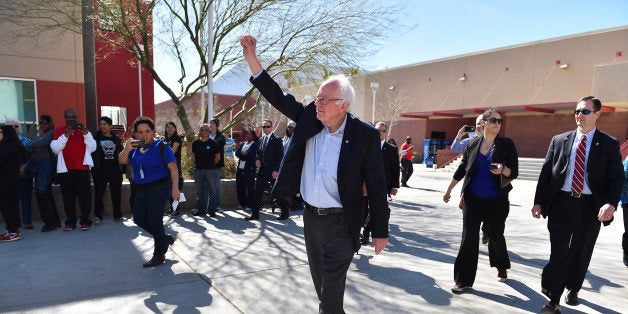 ...we will do well when young people, when working-class people come out. We do not do well when the voter turnout is not large. We did not do as good a job as I had wanted to bring out a large turnout.

If Sander's success depends on high voter turnout, his pathway to the Democratic nomination only gets bumpier in the coming contests.
Voter turnout (statistics here) usually declines after Iowa and New Hampshire. In 2008, the last time the Democratic Party had a contested presidential nomination race, New Hampshire had the highest primary turnout rate of 54%. In the following primaries, the turnout rate averaged 30%, with only a few states rising above 40%. For the caucuses, which are low turnout affairs by their very nature, the Iowa caucus had the highest turnout rate of 16%, and the following caucuses averaged 5%.
There are good reasons why turnout declines following the first contests. The candidates lavish Iowa and New Hampshire with years of attention before the voters cast their ballots. They spend considerable money building campaign organizations, contacting voters and airing commercials. In the later states, candidates race to build their state organizations and the candidates hop, skip and jump around the states to campaign events. The candidates are particularly challenged to develop intimate relationships with voters in the large, populous states.
So, if Sanders campaign relies on high voter turnout, he has a monumental challenge in front of him. He must truly transform politics in a way that has not been seen before in America.
Another sign that Sanders is not lighting the Democratic electorate on fire is that raw turnout -- the number of people who voted -- in all three Democratic 2016 contests is below their record 2008 levels. In contrast, Republicans set new records for raw turnout in their first three contests. The nomination contests are not necessarily an indicator of November success. Republicans had far higher levels of engagement than Democrats did in 2000, much higher than now, and Al Gore won the national vote.
Despite record Republican turnout in the South Carolina, the election calendar is weighing on their participation levels, too. The Republican share of the voting-eligible population declined from 27% in New Hampshire to 20% in South Carolina. (South Carolina has, arguably, a greater share of its electorate identifying as Republican.) Moving forward, Donald Trump may be favored by the election calendar. He has greater name recognition and dominates the free media attention, so voters are more familiar with him, for better or worse. It is more difficult for his opponents to bring their messages to Republican voters.
There is nothing written in stone in politics. Trump's unique candidacy is a living testament to that. However, as of now, clarity is emerging that Trump and Hillary Clinton are advantaged moving forward when it comes to voter turnout.
Popular in the Community