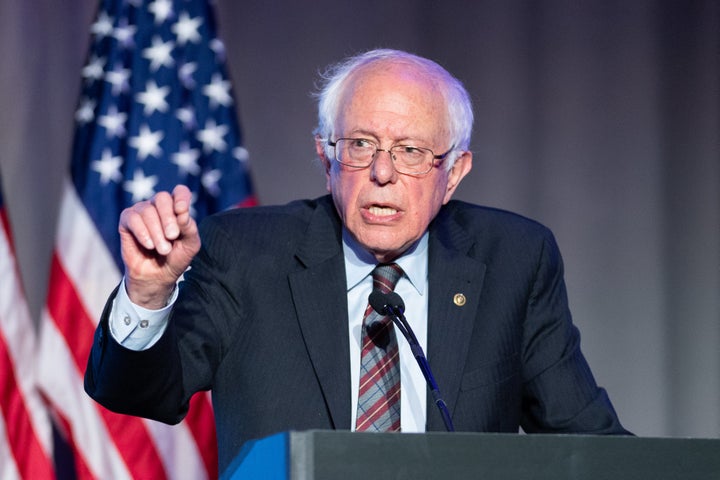 WASHINGTON ― It might be the next big idea among liberal policy experts, but Senate Democratic leaders are not yet ready to embrace a government jobs guarantee.
Several members of the Senate Democratic caucus, including Cory Booker (N.J.), Kirsten Gillibrand (N.Y.) and Bernie Sanders (I-Vt.) have endorsed the goal of eliminating unemployment and poverty through direct government hiring.
HuffPost asked Senate Minority Leader Chuck Schumer (D-N.Y.) if he could support legislation Sanders is drafting that would guarantee a job paying at least $15 an hour to everyone in the United States who wants one.
"I'd like to look at his proposal," Schumer said. "I think we should do everything we can to get people jobs and I'd look at his proposal. I haven't studied it yet."
Democratic Sens. Patty Murray (Wash.) and Dick Durbin (Ill.), who are members of Schumer's leadership team, also said they hadn't seen the legislation.
Sanders is looking forward "to starting a conversation with the American people" about the benefits of a jobs guarantee, spokesman Josh Miller-Lewis said in an email.
"A federal jobs guarantee is an already popular idea that has the potential to be the next transformative progressive policy," he said.
Sanders' proposal, which hasn't been formally introduced yet, would likely involve substantial government spending and radically reshape the U.S. labor market. It's the kind of idea Democrats might have scoffed at in the past; President Barack Obama, for instance, tended to agree with Republicans that it was important to reduce budget deficits.
""A federal jobs guarantee is an already popular idea that has the potential to be the next transformative progressive policy.""
But Republicans abandoned the pretense of fiscal responsibility when they passed a tax reform bill last year that will add more than $1 trillion to the national debt.
"If Republicans could give $1.5 trillion in tax cuts to corporations and the wealthiest among us," Gillibrand said in a tweet earlier this month, "why can't we invest a similar amount in a guaranteed jobs plan for regular Americans who are unemployed and willing to work to better their local community?"
Booker last week announced a separate proposal that would test the jobs guarantee idea in 15 local areas, saying the idea ought to be taken seriously. "Creating an employment guarantee would give all Americans a shot at a day's work and, by introducing competition into the labor market, raise wages and improve benefits for all worker," Booker said in a press release.
For years, Democrats in the House of Representatives, led by former Rep. John Conyers (D-Mich.), have introduced "full employment" bills that had similar policy goals, but with little hope of success and almost no news coverage. The Donald Trump era has seemingly created space for ideas that may have once seemed politically impossible. A Sanders proposal to give more Americans government health insurance, for instance, garnered far more support among Democratic senators than similar proposals have in previous years.
An effective full employment program would cost more than half a trillion dollars annually, making it almost as large as Medicaid, according to a lengthy paper published in March by the Center on Budget and Policy Priorities, an influential liberal think tank. (Theoretically, the cost of direct spending on jobs could be largely offset by reduced spending on Medicaid and other safety net programs, since people would have too much income to qualify).
The jobs guarantee proposals offers a stark contrast to Republican "workforce development" proposals, which are designed to make workers more willing to take low-paying jobs by reducing access to benefits such as food stamps.
Both the Democratic jobs guarantee and a Republican food stamps plan under consideration in the House would ramp up existing government workforce offices situated around the country. Democrats in the House have said the GOP plan to shift some food stamp spending from benefits to training programs would create too much of an administrative headache.
Similar concerns about feasibility will inevitably dog the jobs guarantee. Told of the proposal, Sen. Chris Coons (D-Del.) said, "That strikes me as ambitious."
Popular in the Community