WEST VIRGINIA - Despite four primary losses Tuesday and a near impossible path to the Democratic nomination, Senator Bernie Sanders continued his campaign's push through West Virginia early Wednesday, with a speaking stop in the breakfast lounge/ multi-purpose space of a Huntington, West Virginia Days Inn.
"For too long we have allowed large corporations to ruin our discount hotels' complimentary breakfasts" said Sanders, speaking to several bleary-eyed latex salesmen. "Take these muffins. Look at them, they're tiny. I for one remember when American muffins were huge, maybe 2, 3, or even 4 times this size. Now Secretary Clinton will tell you 'well, you know, those are mini muffins'. I think it is inexcusable that in this country while hedge fund managers eat regular-sized muffins or maybe croissants, our nurses and truck drivers and latex salesmen are told to be happy with their mini muffins.
"Nobody who works 40 hours a week should be forced to eat mini muffins, or baby carrots for that matter."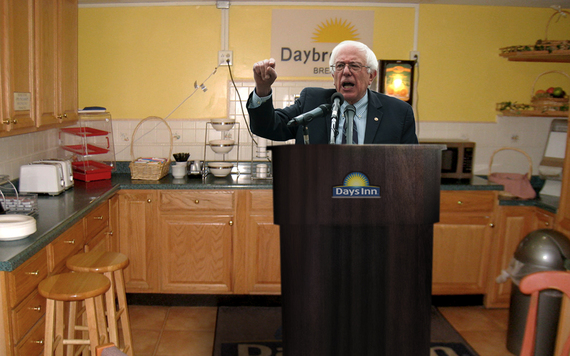 The senator closed on one of his more central platform points, his plan for raising the federal minimum wage. "We live in a country where the government works for the millionaires and billionaires but has forgotten about the middle class," said Sanders as a hotel guest quietly jammed a bagel into one of the hotel's featherweight toasters. "That is why I am proposing raising the minimum wage to $15/hr, so that American workers can not only afford a complete breakfast each morning, but also occasionally a nice brunch, with a mimosa or perhaps a Bloody Mary."
Sanders moves on Thursday to a rally outside an Indiana IHOP, where he is expected to reiterate his pledge to repeal the multilateral trade deals that he says have all-but decimated the market for American pancakes.
Calling all HuffPost superfans!
Sign up for membership to become a founding member and help shape HuffPost's next chapter