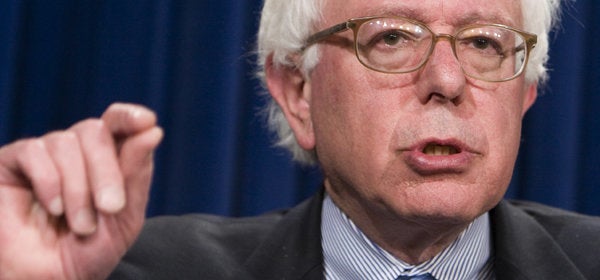 The decision by President Barack Obama to nominate Ben Bernanke for a second term as chairman of the Federal Reserve has been greeted with a type of ho-hum response that suggests the move was both uncontroversial and long expected.
But while Bernanke seems likely to retain his post, his Senate confirmation hearings should not lack for dramatics. Not everyone was pleased with his first four-year tenure. And in a statement on Tuesday, Sen. Bernie Sanders (I-Vt.) offered strong disapproval with Obama's choice and a hint of the type of questioning coming Bernanke's way in the weeks to come.
"As a result of the greed, irresponsibility and illegal behavior of Wall Street our country has experienced the worst economic decline since the Great Depression," said Sanders. "Mr. Bernanke was head of the Fed and the nation's chief economist as this crisis, driven by reckless speculation, developed. Tragically, like the rest of the Bush administration, he was asleep at the wheel during this period and did nothing to move our financial system onto safer grounds."
"As the middle class of this country continues to shrink, we need a chairman of the Federal Reserve who is more concerned about expanding the productive economy -- increasing decent-paying jobs for all Americans -- than continuing to fan the flames of Wall Street greed and outrageous compensation packages."
Calling all HuffPost superfans!
Sign up for membership to become a founding member and help shape HuffPost's next chapter