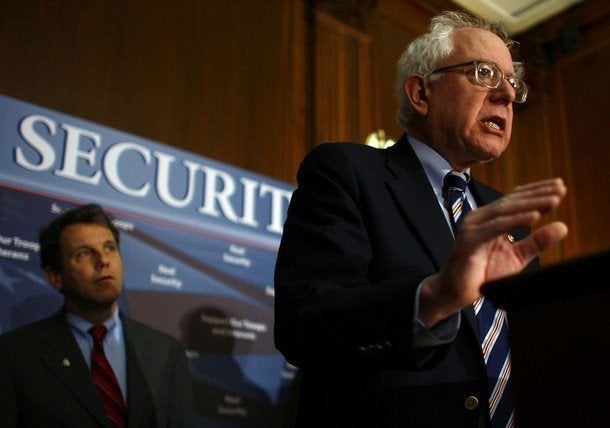 Two major progressive voices in the health care debate took White House Chief of Staff Rahm Emanuel to task on Tuesday for suggesting that a public option with triggers could be a potential compromise on reform.
One of those voices, Sen. Bernie Sanders (I-Vt.) went so far as to insist that some Senate Democrats would vote against any proposal that didn't include a strong government-run option. Even the bill being crafted by Democrats on the Senate Finance Committee, Sanders noted, might not get the caucus' full support because it could stray too far away from an effective overhaul of the health care system.
"I think that it is fair to say that there are a number of us who would not be voting for anything resembling a Baucus-type plan as we understand it right now," the senator told the Huffington Post, referring to Finance Committee Chairman Max Baucus' effort at constructing a reform bill.
In separate interviews, Sanders and his fellow Vermonter, former DNC Chair Howard Dean, both took umbrage with comments Emanuel made in an interview with the Wall Street Journal that was published Monday evening. The White House chief of staff did not deviate fully from the administration's line, suggesting that all prospects for reform remained on the table. But Emanuel added something that health care operatives said they hadn't heard from the White House to date: a statement of support for a health care insurance compromise based on a public option with triggers.
The president would, hours later, issue a statement reiterating his support for a "public option that will force the insurance companies to compete and keep them honest." Progressives, fearing in part that the frame of the health care debate would be irrevocably shifted, pushed back.
"I think that a public plan with triggers is not a real public plan and it is going to be a trillion dollar failure," Dean said. "Anyone who thinks a trigger is going to lead us to a good place five years from now is wrong... It is not a sensible policy compromise."
Later in the day, Sanders offered a similarly critical reaction.
"Emanuel is dead wrong," Sanders said. "The triggers are meaningless. The American people have shown in poll after poll their contempt for private health insurance companies. They don't trust them and for good reason.
"Now, where we are right now politically is the HELP Committee, of which I'm a member, is going to bring forth a public plan," Sanders added. "The House of Representatives is supporting a public plan. And President Obama ran for office talking about a strong public plan. Why, with that political reality of the American people wanting it, the House going forward, the Senate HELP Committee going forward, would Rahm Emanuel suggest that we would compromise on this issue?"
In private, White House officials say that Emanuel's remarks have been overplayed. His interview was with multiple papers, one administration official noted, yet only The Journal made him appear to be endorsing the trigger option, which would prohibit the implementation of a government-run option until certain economic conditions were met.
In the weeks ahead, the Senate is poised to merge the bills produced by the Finance and HELP committees -- a process that is likely to determine the reform's success. As that date approaches, the public statements from elected officials have grown much more forceful. Sanders' declaration that he and several colleagues would not be able to support the Finance Committee's proposal in its current form underscores just how volatile and sensitive the legislative process currently is.
"A plan that is dependent on regressive taxation, taxing health care benefits when Obama ran explicitly in opposition to McCain who advocated that, the idea of regressive taxation... the idea of minimal cost containment, the idea of no strong public plan, that is a Republican bill," Sanders said of the Finance Committee's early offering. "It is not a bill that I think a number of us in the Congress could support."
Not all the health care news on Tuesday revolved around legislative disagreement and policy dissension. Sanders noted that on a key parliamentary procedure, the Democratic Party was making progress.
"There is, I think, a growing awareness that it is absolutely important that now that we have 60 people in the caucus, that every member vote to end a Republican filibuster," said the senator. "So I think the strategy right now is that we will get 60 votes to defeat a Republican filibuster and come up with a strong health care reform piece of legislation which absolutely includes a strong public plan.... Sen. Dick Durbin is talking about it Sen. Chuck Schumer is talking about [corralling those 60 votes for cloture]. I think other people are talking about it as well."