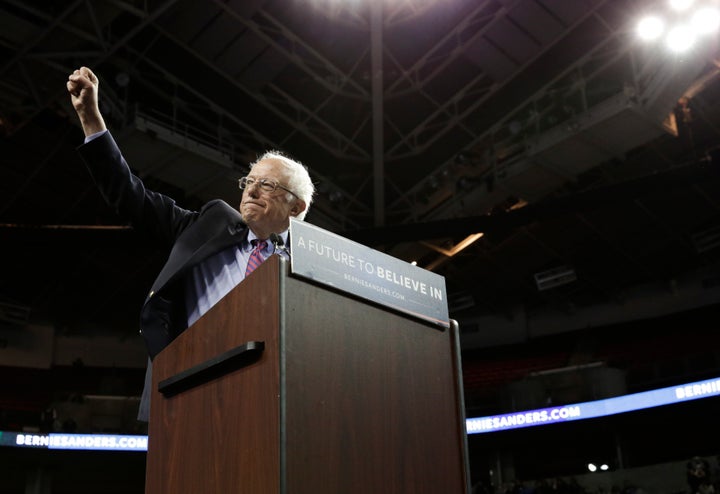 WASHINGTON -- Republican front-runner Donald Trump held two rallies in Arizona last Saturday. Police arrested five people, two of them for assault. There were approximately 150 officers at one of the rallies. Video from one event appears to show Trump's campaign manager forcefully yanking a protester. After anti-Trump activists shut down a major highway, Immigration and Customs Enforcement detained a female protester. She turned out to be a U.S. citizen. "You got some nice titties!" a Trump supporter yelled as she was taken away.
Sen. Bernie Sanders (I-Vt.), the populist candidate on the Democratic side, also held a rally in Arizona last Saturday. There were no arrests. A Phoenix Police Department spokesman said he was not aware of any reports of assault. One anti-Trump protester who'd failed to get into a Trump rally took off her shirt to protest fascism. She was led to the back of the venue, but not ejected.
There have been at least 58 arrests and citations connected to Trump events since Feb. 29, according to a Huffington Post survey of police departments. News reports and police reports during the same time period show at least 25 incidents of physical violence.
HuffPost was unable to find any news reports of arrests at Sanders rallies. (A Sanders spokesman said it's the campaign's policy not to discuss security.) Sanders staff removed a disruptive man wearing a Trump shirt from a rally in January, but the protester "left peacefully" and there were "no arrests, no summons, and no medical transports," according to a spokesman for the University of Massachusetts Amherst, which hosted the event.
Trump and his supporters claim that protesters are the ones to blame for the violence. "They're not protesters, they're disrupters," said Tony Ensminger, who was standing near the site of Trump's planned hotel in Washington, D.C., on Monday with buttons that read "Trump 2016: Finally Someone With Balls." "How many independent conservatives go and disrupt Bernie Sanders events?" Ensminger asked. "None."
So far, most of the arrests at Trump events have been related to protesting. But several Trump supporters have been charged with assaulting protesters, and the real estate mogul openly endorses this kind of behavior. Trump has encouraged his followers to "knock the crap out of" protesters who throw tomatoes. He's also said he'd like to personally punch a protester "in the face," suggested that victims of violence deserved to get "roughed up," and said he was looking into paying the legal fees of a supporter who sucker-punched a protester. Trump has also complained that police don't treat protesters harshly enough.
"There used to be consequences. There are none anymore," he said at a rally in St. Louis on March 11. At that rally, violence erupted and 32 people were arrested -- 31 of them for disturbing the peace.
Two days later, Sanders held a rally at a high school in Affton, Missouri, about 20 minutes from St. Louis. "We did not have any problems or arrests at the rally," said Shawn McGuire, a spokesman for the St. Louis County Police Department.
It's possible that certain aspects of Sanders' campaign -- his socialist message, his personal history of activism or that time he sang "This Land Is Your Land" with Vampire Weekend -- simply draw fewer protesters than Trump, who wants to ban Muslims from traveling to the United States and build a wall on the Mexican border.
But Sanders supporters are capable of vitriol too. Last August, Black Lives Matter activists interrupted an event Sanders appeared at in Seattle, forcing the Democratic contender from the podium and shutting down his speech. Marissa Johnson, one of the activists who seized the microphone, says that some people in the audience shouted at the activists and physically tried to attack them after they left. The way members of the crowd were yelling, she said, reminded her of a Trump rally.
"People have taken these politicians and elevated them at such a level where they can do no wrong, and where people just look at them as deities," Johnson said. "That's why you get such a violent response."
There's a key difference, though: Sanders didn't suggest his supporters should attack the protesters. As HuffPost's Ryan Grim and Daniel Marans have reported, political violence increases when politicians excuse or encourage it. Unlike Trump, Sanders didn't say he'd like to punch a protester in the face. Instead, his campaign staff reportedly told police not to remove the activists.  
Johnson sees the fact that Sanders didn't speak up as an endorsement, in itself, of violence. "Trump's style is to openly be like, 'Throw them out,'" she said. "How racism works on the far left is, it's always a subtle passive-aggressive oppression."
Trump has said he would have handled the interruption differently.
"I would never give up my microphone," he told reporters after the Sanders rally. "I thought that was disgusting. That showed such weakness, the way he was taken away by two young women. They just took the whole place over!"
The Huffington Post will continue to collect reports of violence, harassment and arrests at campaign events. If you have witnessed or experienced a threatening episode, please email your story, including photos and video, as well as a phone number, to trumpevents@huffingtonpost.com.
Calling all HuffPost superfans!
Sign up for membership to become a founding member and help shape HuffPost's next chapter
BEFORE YOU GO
PHOTO GALLERY
Scenes Of Hate At Donald Trump Rallies