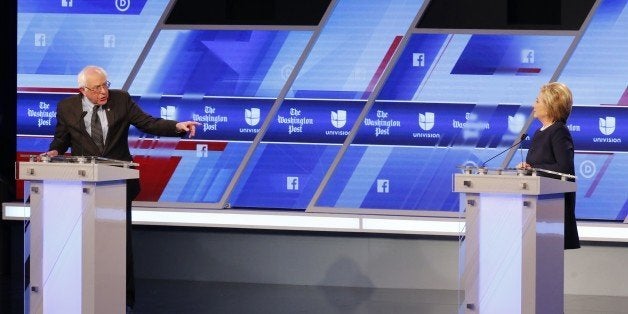 Generally, when you're debating a person who might get indicted because of an ongoing FBI investigation, you've won the contest in terms of trustworthiness. Bernie Sanders defeated Clinton during the Univision Democratic Debate on Wednesday, primarily because only one Democrat on stage risks indictment by the Justice Department. If you've traveled into the future, from a time period in American history when FBI investigations doomed presidential campaigns, then you're reading this correctly.
Univision host Jorge Ramos correctly pointed out that Hillary Clinton faces the risk of indictment, and asked Clinton whether she'd quit the presidential race if she were indicted over her private email server. Here is the video of Jorge Ramos courageously asking the question, and stating "If you get indicted, will you drop out?"
Needless to say, the former Secretary of State wasn't pleased with the question.

With Clinton's racial justice record "abysmal" according to Boston's Black Lives Matter President, it's important to analyze Clinton's reaction, in light of her "Super Predator" comment from the '90s. The mere thought of indictment, much less jail time, is offensive to Clinton, even though not long ago she called for more prisons and tougher sentences.
Clinton also accepted money from two major prison lobbyists, and took more money from these prison lobbyists than even Jeb Bush. I explain Clinton's prison lobbyist ties in the following YouTube segment.
David Banner and civil rights activist Ashley Williams have demanded to know why Clinton called black youth "Super Predators." The former First Lady continued the statement with "we have to bring them to heel." The rhetoric, during the time period, was coded language that resulted in laws targeting black communities across America. According to Michelle Alexander in a Nation piece titled Why Hillary Clinton Doesn't Deserve the Black Vote, "Bill Clinton championed discriminatory laws against formerly incarcerated people that have kept millions of Americans locked in a cycle of poverty and desperation."
Thus, it's political karma that a presidential candidate who takes money from prison lobbyists (the same interests that promote mass incarceration) would be offended by Jorge Ramos's question. Her reaction gave Bernie Sanders the clear victory during a debate that touched upon a number of topics.
Yes, Hilary Clinton risks possible criminal indictments, as explained by Charles Lipson in Hillary Clinton's Coming Legal Crisis:
These are vital issues, but Clinton faces a far bigger problem. She and her closest aides could be indicted criminally...

The FBI reportedly has assigned some 100 agents full time to the investigation and another 50 temporarily. The bureau would not commit such massive resources unless the initial investigation raised troubling questions of potential criminality. FBI Director James Comey is monitoring the case closely and coordinating with the intelligence agencies, which have to review the documents. Comey has a reputation for integrity, and it is his call whether to refer charges to the DOJ. Attorney General Loretta Lynch would then decide whether to indict...

An alternative possibility is that the DOJ accepts an FBI recommendation to indict Clinton's aides or even the former secretary herself.
Thus, even if Clinton herself isn't indicted, the indictment of a close associate could easily end her presidential campaign.
Still think a Clinton indictment is an example of H. A. Goodman hyperbole or bias?
During an interview with Jake Tapper on CNN where Lt. General Michael Flynn stated Hillary Clinton should "drop out" of the race, Flynn also said "If it were me, I would have been out the door and probably in jail."
President Obama's former head of the Defense Intelligence Agency stated he'd be in jail if he acted in the same manner as Hillary Clinton. No, this isn't H. A. Goodman, the biggest Bernie Sanders booster on the internet, making the statement; it's one of President Obama's former intelligence officials saying he'd go to jail for acting like Hillary Clinton.
I mention Lt. General Michael Flynn's viewpoint of the FBI's email investigation during my recent appearance on CNN with Victory Blackwell.
Furthermore, I ask Hillary supporters in the following YouTube segment if they know why Clinton needed a private server. Why was Clinton the only Secretary of State never to use a State.gov email address and the only Secretary of State to use a private server exclusively?
Like Lt. Gen. Michael Flynn, Edward Snowden also believes Clinton will face legal consequences, as quoted in a Guardian piece titled Edward Snowden says Hillary Clinton 'ridiculous' to think emails were secure:
"This is a problem," Snowden said, "because anyone who has the clearances that the secretary of state has, or the director of any top-level agency has, knows how classified information should be handled."

He added: "If an ordinary worker at the State Department or the CIA ... were sending details about the security of embassies, which is alleged to be in her email, meetings with private government officials, foreign government officials and the statements that were made to them in confidence over unclassified email systems, they would not only lose their jobs and lose their clearance, they would very likely face prosecution for it."
So, according to Edward Snowden, not H. A. Goodman, Clinton's actions would lead someone else to "likely face prosecution." I also mention Edward Snowden's viewpoint during my CNN interview.
Therefore, we have a former U.S. intelligence official and Edward Snowden agreeing on the same thing, which should tell you something about the future of Clinton's campaign. Thank God for Univision's Jorge Ramos, because it's taken this long to get a debate moderator to ask the most relevant question in 2016.
As for a potential Clinton indictment, more voices have stated it's not only a possibility, but a likelihood. Liz Peek of The Fiscal Times writes why Clinton faces serious risk of indictment in a piece titled How the FBI Could Derail Hillary Clinton's Presidential Run:
What could bring Hillary down? According to some who have followed the case closely, Mrs. Clinton could be charged with breaking several laws, including willfully transmitting or retaining Top Secret material using a private server, unauthorized removal of classified information from government control or storing such information in an unauthorized location, lying to Congress, destruction of government property (wiping the server), lying under oath to a judge about having given the government all her emails or obstruction of justice.
No, not all the speculation about the FBI investigation and indictments revolve around a right-wing conspiracy. Clinton either circumvented laws, or broke them, and either way, the FBI's conclusion in several months will impact her campaign.
Finally, while Hillary Clinton was offended by Jorge Ramos's question, and Bernie Sanders won the debate simply because he was the only Democrat without risk of indictment, another powerful voice can be linked to this issue. Rapper and activist David Banner has a question for Hillary Clinton, as stated in a piece titled David Banner Questions Hillary Clinton About Past "Super Predator" Comments:
David Banner offered a series of questions to Hillary Clinton over past comments she made about "gangs of kids" evolving into "super predators."

In his post, Banner brought up Clinton's past "super predator" comments and asked the following questions: "What exactly do you plan to do to repair the hundreds of thousands of lives that you and your husband have admittedly ruined through your biased anti crime campaign? What is the time line? 'I apologize' and 'I am wrong' is not good enough. We will wait for your answer."

Clinton's exact statement on super predators, which was made at an appearance at Keene State College in 1996, is as follows: "[They're] not just gangs of kids anymore. They're often the kinds of kids that are called super predators. No conscious. No empathy."
In a series of questions, David Banner asks the former Secretary of State to address the past. The world is waiting for her to answer these questions.
Democrats should relate the issue of indictment and Clinton's prison lobbyist donors to Jorge Ramos's question during the Democratic debate. As I explained several weeks ago, Bernie Sanders wants to ban private prisons while Hillary Clinton just stopped accepting their money. With potential indictments in the future, Clinton might see her prison lobbyist donors in a new vantage point, similar to the viewpoint that caused Bill Clinton to apologize for his role in mass incarceration. I'm only voting for Bernie Sanders and I explain why in this YouTube segment.
Popular in the Community