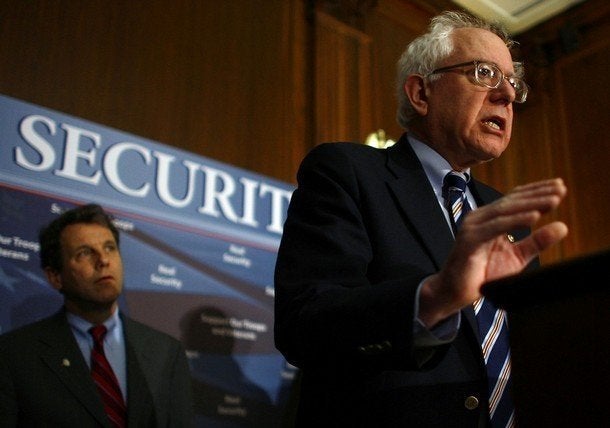 President Obama should lobby individual Senate Democrats to make sure they don't join Republicans in filibustering health care reform, Sen. Bernie Sanders, a Vermont independent who caucuses with Democrats, told HuffPost Tuesday.
His plea comes amid frustration on Capitol Hill that Obama has yet to take charge of the health care debate, even as support for the public option surges. "It's not in his DNA to do the prescriptive lobbying on the details here and I'm not going to try to change his style at this stage. We'll take what--he's certainly made it clear he wants this bill done and his people are sitting in all the meetings," said Sen. Ben Cardin (D-Md.). "I'm not going to second-guess the president. He's been very successful to date."
Senior White House health care aide Nancy-Ann Deparle huddled with Senate Democrats Tuesday for the weekly caucus lunch and Obama's campaign operation bombarded the Capitol with phone calls in support of health care reform, but the president has so far refused to actively lobby individual members.
"I would hope that he would remind every member of the Democratic caucus that the function of the Republican Party -- which the American people are very clearly seeing -- is obstructionism and is saying no in the midst of a terrible, terrible health care crisis. So what the president -- and all of us -- should be asking is every member of the Democratic caucus to vote yes to stop Republican filibusters," said Sanders.
"And if later on," Sanders said, "people in the Democratic caucus -- a few of them and they're a minority; I don't know how many there are: two, three, four -- choose to vote against the public option later on, let them do so."
Senate Majority Leader Harry Reid (D-Nev.), Sen. Chris Dodd (D-Conn.) and Sen. Max Baucus (D-Mont.) are merging two bills passed by committees led by Dodd and Baucus. Dodd's includes a public health insurance option; Baucus's doesn't.
The strategy advocated by Sanders -- pressuring Democrats not to join a GOP filibuster - underscores the importance of including a public option in the bill that emerges from the current negotiations.
That bill will need 60 supporters to proceed to a vote on the floor, where it can be amended. It's harder for a Democrat to oppose leadership on the entire bill than it is to oppose a single amendment.
"Well, you'll need 60 votes, but there's a big difference between voting not to proceed on a bill -- voting cloture -- and trying to [defeat] an amendment. That's a big difference, at least for many of us. That's why I'd like to see as much in the [merged] bill as possible," Cardin, a supporter of the public option, told HuffPost.
To thread the needle, Reid could put the public option in the merged bill and persuade the few Democrats who oppose it not to block the entire bill.
"I think that the leader is sensitive to the fact that the overwhelming majority or our caucus supports the public option. And I think he is trying to figure out a way to bring that forward without jeopardizing the necessary votes to move this bill forward," Cardin said.
That's where Obama's support could be most valuable, Sanders said. "How if you are the Democratic Party presenting your bill, do you say no to over 80 percent of the people in your own party and expect there to be grassroots support for real health care reform?" he said, referencing sky-high poll numbers for the public option among Democrats.
Sen. Mary Landrieu (La.), one of the very few Democrats on record against the public option, said that she'd rather not join a Republican filibuster. "I'm not right now inclined to support any filibuster," she told HuffPost.
The refusal of the GOP to participate meaningfully in negotiations has soured her on joining them in a filibuster. "For the Republican Party to kind of step out of the game is very unfortunate," she said. "I'm not going to be joining people that don't want progress."
Sen. Ben Nelson (D-Neb.), another public option foe, said it's too early to embrace the strategy laid out by Sanders and others. "I believe in playing chess, but that's about three moves ahead of me, and I'm not prepared to make those moves until I see some other moves in between," he told HuffPost.
Without a public option, Reid might need to keep Sen. Olympia Snowe (R-Maine) in the fold, given the stand taken by Sen. Roland Burris (D-Ill.). He said Tuesday, repeating threats he had made earlier, that he "absolutely" would oppose any bill that did not have a real public option. "That's what my constituents have asked me to do," said Burris. State-based alternatives were no substitute, he said, adding that he has advised leadership of his position.
Sanders declined to follow Burris' lead just yet. "We're playing it day by day," he said.
Reid was asked Tuesday if he was leaning toward including or not including a public option in the merged bill. The group is "leaning toward talking about a public option. No decision has been made," he teased, saying that his team had "not a long discussion last night on the public option."
The gang of three meets again Tuesday evening in Reid's office. HuffPost asked White House spokesman Robert Gibbs at his daily gaggle how active Obama would be in those negotiations. "I think the folks on Capitol Hill, based on the speech the president gave on Capitol Hill, know where he stands," Gibbs said.
Calling all HuffPost superfans!
Sign up for membership to become a founding member and help shape HuffPost's next chapter