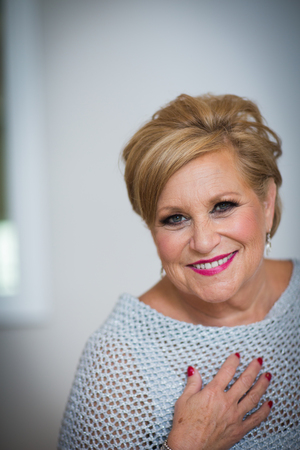 When you're with Sandi Patty she makes you feel like part of her family. On a sticky fall afternoon she held an intimate lunch in New York City's Rockefeller Center to share some exciting news. But before she got down to business and lunch was served, she carried out a time-honored family tradition her Aunt Faye started by asking everyone, "Aren't we thankful?" Together everyone responded, "Yes, we are." After she listened to her guests tell their stories, Patty was finally ready to share hers.
Starting in February she will launch Forever Grateful: The Farewell Tour, which will reach more than 90 cities across the world and will run through the spring of 2017. She'll also release Forever Grateful, a collection of new songs and old favorites done in a new way.
"I'm at that season in my life where it's time to wind down, and it's time to say goodbye and especially to say thank you," Patty said. "I could never have imagined my career taking me to so many amazing places and meeting so many people who have changed my life forever."
While she's excited about the tour, she said it will be bittersweet.
In her illustrious career Patty has sold over 12 million albums, won five Grammy Awards, four Billboard Music Awards, and over 40 Dove Awards, including their Lifetime Achievement Award.
Interestingly, Patty never set out to be one of Christian music's most renowned superstars. Born in Oklahoma City, her father, Ron, was a minster and her mother, Carolyn, was church pianist. A shy child, Patty would often play the record "I've Got Confidence," longing for the day when she could sing it and really mean it.
Patty went to school for teaching, but shortly after graduating legendary gospel singer Bill Gaither asked if she would go on tour with him as a background singer. During that time Patty released several albums and gained a following in the Christian music community. In 1986 she was catapulted into stardom after ABC aired a special to the rededication of the Statue of Liberty and used her recording of "The Star Spangled Banner." Suddenly Patty was America's sweetheart and there was no stopping her.
Then at the height of her career, she and her first husband divorced. She shocked fans two years later when she revealed that she had an affair with her background singer, now husband, Don Peslis. The church and many of her fans felt betrayed by her choices, but no one was harder on Patty than Patty herself.
"We're all broken," she said. "Our journey is not a stopwatch; it's a compass. My goal is to always be the best Christ follower that I can be."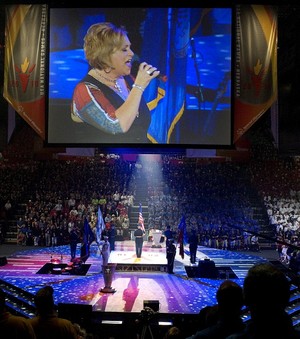 Slowly the audience and the Christian music industry welcomed her back. Through it all it all she learned how strong she was and finally understood the true meaning behind the lyrics of her favorite song, "His Eye is on the Sparrow." She could've stopped singing professionally -- the thought entered her mind -- but she realized that she truly does sing because she is happy.
As she slows down her music career, she's returning to education. Currently she's a professor at Mid-America Christian University teaching an online course in Worship Arts and Leadership. Not only does she want to teach what it means to worship, she also wants to pass on some of the wisdom she's acquired, which includes to not only have a passion for what you're doing, but to also plan, prepare, practice, and pray.
Patty is looking forward to the next chapter in her life and continues to dream. In addition to focusing on her eight children and 2-year-old grandson, she would love to perform Hello Dolly! on Broadway or voice an animated character for a Disney film. No matter which road she chooses, one thing is certain, she'll be forever grateful.
"I've been able to make a profession out of what I love doing so much," she said. "I think that my kids are grounded and they love each other and want to make the world a better place. It makes me happy to know that I've played a part in making that happen."
Calling all HuffPost superfans!
Sign up for membership to become a founding member and help shape HuffPost's next chapter