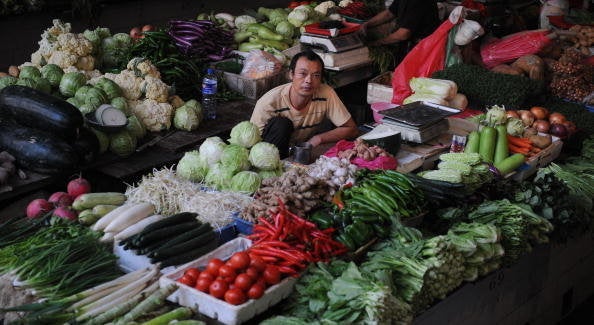 I'm home from Turin, in northwestern Italy, where I attended Terra Madre, a four-day gathering of 7,000 farmers, fermenters, other food transformers, cooks, and food researchers, teachers, and writers from 154 countries. This massive convergence was overwhelming in many ways, but also powerfully affirming. It was tangible evidence of a huge worldwide movement, paradoxically incorporating tradition and continuity as much as resistance and revolution. As the global financial markets crumbled around us, speaker after speaker contrasted the disappearing fictional wealth of speculation on abstractions with the core foundation of economic security: the sustainable production of food.
The most important experiences for me were interactions with people from faraway places engaged in educational work similar to what I do; who knew there were similarly-obsessed cultural revivalists out there? I met José Antonio, from Cuba, who is part of a small storefront institute in Havana teaching fermentation and other food preservation skills; and Maria Tarantino, an Italian writer who lives in Brussels, who with friends makes big batches of creative kraut-chis (the inventive intersection between kraut and kimchi) incorporating unusual wildcrafted herbs. They distribute their ferments not as a commercial product but as an educational tool to empower people with skills to revive and reinvent family tradition and produce healthy food. Sound familiar?
Maria and her friends and I set ourselves up on the floor of the Terra Madre marketplace giving away tastes of a variety of delicious kraut-chis they had brought with them from Brussels. As is always the case, sharing food is the easiest way to meet people. We talked fermentation with people from every continent in the two hours we sat there, and I sent people from around the globe home with copies of Wild Fermentation. I ran into a North Carolina kraut-maker, April McGreger, who produces "Farmer's Daughter" kraut as well as Appalachian Soured Corn in Carrboro and is a fount of knowledge about traditional southern foods. And I kept running into Michelle Fuerst, who curated the stellar pickle pavilion at Slow Food Nation in San Francisco this summer, and who has the ambition of creating a network of vegetable fermenters and picklers.
Sharing the huge structure (built to house the skating rink for the Turin 2006 Olympics) with Terra Madre were a couple of hundred food booths promoting (with tasting samples) Slow Food's Presidia projects, traditional foods, mostly geographically-specific, in danger of extinction, which Slow Food is helping to preserve and promote. Some of the Presidia projects focus on varieties of plants, among them Quebrada de Humahuaca Andean Potatoes, Anishinaabeg Manoomin Wild Rice from Minnesota, and Pardailhan Black Turnips from France; others on rare breeds of animals. But most of the Presidia foods represent traditional means of preservation, as well. The Presidia offerings (as in the much larger and more commercial Salone del Gusto taking place simultaneously next door) were mostly celebrated for their methods of transformation from highly perishable raw foods into more stable products. In most cases, these transformations are microbial processes, in other words ferments; in particular cheeses, cured meats, alcoholic beverages, and (to a lesser extent) bread.
I ate more different cured meats in my four days of wandering the Presidia and Salone aisles than in the previous 46 years combined. One that particularly blew my mind was called Violino di Capra (Violin of Goat), the cured legs and shoulders of old dairy goats, a specialty of Valchiavenna in northern Italy. This meat was not only incredibly rich and delicious but tender, no easy feat for the meat of eight year-old dairy goats. Once again, the pre-digesting magic of fermentation creates delicacies with elegant built-in efficiencies and logic. The conventional wisdom in the U.S. is that the only goat meat worth eating (to the extent that goat meat is considered worth eating at all) is that of young kids just a few months old, for after that the musculature of these highly active creatures becomes extremely tough. Subsistence cultures without the luxury of so many choices pioneered strategies such as this for rendering foods palatable, strategies that have largely been abandoned.
I have never seen cheeses in so many shapes, sizes, colors, and textures, or tasted cheese in such radically varied flavors. Cheesemaking (like all aspects of food production) evolved in so many quirky particular ways, which have mostly been adapted to the demands of global transportation and marketing. But what an awesome sight it was to see the skin of an entire sheep as an enclosure for cheese, or the bark of a tree. For the global market only a very limited number of cheese molds have gained acceptability. It was liberating to taste truly delicious cheeses with very different, extremely gnarly, deeply penetrating molds. This is culture in its infinite heterogeneous glory. I am endlessly inspired by the inventive methods that people in different places use to turn their perishable milk into products to store, sustain them through scarcity, and trade.
Beyond milk, I even encountered a gorgeous example of a dairy-free "cheese," Keckek el Fouqara from Lebanon. In Wild Fermentation I included a recipe for kishk, a Lebanese ferment I had read about and learned to make, combining bulgar wheat with yogurt to ferment. But of course no cultural tradition is singular. Keckek el Fouqara is known as "poor man's kishk," and it is an adaptation of the kishk method by those without access to milk. The bulgar is mixed with water and salt and formed into small balls to ferment; the balls are then stored in spiced olive oil for a rich taste sensation far cheesier in flavor than any other vegan cheese I've tried.
One other type of ferment featured in the Presidia and Salone deserves mention: alcoholic beverages. The Salone del Gusto featured more than 1000 different styles and makes of wine, the classic wine of the vine made from grapes. For me it was entirely overwhelming to choose from among 1000 different wines. I let others make the decisions, and sampled some truly wonderful wines, but in all that branded variety what struck me most was its reflection of monoculture. I spent the weeks prior to Terra Madre teaching in Northern California, followed by a visit to penpals I've had in Istria, the westernmost region of Croatia, near Italy. Northern California and Istria both present vineyard monocultures, in which grapes are being grown for wine, a universally coveted commodity.
I have nothing against wine. I enjoy it very much, though I've never had the budget to cultivate the nuanced preferences of a true connoisseur. But anything sweet can be made into alcohol, and fine alcohol at that. I was pleased to see among the Presidia booths makers of perry (fermented pears), cider (fermented apples), and mead (fermented honey). The mead was so different from the meads I make, and it was enlightening to hear about the high ratio of honey (as high as 2 parts honey to 1 part water!) and long aging period (as long as 10 years) used by the Polish mead-makers represented there. I would love to see Slow Food do more to highlight the extraordinary diversity of alcoholic beverages beyond the wines and beers most familiar to the global palate, such as sorghum beers, palm and cactus-based wines, fruit-based "country wines," and the extraordinary diversity of rice-based alcohol ferments. The challenge of reviving local food is to avoid simply replicating the most popular globalized products and instead to develop strategies to turn what grows most easily in each region into products that satisfy our cravings. People almost everywhere have traditions of turning available carbohydrates into alcohol. We do not need high-input grape vineyard monocultures everywhere in order to satisfy our desires.
In addition to networking and tasting, Terra Madre included an extensive program of speakers. The most impressive speaker, in several different venues in which I had the privilege of hearing her, was Vandana Shiva, a physicist turned seed, food, water, and climate activist from India. In her books and presentations, she has emerged as the single most eloquent voice articulating a critique of globalized food production and its destructive effects on farmers, biodiversity, and economic security. If you have not heard her speak or read any of her books, I urge you to do so. She lays out complex inter-related issues in ways that are clear, compelling, and concise.
There were many other speakers describing exciting and inspirational projects, but overall I found the workshop aspect of Terra Madre disappointing. Some of the speakers had never been informed that they were on a program and so were not present or were unprepared. Some got lost in minutiae rather than relating their work to broader themes. But really, I think that such a tremendous international networking event needed a more flexible program, with greater opportunities for thematic informal sharing among delegates rather than pre-selected speakers, which could have created greater opportunities for focused networking. I'm imagining a system of many different small meeting spots, and a means for people to propose themes of sharing, generating a daily schedule either posted in a central location or distributed each day. "Garden programs in elementary education" or "Non-grape fruit wines" or "Apprenticeship opportunities in meat-curing" are arbitrary examples of what I envision rather than the much broader themes represented in the pre-planned program. That said, I can appreciate that the diversity of languages at a global convergence such as Terra Madre presents extraordinary logistical challenges for the programming. There were eight official languages at the event (Italian, English, French, Spanish, Portuguese, German, Japanese, and Russian), and most programs were translated into most languages. An event of this magnitude is in and of itself an awesome accomplishment, and criticisms aside, I am grateful to Terra Madre for the opportunity to witness and sample such vast diversity, and to meet some of the people who are carrying on, or in some cases reviving, these ancient traditions. Terra Madre was cultural revivalist heaven!
One strong emphasis at Terra Madre was on youth. With the average age of farmers around the world climbing, their children in many cases seeking different ways of life, and the general perception that farming is an economic dead-end, there is tremendous need not only for new paradigms and models of food production, but for a new generation of farmers. The large numbers of young people at Terra Madre infused the whole event with a great deal of optimism that there is indeed a future for these endangered food production traditions. In an informal session I attended about linking young people with learning opportunities, I offered to serve as a networking link between people wishing to apprentice themselves in fermentation arts and practitioners of baking, brewing, cheesemaking, etc. If you read this and you are a producer open to apprentices or other skillsharing arrangements, or someone (of any age) looking to learn these skills, please email me at sandorkraut@wildfermentation.com with some info about what you could offer and what you are looking for. Skillsharing is key to cultural survival and cultural revival.
There are many more stories I am tempted to tell, but I have gone on too long already. This weary traveler must get outside and cultivate my own garden. Keep reclaiming food and creating better food choices for yourself and your community, one step at a time. In each of our lives, every day, we must all find ways to return to Terra Madre.