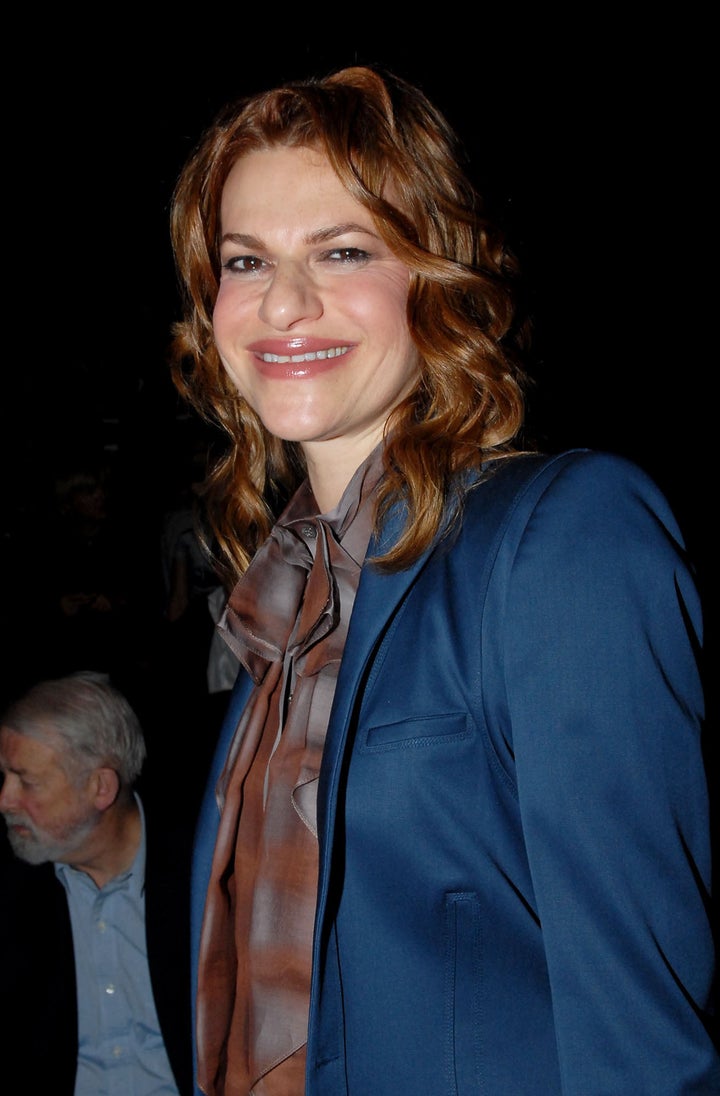 Sandra Bernhard has spoken out against reports that she said vice-presidential candidate Sarah Palin would be gang-raped if she came to New York during a Washington DC concert last month. Unapologetic for the "outrageous" routine she did give, Bernhard told Huffington Post that she did not use the term "gang rape," and in fact never said "rape" at all during the performance in question.
What started as an internet rumor snowballed and by late Wednesday afternoon had become an AP article (initially picked up by Huffington Post) that reported Bernhard had been cut from a benefit for a Boston women's shelter because of her performance and then inaccurately quoted her saying it.
Not true, says Bernhard, who is speaking out now because of the shelter, Rosie's Place, and the harm she fears this story has and will cause them.
"I really feel bad for Rosie's place," she told Huffington Post Thursday afternoon. "It was definitely manipulated by whoever put this out there to begin with."

So what happened during her show in DC? She said:
"I always contemporize my show and open with something of the moment. It so happens we are in the middle of a highly charged political time. And I'm a woman. And I'm concerned not only for myself but for my daughter and the future of all young women, specifically with Sarah Palin and her stance on reproductive rights.

"Being a comic, you go of on these really funny stream of consciousness tangents. So what I said, only funnier, was 'are you willing to have the experience of getting raped and then keeping your child?' Only I said it much funnier, and more fluidly. I never once said gang rape. Actually I never said rape. Of course what I said was outrageous, it's insane, and I'm completely unapologetic about it.

"I call a lot of people out during my show. Everyone from Joe Lieberman to Bill Clinton to Hillary. I called everybody out because everybody needs calling out on a lot of different subjects."
After her show, the Washington Post published a glowing review, In it, they wrote: "Bernhard declares in the D.C. Jewish Community Center that if Palin were to step onto her Manhattan turf, 'I'll tear her apart like a Wise natural kosher chicken.'"
From there, Bernhard says, it got twisted. "Secondhand someone got wind of something I said about Sarah Palin and then twisted it. Matt Drudge is the king of theater and he put 'gang rape' in quotes and it's turned into this ugly thing.
"The internet has served good and it's served bad. In this case it's a double-edged sword. In a weird way I get my voice out there, in another way it gets twisted and misrepresented."
And now she is out at Rosie's Place after sponsors balked at the press surrounding Bernhard. She told Huffington Post:
"It's a battered women's shelter. Irony of ironies. They are all sponsored by corporate sponsors, hedgefunds, bankers, etc...

"There I could have been, the spokesperson for a battered women's shelter, who will be directly affected by a McCain/Palin administration. The last people they are going to support would be these little groups, because they don't believe in federal funding. Well there isn't going to be any private money. There isn't going to be any money."
So on the record, what does Bernhard think?
"People like Sarah Palin and John McCain are cynical people and I don't think they care about this country. They always make it seem like the wealthy, intellectual, East Coast people just live their fabulous life. Well guess what? We can afford to take time to actually have compassion to reach out to people and really look at the world as the whole. I think the people who are these reactionaries don't. I think they're scared, I think they're driven by fear and doubt. I'm not. I'm driven by happiness and wanting this country to be fulfilled on every level. That's what my message was. It's done through my humor, it's doing through my irony and it's done through my sense of outrageousness.

"When this initially happened I decided I didn't much care about responding to it. Any great artist or performer worth their salt is never going to come out and explain why they did something. It's obvious for the audience who pays to come see you. They want to hear it. You are a catharsis for it. You are taking their thoughts and you are processing it for them into entertainment, into irony, into social commentary. If we aren't doing that, we're not doing our job."
In lieu of her performance, Bernhard is making a donation to the shelter and biding her time till her next performance on October 27th in Chicago.
"I'm tired of people being cynical in this country, especially our politicians, Bernhard added at the end, "We have our platform and people want to come hear us perform, so fuck you."