This is the debut of my new portrait series on the Huffington Post. Here you will find original portraits of iconic personalities, every few weeks, time permitting. For more about my work, please visit www.greenfield-sanders.com
Sandra Bernhard first sat for me in July of 1989, for a Barney's celebrity men's clothing campaign. Neil Kraft art directed, Douglas Lloyd was his associate, and Glenn O'Brien wrote the copy. All three went on to important careers.
I recall there some concern about putting Sandra Bernhard in a men's suit. Namely, that it might be "confusing" to the public. But Glenn O'Brien, in an instant, had the perfect tag line for the ad: "Barney's, Fine Clothes for Men Since 1923." And that's how it ran.
Also, 20 year ago, Sandra performed "Without You I'm Nothing." It was truly an astonishing performance and I've been a fan ever since. (If you haven't seen her in Martin Scorsese's "King Of Comedy," you're missing a classic.)
Last week Sandra sat for a new portrait, to commemorate her upcoming revival of "Without You I'm Nothing: The 20th Anniversary."
Sandra will perform it on June 10th at Town Hall in New York. Don't miss it.
www.SandraBernhard.com for detail.
The other day, I got this in an email from Sandra about her sitting for the portrait shown below:
I hadn't seen Timothy Greenfield-Sanders in many years, but often I would think of his camera.

It's a beautiful, old wooden-box Deardorff 8x10, the kind you have to set the lens each time you click. It uses the large format Polaroid as well as film. When I heard they were discontinuing all Polaroid stock it hit me in a strange place. I was concerned for Timothy, but for myself too. I long for things that are tangible, that maybe take an extra minute but you can keep them, and they're yours.

Walking down Avenue A towards his studio, many memories came to me. I thought of the photo albums I looked into when I visited my mom in Arizona. Some taped by their corners, others trapped inside plastic sheets that won't open anymore. Photos of our family, on vacations, at bar mitzvahs in Detroit, cross-country explorations, side roads, small towns, long days of driving. I see Vegas, Denver, the outskirts of Flint, Miami beaches, the Oregon coast, the mountain ranges of Lake Louise, the crystal magnesium lakes of Glacier National Park, Fisherman's Wharf in San Francisco, our first trip to Disneyland when I was 4 and it rained the whole time, standing in front of a cactus in Tucson.

Like dreams we beg to revisit, those are the shiny chemical images waiting to be awoken.

We live in an instant world, we don't have to wait for anything really, our requests are answered instantaneously, our good wishes to an old friend read and deleted before we let ourselves delve into the emotions. The Internet has seen to all of this.

Polaroids were precursors to seeing everything now yet they have stayed with us throughout. The connection is here still, instant beautiful memories of great times.

So when I thought of seeing Timothy again all of this came into my head. I was relieved to find he had hoarded the last of the film he could get his hands on and that is what he shot me with.

I like things I can hold in my hands, that's why I like these kinds of pictures. And this is why, after 20 years, I am back to doing a show, that like the Polaroids, brought me much instant gratification.

I have kept them carefully put away and now I am bringing them back out to show you.
I think they look pretty good, I hope you do too.

Sandra Bernhard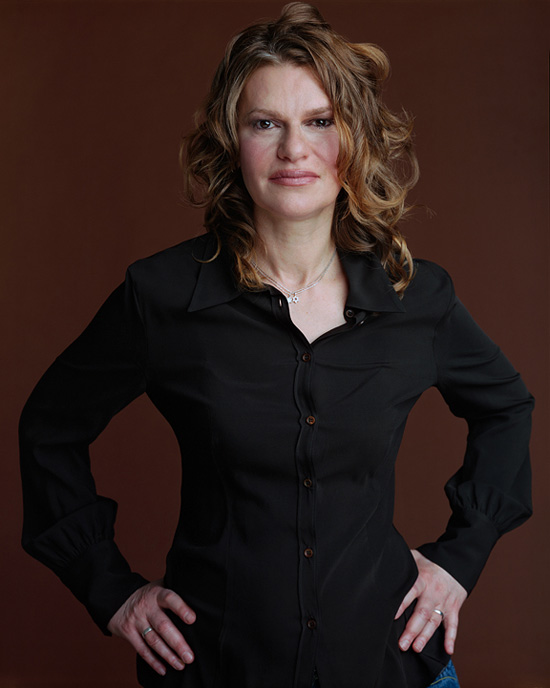 (c)Timothy Greenfield-Sanders, All Rights Reserved
Related