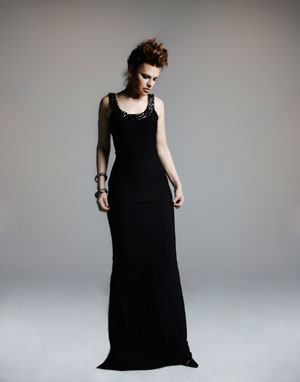 Photo by Eva Tuerbl
Sandra Bernhard is a textbook Gemini. Acerbic and catty one second, then warm and compassionate the next, it is exactly that dual nature that makes her so compelling and hilarious to watch in action. Since her startling film debut in Martin Scorcese's King of Comedy, Hollywood hasn't known what the hell to do with her many talents, but this funny lady has soldiered on, forging her own signature art form of musical comedy cabaret, becoming a modern day Fanny Brice in the process. With her unique one woman shows like Without You I'm Nothing, I'm Still Here, Dammit to her brand new one I Love Being Me, Don't You, (premiering this week at Town Hall) Bernhard has been making us laugh and think from the eighties to the aughties. She took a break from rehearsals for her star studded show to talk with me about funny females, political penis, and naturally, Madonna.
Happy birthday fellow Gemini, and congratulations on this, your 13th album.
Is it? I've lost track of albums, and of birthdays!
I loved you on that Andy Cohen Bravo chat show the other night. You were very kind to that New York Real Housewife Sonia, when you could've ripped her to shreds.
Thanks, I know it sounds strange but it was kind of magical. We mined a lot of gold out of the situation. You know these broads can be totally bitchy but she was sweet. She was a great foil for me.
What do you think of reality TV in general, in the Look-Mom-No-Talent era of celebrity?
Once in a while there's a fun guilty pleasure, but what can you say? If it had never happened, would the world be a smarter, better place? I think so. You have these lost soul celebrities who'll do anything, like Celebrity Apprentice, or Rehab, and it's super depressing. I say either fade away, or be a good enough performer to create a new venue for yourself.
Or run for office! I loved your tale of Arnold Schwarzenegger hitting on you in Venice Beach back in the day. I feel like Americans can't tell the difference between reality and the movies, and that we reward stupidity sometimes.
This is the problem, it's so true. You get someone whose motivations are all in the wrong place and it becomes a mess. You get what you pay for.
You famously clashed with Sarah Palin on Twitter, another numbskull who keeps failing upwards.
Oh honey, I'm taking a new tack with her. If you stop mentioning her name, she will just go away. Just dissipate all the energy and hoopla around her. There's no reason to even to discuss certain people.
What do you make of congressman Anthony Weiner's Weinergate?
Oh god child, this is another one that's wearing me out.
Weiner's weiner is wearing you out!
Haha, well not literally. I'm tired of this whole topic. Something had to have happened for this to get out. Somewhere along the lines he took a picture of his crotch. What the hell are you doing?
On the new CD you riff on first ladies a bit, I love you talking about writing letters to Jackie O, and you poke fun at Nancy Reagan. What do you think of Michelle Obama? I love her healthy kids campaign with Beyonce.
She is the best thing to happen to happen to this country since Jackie Kennedy! She really is. As I was looking at the New York Times cover today with Mitt Romney and his wife Ann looking over her shoulder, with that floral skirt looking like the Ralph Lauren 1988 collection. Just based on this photo and skirt, we better hope and pray that Michelle Obama continues to be our fabulous funky first lady!
It did look like she was wearing wallpaper. Mrs. Romney is Mormon, and Sister Wife style is always a little Substitute Teacher-esque.
Exactly! I was saying to my girlfriend, is it because she's Mormon or does she just have terrible taste? We opt for the second choice! I don't care what religion you are, if you are in the public eye, zoosh it up a little!
You grew up in Arizona, but were smart enough to get the fuck out while still a teenager. Were you surprised at their recent strong stance on immigration?
That state has always been off and odd. We got there in the 1960s and there was a cloud of suspicion and paranoia hanging over it. It's a big ugly melting pot of people who have run from their sordid past. So it came as no surprise. Especially considering where we are culturally in general.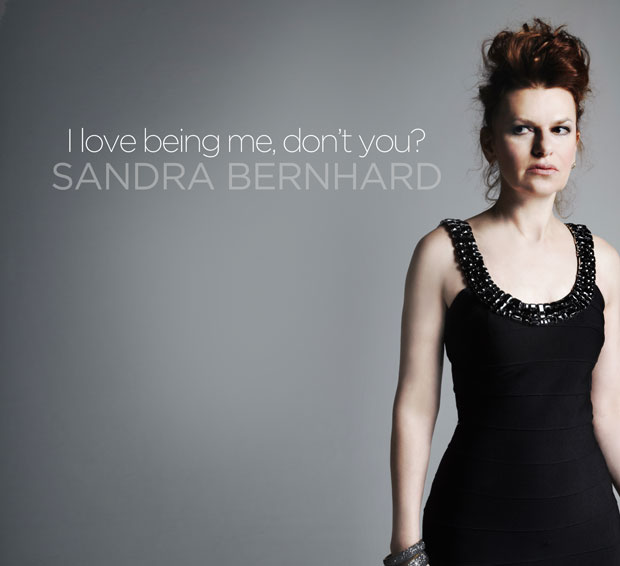 I love in your act that you touch on how technology has been making us all emotionally retarded, between email, IM'ing, Facebook, Grindr, Twitter, people never put down their godamned cell phones.
I find it fascinating, it's almost to the point that our cell phones never really ring with actual calls anymore. It can be a relief to not have to talk to anyone and just send an email, but I still enjoy getting on the phone and just chit chatting. A great rambling conversation that segues from one crazy topic to the next. Talking is my preferred mode of communication.
I should hope so, it's your bread and butter! You got to keep your instrument well oiled. It is great to hear you sing in your act, your voice is so powerful.
Thank you. When I first started out I had to decide between musical comedy or rock and roll. People kept telling me how funny I was so I developed this hybrid niche for myself.
Sandra covers Sylvester's DO YOU WANT TO FUNK in the film version of Without You I'm Nothing.
Many people have tried to copy your style, but there's only one Sandy B! I know you've been collaborating on a musical with our mutual friend Justin Vivian Bond, what's that all about?
Yes well we are always performing in each others acts, so I thought we need to take this to the next level. Last summer we came up with this idea where we play cousins who haven't seen each other in 10 years. My character is very right wing conservative, and he's the polar opposite living in NY. Its called Arts and Crafts, and we hope to mount it next year.
You are a Prince obsessive like me. Did you catch any of his recent shows? I saw him at the Garden, but a friend saw him at the Troubador in LA and he performed all these odd covers, like the B-52s Rock Lobster.
Wow I bet that was really good!! I'm sorry to say I missed it. I've been really busy. I'd love to catch him in a smaller venue, he's always so great that way.
Does it annoy you that some people still link you so much with Madonna? I mean, the two of you haven't spoken in 20 years.
Yes and no. It bothered me for a little while but I've come full circle, because I wanted people to think of me for ME. But I think I've proved myself in the arena. I see why people still link us. It's so rare that two really strong women become good friends and play it out the way we did on the public stage. I'm sorry that the friendship didn't flourish and continue but these things happen with showbiz people. But we really had fun.
You are currently friends with another hilarious lady, Lisa Lampanelli. Who else makes you laugh?
We've become friends recently and Lisa's great, a real hoot, and really sweet. I love Andrea Martin, Roseanne, whose recent piece in New York magazine was so amazing. I just recently worked with both Joan Rivers and Phyllis Diller. We went to Hawaii for Roseanne's reality show and we hung out for 2 days. Phyllis is still INSANELY funny.
Did you see her documentary, Joan Rivers; A Piece of Work?
It was unbelievable. She's survived 10 generations of comedy and for that alone I take off my hat to her.
It is amazing that your daughter Cicely is now a teenager. Where does the time go?
As you said that, she walked into the room eating a fried chicken wing! She was bat mitvah-ed last summer. They do it at 12, so they can get married at 13! I could marry her off now, if only she'd meet the right man!
Cicely chimes in from the background; She doesn't want me to be an old maid!
Haha!!! With a mom like you she must be smart as a whip. Does she give you a hard time?
Yes of course, but that's her job, it's ok. I deserve it usually.
_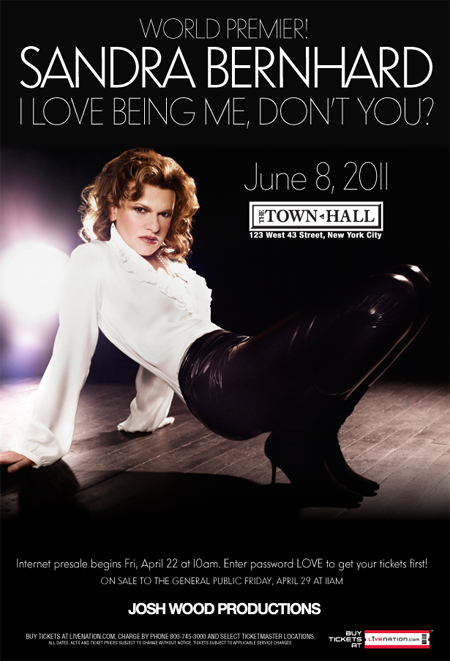 Sandras new album "I Love Being Me, Don't You?" is out tomorrow June 7, available on itunes. She plays Town Hall with special guests Justin Vivan Bond, Rufus Wainwright, Amber Martin and Liza Minelli on June 8; for tickets go to www.sandrabernhard.com.
Follow her on twitter; @SandraBernhard

Popular in the Community