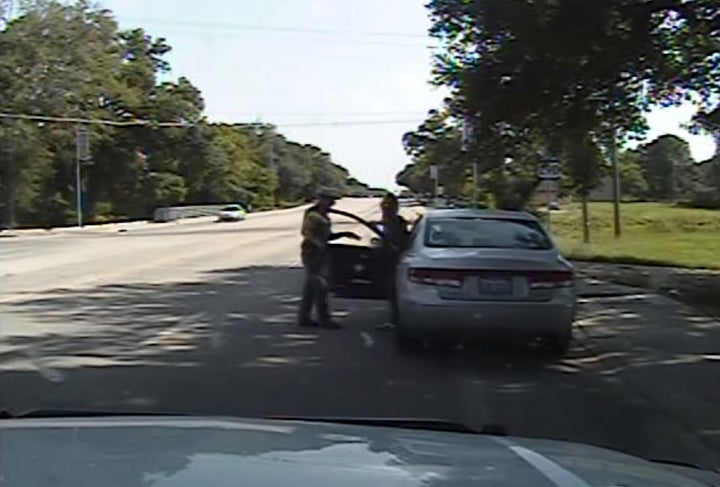 A Texas police officer on Tuesday accused law enforcement officials of covering up what he saw during Sandra Bland's controversial arrest last summer.
Prairie View police officer Michael Kelley told The Huffington Post that portions of his original incident report, which reflected poorly on the state trooper who arrested Bland, were removed. He also alleged that he was threatened by a Waller County prosecutor for speaking out about what he'd witnessed on that July 2015 day.
The Waller County district attorney denied the latter claim and said that Kelley is untrustworthy, because he faces his own criminal charges of wrongdoing while on duty. The Prairie View Police Department did not respond to a request for comment.
Bland, who was accused of assaulting trooper Brian Encinia, died in a Waller County jail three days after her arrest from an apparent suicide. The 28-year-old's death sparked a national outcry as activists said she never should have been arrested and her family argued that she wouldn't have taken her own life.
By the time Kelley arrived on the scene of what began as a traffic stop, he said that Bland was already handcuffed in the back of a squad car. He said he overheard Encinia, who had turned off his own body camera, admitting that he didn't know what charge to lodge against Bland, but declaring that he'd come up with something. That's one key part of Kelley's incident report that he claims has been removed.
"My opinion is that he messed up," Kelley told HuffPost. "He did not have probable cause to detain her after he pulled her out of the car."
Another detail missing from the incident report, the officer said, is his observation that it looked like Bland had been struck in the head.
"She had a large mark on her head. Maybe she fell when she was in handcuffs. Maybe she got kicked," Kelley told HuffPost. She complained about head pain but didn't cooperate with emergency medical workers, he said.
In all, Kelley said that officials whittled his two-page rough draft down to less than a page and entered it into the official record without his approval. He said he also wanted to testify before the grand jury investigating Bland's arrest, but that Assistant District Attorney Warren Diepraam threatened him.
"He told me it wouldn't be good for my career," Kelley said. "Then I told him I was going to talk to Sandra Bland's mother's attorney, and he told me I was going to be beneath the jail."
Kelley, a 33-year-old officer with the Prairie View Police Department since 2014, is an embattled figure himself. He was indicted for allegedly misusing a Taser on a black Prairie View city councilman, named Jonathan Miller, who didn't comply with police orders in October last year.
Kelley's claims are "ludicrous and slanderous," said Diepraam, who stated that he never spoke with the officer about Bland.

"It's a sickening attempt by a desperate individual to get out of responsibility for his own police misconduct," said Diepraam. He added that prosecutors are investigating other alleged complaints about Kelley's record as a cop.
Encinia was indicted for perjury for alleged false statements about the Bland arrest. The trooper was also fired.
Chip Lewis, Encinia's lawyer, questioned why Kelley's claims were only coming out now. He argued that Kelley's charge was undermined by another Prairie View officer who didn't report hearing the trooper wonder how to charge Bland.
"I don't think it's worth the paper it's written on," said Lewis. "They're completely contradicted by other eyewitnesses."
Waller County District Attorney Elton Mathis also labeled Kelly's charges against his office as "fictional accounts."
"I unequivocally state that he never approached me, my first assistant, or any member of my staff with any such information. His job was never threatened by me or my staff, and I barely knew who he was before he was indicted," Mathis said in a statement on Tuesday. "I can only imagine that this is an attempt to divert attention away from the crime committed against Councilman Miller and to cash in on the media attention and sad circumstances surrounding Ms. Bland's death last year for which we all still mourn."
Kelley claims his indictment was payback for speaking out about Bland.
The officer's accusations were first made public Tuesday by local activist Dwayne Charleston, who revealed a recorded conversation in which Kelley had talked to him about Bland's arrest. Charleston told HuffPost that recording was made in March.
HuffPost has reported previously about discrepancies in the records from Bland's case, including claims that jail guards checked on her closer to the time of her death than the video outside her cell indicates.
This story has been updated with comment from Assistant District Attorney Warren Diepraam.
Before You Go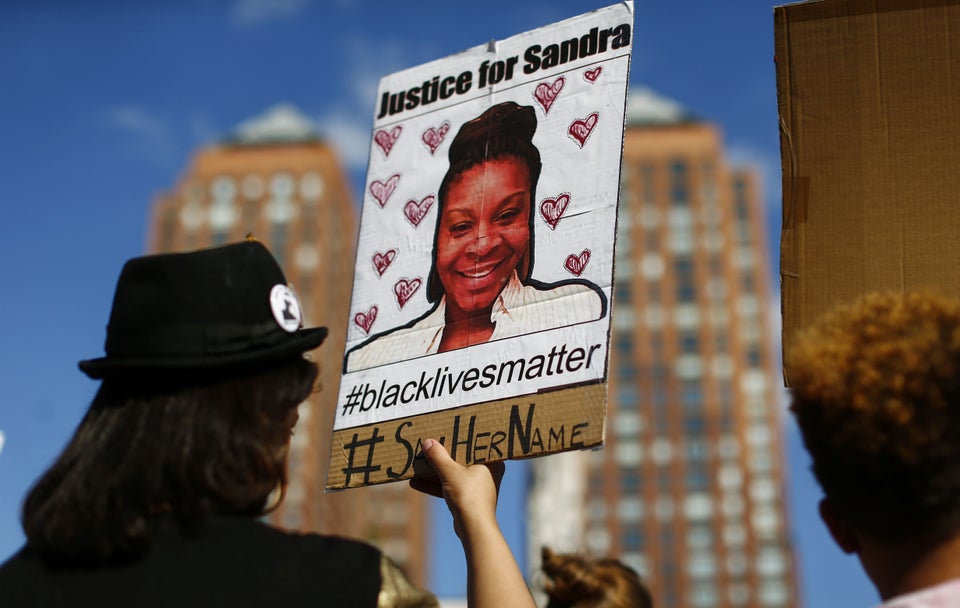 Sandra Bland Protests
Popular in the Community