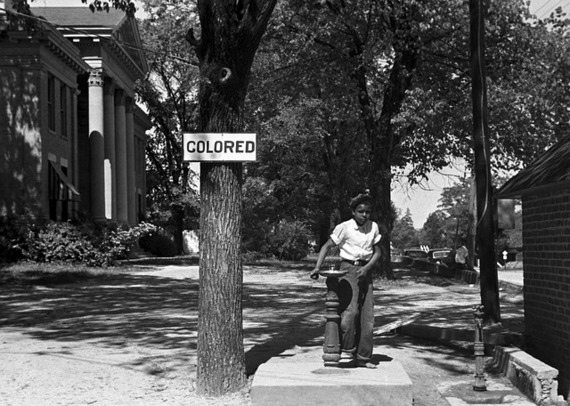 The same day our first black president became the first sitting president to ever visit a prison, we learn about the prison death of Sandra Bland, a young black woman who was beaten by white police and wrongly jailed. The prison says Bland killed herself. Anyone with a brain says bullshit.
Yesterday, the President was asked if Bill Cosby's Medal of Freedom could be revoked. Mr. Obama, an expert on Executive Orders, said our nation has no precedent or mechanism for revoking the honor, but also said that anyone who does what Bill Cosby has confessed to doing is a rapist. Cosby, a rapist who, with Methaqualone, revoked the freedom of his victims, can keep his Medal of Freedom because the President can't think of way the Executive Branch could repeal the honor. This is the man who defied all odds to become our first black President. This is the man who delivered (for better and worse) the kind of health care reform no one thought possible. This is the same sitting president who, in recent months, hasn't met an executive order he didn't like. But he can't pry the Medal of Freedom from Ghost Dad.
In Chattanooga, four Marines are dead after a terrorist attack perpetrated the same day Muslims around the world break the fast of Ramadan. Muslim communities have rightly condemned the massacre, which is almost immediately classified as an episode of terrorism. The shooting in Charleston, South Carolina, another clear act of terrorism, was not labeled so by law enforcement with the same speed or diligence. All terrorist acts are hate crimes. All violent hate crimes are terror.
Two days ago, Nate Silver revealed research showing that life is as dangerous for Black Americans in America as is life in Rwanda. That Rwanda.
Yesterday, people I called a-holes on my personal blog greeted the first black president with Confederate flags in Oklahoma. Inside the prison, he did one of the blackest things of his presidency, albeit subtly. He called out the prison industrial complex from within the literal belly of the beast. White progressives like me will say he didn't do enough, never understanding from experience what it is to be black in America, never understanding why even a second-term President of the United State with zero political capital at stake can't say what he really means simply because he's also black.
During the 19th-century Christian Revival we now call the Second Great Awakening, which started where I happened to go to seminary, Lyman Beecher said that slavery was a national sin threatening "to entomb our glory." 200 years later, marks of that shame are no mere scars on our body politic. They are open, festering, bleeding wounds. Blackness is less a social stigma than a sentence; the punctures in Black America's hands and feet, the gashes in its sides, the ropes around its neck are not just lyrical or spiritual. And just in time comes White America, with another book by another white author about how sad it makes her that her daddy is a racist. White Academia will parse this out for decades, but it's already been called "a revelation on race." White America doesn't just control community policing, foreign policy, and most of the nation's wealth. It, of course, controls the discussion on race, and on the artistic merits of literary treatments of it from genteel would-be hell-raisers working out their privilege.
These are all facets of our most cherished, robust, and foundational national shame. And, put another way, shame is clearly something we have none of.
This is not some middle-of-the-night rant about white guilt or self-loathing. But before I'm the proud descendent of hard-working Europeans et al, I'm a stubborn and imperfect follower of a colored carpenter who was murdered by the State and other social elites for pointing out these very sins and calling bullshit on them. "Jesus help us" is no anemic yearning, no therapeutic incantation. It is a protest. It is a demand.
All theology is black theology, James Cone said. Here blackness has nothing to do with color but with violation: of personhood, of God's likeness in us, of freedom and of futures. It has entombed whatever civic glory America had claim to, even as it entombed the living Christ himself. This is one of many facets of the Christian hope of resurrection, not for resurrection's sake, and not for the sake, surely, of some jingoistic pride, but for the coming of an age and order where the war of each against all is over, where each and all have enough, where people aren't raped and murdered because people in power have taken the mantle of God for themselves.
Popular in the Community