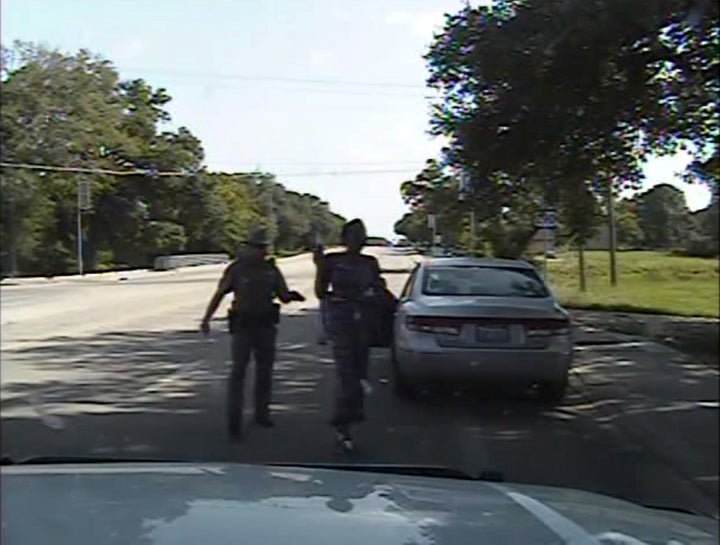 WALLER COUNTY, TEXAS - On July 13, Sandra Bland, a 28-year-old black woman, was found dead in her jail cell in Waller County, Texas, three days after being arrested over a traffic stop gone wrong. Sheriff Glenn Smith, who oversees the county jail and had been fired from a previous job after allegations of racism and police brutality, promised an all-access, top-to-bottom investigation to uncover what happened to Bland. He set up an "independent" commission to review the sheriff's department. Smith tapped Paul Looney, a local criminal defense lawyer, to lead the probe and to pick the commission's other members.
"The whole nation, the whole world is looking at us," the sheriff said.
But from the beginning, Looney's investigation was beset by a conflict of interest: His law firm had a financial relationship with Carbett "Trey" Duhon III, Waller County's top elected official -- and the man who'd likely have to write the Bland family a large check out of county funds if that inquiry turned up wrongdoing. (Duhon, who referred clients to Looney in exchange for a monthly retainer, has since severed that relationship.)
Now, despite Waller County officials' vows, Looney says his panel isn't looking for possible wrongdoing at all and is simply compiling recommendations that Smith can "throw in the trash" if he chooses.
"I am not looking forward to sharing this information with the Reed-Veal and Sandra Bland family at all," Cannon Lambert, a Bland family attorney, said when told about Looney's comments. "I am dreading this conversation. It's stunning."
Duhon, for his part, clearly recognizes the value to Waller County of a fair investigation by an untainted commission. "To avoid the appearance of impropriety," he told The Huffington Post, he asked Looney to serve as a nonvoting member of the six-person panel. Duhon cited worries that "somehow I could influence the outcome of that investigation. That's the insinuation that people have made."
Looney agreed not to vote on the panel's recommendations. He's still running the probe.
Duhon, who was elected county judge in 2014, is relatively new to Waller County. He moved from suburban Houston a decade ago and started a solo law practice, doing a lot of title insurance work. He also began involving himself in the kinds of local groups and governance boards that ingratiate a new guy with the old guard, such as the chamber of commerce, a toll road authority and a sub-regional planning commission.
When the county judge slot opened up, Duhon won the Republican primary and then a gently contested general election last year. In Texas, a county judge, though properly addressed as "judge," is not a judicial official. He's the executive officer of county government and presides over the elected commissioners' court, which is not a court but the county's legislative body. In other words, Duhon straddles the executive and legislative branches of local government, much like a mayor who votes with the city council.
With the new job, his law practice got squeezed. "There's only so many hours in a day," Duhon said. "The county judge position in Waller County just absolutely requires an incredible amount of time, day in and day out."
So from June 2015 -- a month before Bland's death -- until Sept. 1, Duhon was "of counsel" at Looney & Conrad. What that meant, Duhon explained, is that Looney's firm paid him a fixed amount each month, and in exchange he passed along potential clients he didn't have time to help.
Despite his wide network in Waller County, Duhon told HuffPost he is "the anti-good ol' boy."
"I am not about sheltering elected officials or anyone else," he said. "If people need to be responsible for their actions, they need to be responsible for their actions. I am not about to sacrifice my integrity for another elected official."
Duhon wanted to be clear that he is not somehow profiting, or helping others profit, from the independent investigation run by Looney. He pointed out that Looney and the others on the panel are not being paid and that, in any case, the monthly retainer he received from the firm was not tied to its revenues. He also expressed hope that Looney serving as a nonvoting member would alleviate any suspicions about deals among political insiders.
The county judge is likely best-known for two ill-conceived tweets that he sent after Bland's death. The first referred to "high levels of active THC in her system at time of death." In the second, Duhon tried to explain why he mentioned Bland's possible marijuana use by writing, "It goes to her mental state. Also relevant if she was self-medicating for depression." He quickly suspended his Twitter account.
Concerns about potential conflicts posed by the county judge's recent relationship with the law firm of the man probing the sheriff's work cannot be so easily erased, for they go beyond private profit. Duhon writes the county budget, including funding for the jail and the sheriff's department. (The commissioners' court then votes on it.) Waller County collects about $1.23 million in fines a year -- otherwise known as revenue -- thanks in large part to the sheriff's department. And county finances could take a hit, in the form of higher insurance premiums, if Looney's investigation turns up civil rights violations, criminality by government employees or other wrongdoing and the county loses a lawsuit or pays a settlement to Bland's family.
Looney told HuffPost last week that Duhon's ties to his firm posed no conflict of interest. He also said that their arrangement ended as of Sept. 1 because it was scheduled to run just three months.
Duhon has a slightly different take. He told HuffPost he ended the relationship because of an Aug. 3 advisory opinion from the chair of the ethics committee of the State Bar of Texas' Judicial Section. Evelyn Keyes, who also sits on an appeals court in the Houston area, indicated that a county judge being of counsel to a law firm did indeed pose a conflict for that firm within that county's courts.
Whatever the reason, Duhon's departure seems to resolve the appearance of at least one conflict that hung over the Looney-led commission, leaving it free to uncover malfeasance and root out wrongdoing in the sheriff's department and the Waller County Jail.
But that still isn't what the commission is doing.
"We're not trying to do an exposé," Looney told HuffPost. "It's more in the nature of a consultant report for the sheriff to use as he wants."
Looney emphasized that his independent commission would make its report public at the same time the findings went to the sheriff -- but the sheriff has sole discretion over what to do with the report. "He can read it or not read it," Looney said. "If he wants to throw the whole thing in the trash can, he can."
Duhon, who said he's had no involvement with the panel since asking Looney to be a nonvoting member, had a different impression of its mission. "I was told early on that they would be doing a comprehensive review," he said. "If that's changed, that's not anything I would have any knowledge of."
According to Looney, the voting members of the commission are taking their jobs seriously and pursuing their review earnestly. "It's kind of cool to see," he said, although they are mostly just "observing and taking notes" at this point.
There is no deadline for Looney's panel to finish its work. Meanwhile, local and outside critics have begun calling on the U.S. Department of Justice to investigate potential civil rights violations in Bland's case.
Unprompted, Duhon raised the possibility that the federal government could conduct its own inquiry.
"Waller County has been open to that since day one," said Duhon. "We are OK with the Justice Department. We have never been opposed to that."
Lambert, the Bland family lawyer, agrees on the idea of a Justice Department investigation.
"It's clear that one is necessary," he said.
CORRECTIONS: This post previously stated that the Waller County could have to pay a settlement to the Bland family out of county funds. The county carries insurance that would cover the costs of any such settlement; information about how this could affect premiums has been added. The article also stated that Duhon had deleted his Twitter account; the judge says he merely suspended it, and his account is active again.
Popular in the Community