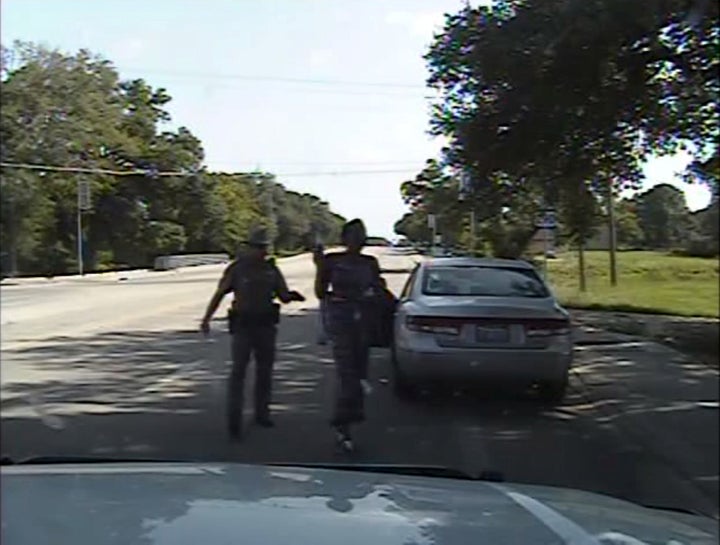 WASHINGTON ― Sandra Bland, a 28-year-old woman with a bright future, was found dead in a jail cell on June 13, several days after being subject to a violent arrest in Texas. According to the police, she was placed in a cell alone because of that altercation with the cop and not closely watched. As details emerge about Bland's mental health history, corrections experts say this decision clearly violated standard jail protocol and could have cost Bland her life.
Bland, a Black Lives Matter activist, was pulled over for failing to signal when changing lanes, after the officer sped up behind her. She repeatedly asserted her constitutional rights to Officer Brian Encinia. He attempted to drag her out of the car and threatened her with a Taser, leading to a physical confrontation. According to the Waller County Sheriff's Office, Bland was placed in a cell alone based on the charge against her ― alleged assault of a public safety officer.
Bland indicated on her intake form that she had attempted suicide within the last year and that she was feeling depressed. She had also just experienced a deeply upsetting arrest. While her death is still under investigation ― and her family maintains that she did not take her own life ― the information she provided should have raised red flags for jail staff at the outset.
"There were significant missteps," said Eric Balaban, senior staff counsel for the American Civil Liberties Union's National Prison Project.
According to a jail standards manual published by the National Commission on Correctional Health Care last year, inmates who have a "recent prior history of self-destructive behavior" should be placed on suicide precautions. Based on her intake form, Bland should have quickly been screened by a mental health professional, said Jeffrey Schwartz, a national corrections consultant. Until then, she should have been closely observed. The mental health professional would then make a decision about whether further precautions were needed.
At a minimum, experts say, she should not have been placed in a cell with a garbage bag or protuberances that were easy to hang oneself from. As the blog Black Girl Dangerous noted, "Whether Sandra Bland committed suicide or not, we can indict a system. We must hold nuanced discussions that address the implications of state violence while removing the stigma around mental health and suicide."
The Waller County Sheriff's Office, which did not respond to a request for comment for this story, has never indicated that Bland was seen by a mental health professional. According to CBS News, she was given a suicide assessment by a jailer, who wrote that Bland had never tried to kill herself, despite the fact that she had reported a previous suicide attempt.
Texas state Sen. Royce West (D), who attended a Tuesday meeting with local law enforcement and other officials, told The Associated Press on Wednesday that the kind of information disclosed on Bland's intake form should have prompted the jail to place her on suicide watch.
Constant monitoring of at-risk inmates is important because asphyxiation can result in permanent brain damage in just three minutes, according to the World Health Organization, and can be lethal in as little as five minutes. Suicides are also more likely to occur when the inmates are in isolation or segregation cells.
According to a study published by the American Academy of Psychiatry and the Law, which examined suicide in the New Jersey Department of Corrections, the suicide rate in single cells was more than 400 times the suicide rate in the general population's double-cell housing and 23 times the suicide rate in the prison system overall.
Beyond the suicide risk, Bland's arrest raises questions about whether she should have been placed in isolation on disciplinary grounds. Her treatment reflects the broader trend of law enforcement violence against black Americans: Studies show that black people are more likely than their white peers to face violence at the hands of police, regardless of the race of the officer.
"I don't understand, from what I know so far, why she would be put in a segregation cell," said Schwartz.
He added, "You put people in segregation for disciplinary violations in the jail, not to punish them for the way they talk to a police officer."
On Thursday afternoon, Sheriff R. Glenn Smith confirmed in a press release that "Ms. Bland, based on Jail Staff's observations, was not placed on any formal suicide watch."
This story has been updated with comment from the Waller County sheriff.
Popular in the Community