Hundreds of mourners lined up on Saturday in a Chicago suburb for the funeral of a black woman found dead in a Texas jail days after she was arrested following a minor traffic offense, in a case that has become the latest focus of concerns about race and policing.
Outside the DuPage African Methodist Episcopal Church in Lisle, Illinois, hundreds of people waited nearly an hour in the sun before being ushered into the crowded church for the wake and funeral of Sandra Bland, 28.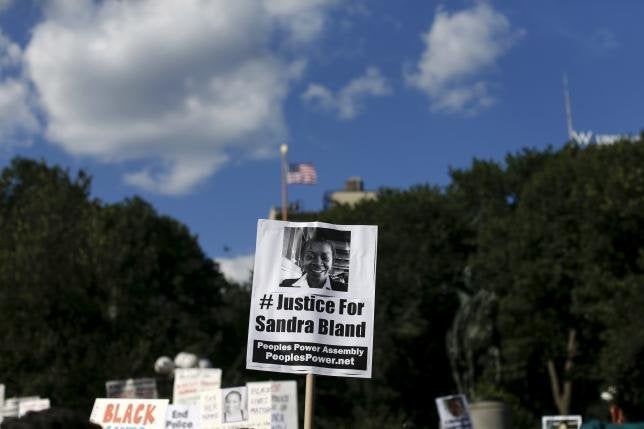 Originally from the Chicago area, Bland had been preparing to begin a job in Texas. Her death in jail after an altercation with a Texas trooper who stopped her for not signaling a lane change has been taken up by activists, who say the case is the latest example of racial bias and use of excessive force by U.S. law enforcement.
A medical examiner has ruled Bland's death a suicide, but Waller County District Attorney Elton Mathis has said more evidence needs to be gathered and analyzed and the details ultimately examined by a grand jury.
So many people arrived for the funeral that Lisle police directed traffic and an overflow crowd was directed to the church's basement to watch the ceremony on a live video feed.
Mourners gathered first for a pre-wake Bible reading and song, then lined up to file past Bland's body in an open casket and large photographs of the young woman. The funeral service was scheduled to begin at 11 p.m. Central time, followed by a burial.
Bland had been about to start a job at her alma mater, Prairie View A&M University, when she was stopped in her car near Prairie View, northwest of Houston, on July 10.
After the incident escalated into an altercation between her and the white trooper, Bland was charged with assaulting an officer and taken to Waller County Jail.
She and her family were working to come up with $500 bail, but on July 13, three days after her arrest, she was found hanging in a cell with a plastic trash bag around her neck.
Bland's family previously acknowledged a Facebook post in which she discussed struggling with depression, but has disputed the suicide ruling.
Sandra Bland Dies In Jail
Popular in the Community