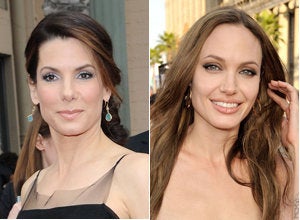 Sandra Bullock, who revealed Wednesday that she is now the mother of a baby boy from New Orleans, talks all about the adoption process in a long interview in this week's People magazine.
Sandra says that it was important to her and Jesse to adopt domestically, even though it meant a longer wait for a baby. After spending time in New Orleans after Katrina, they began the process four years ago.
"We began the conversations and then all the paperwork, the background checks, the home visitations about four years ago," she said. "We didn't want to go at it any other way than the way everyone else would have to do it. There are hoops, but the hoops are there to protect the child. And worth every jump."
When asked why she chose to adopt from New Orleans, Sandra said adopting domestically was the priority.
"I don't know if it was important to adopt from New Orleans, but it was important to adopt from the U.S.," she said. "New Orleans for both of us was a place that we loved, a place that had a lot of history for the both of us and a place I couldn't let go of."
Support HuffPost
The Stakes Have Never Been Higher
Popular in the Community