At 50, the Oscar-winning actress is funny, beautiful, hot, talented and has Hollywood eating out of the palm of her hand. High50's Alexa Baracaia looks at why everyone loves America's sweetheart.
As someone once said about Cleopatra, "Age cannot wither her, nor custom stale her infinite variety."
Oh, all right, it may be a stretch to paint Sandra Bullock as the quintessential Shakespearean heroine, but as the star of Speed hurtles towards 50 we say it's her winning "variety" that makes her unlikely to go withery for a long while.
And we don't just mean making really shit, misogynistic guff like All About Steve and then turning in Oscar-worthy performances in heart-stopping thrillers such as Gravity.
You see, despite the fact that she's yet another (yawn) inordinately beautiful, best-paid actress in Hollywood, Academy Award-winning multimillionaire businesswoman/actress/film producer, we'd bet our bottom dollar most of us would love to claim her as our BFF.
Hell, even George Clooney wants her as his best mate.
The Gravity Star's Charms
It's because she's the glamazon red carpet veteran who doesn't give much of a toss about looking perfect, saying, "I am horrible at being a celebrity. If I am out in public I dress like a pig."
It's because she's the romcom star who claims she hates the genre ("Usually comedy is only available to us ladies in the romantic comedy. That's why I hate romantic comedies"), and who just put in the fearlessly intense performance of a lifetime as Gravity's marooned space scientist Dr Ryan Stone.
She's the doe-eyed 'America's Sweetheart' who grew up a "deadly skateboarder" and self-avowed tomboy; and the university drop-out who become box office gold and the head of an estimated £120 million business empire including real estate, a production firm (Fortis Films) a restaurant, florist and bakery.
And Did We Mention George Clooney Is Her Best Mate?
We know the 'square peg' schtick has stood her in good stead, to the point of hideous cliché, in her frothier film roles (kooky clumsy ugly duckling turns beautiful swan and gets the guy, yada). But she isn't flimsy chick flick fodder.
Part of her charm is her self-deprecating manner and refusal to take herself too seriously. In June she accepted a Decade of Hotness award and when she landed the Golden Raspberry (Razzie) Award for worst actress for All About Steve in 2009, Bullock turned up in person to accept the gong - armed with a bag-load of DVDs of the flop film.
"Something tells me you all didn't watch the film because I wouldn't be here if you really, really watched it and understood what I was trying to say," she quipped. She later added: "You should be a good sport about it; we're not curing cancer here."
Being A Mother In Hollywood
Then there's the fact that her personal life has been far from smooth-sailing. To the point of "OMG poor girl".
Mere days after bagging her Oscar for 2010's The Blind Side she discovered, horribly publicly, that her adored husband of five years, 'motorcycle mogul' (whatever that is) Jesse James, had been having it away with a tat-sporting porn star. And half a dozen others.
News of the philandering came just as the couple's adoption hopes finally came to fruition and baby Louis - now four - arrived, throwing Bullock into motherhood startled and solo.
This was no 'conscious uncoupling', but real-life crash and burn.
And we like her attitude to working and motherhood: "My baby before was my work," she says. "So unless the film is a great experience for myself or for my son then I am not leaving the house to go to a film set.
"And once he's in school in a couple of years those moments for me to work will be few and far between. I can bring him along at the moment - but not in the future."
Now, as she prepares to jump the mid-century line this Saturday, 26 July, she seems to be in the ascendant.
In a notoriously tough industry for older women, she still reigns supreme at the top of the box office lists.
These days the schlocky romcoms and action flicks appear to have given way to more thoughtful vehicles. There's Gravity, of course, and this week the actress signed up to star in a biopic about Tupperware party founder and 1950s marketing genius Brownie Wise.
"I've just gotten better at not picking crap," she says.
So, with the career on the up, Bullock shows no sign of following in Hollywood tradition and becoming invisible post-50. She says: "I don't want to go to pasture. It's cold, and I'm allergic to grass and the cows are mean!"
Or, as celebrity stylist Robert Verdi puts it: "Women [at 50] like Bullock have come to a place where, whatever they're insecure about, they know how to control it.
"Whether it's boobs, a flat butt or their stomach, they are under control."
That must be it. She has her bum cheeks well strapped in. We knew there was a good reason to say 'bottom's up and happy 50th, Sandy'. You da Bullock. (Sorry.)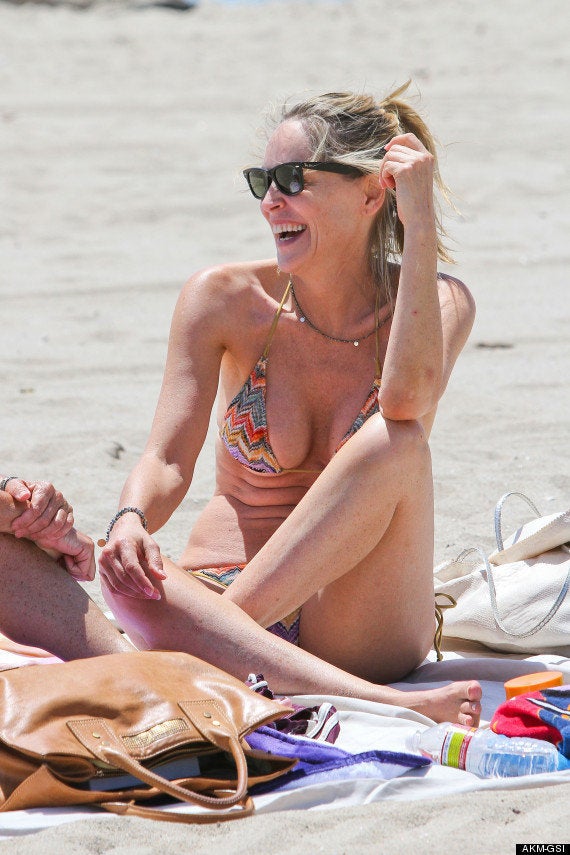 Celebrity Bikini Bodies Over 50
Popular in the Community